The Holiday season is fast approaching and most often than not, it's already here banging on my door before I can even bat an eyelid. Oh, who am I kidding! My Holiday season began early this month with the onset of Diwali. What started as a simple family brunch, quickly turned into a full-fledged dinner party that included some close friends as well. What can I say, I LOVE entertaining and feeding people, and when the opportunity arose – I just couldn't stop myself from playing hostess and cooking up some delicious Matar Paneer!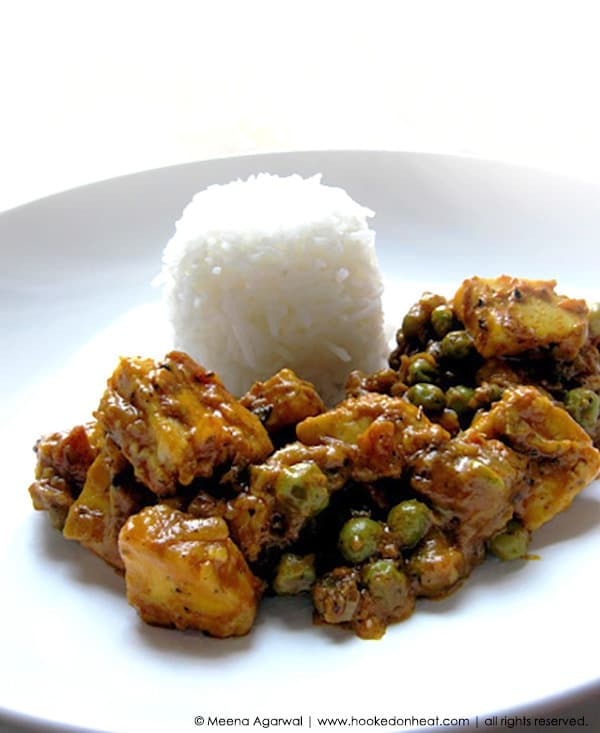 You see, the past couple of years have been pretty lowkey for us on the dinner party front – mainly because it was hard to cater to a baby and guests at the same time. So while we still had friends over, it was mainly for lunch or brunch. With Thanksgiving just peeking around the corner, I thought I'd take the time to address the topic of entertaining with baby in tow.
I've had a few readers ask me tips on how to throw a decent party while still managing the demands of a baby/toddler. Although it may seem like an impossible task to take on, I promise you that with a few tips and tricks, you can definitely make it happen. And look like a pro while you do it! Here are some of the few things I did as a new mom that helped me keep sane by not alienating my friends altogether.
Do Lunch Instead:
For the past 2-3 years, I always hosted people before 7 PM. Sunday lunch was my favourite time of choice. That way, I had enough time on Saturday to prep and cook a large part of the menu as well as tidy up the house. I planned my menus in such a way that come Sunday morning, all that was left for me to do was reheat a few things, put some in the oven to bake and add finishing touches like garnishes to the rest. I made sure not to serve anything that needed extra care or undivided attention.
Most Indian dishes taste even better the next day, and I solely relied on this when I mapped out my menus. Lunch is generally considered a lighter fare than dinner, so it's easy to get away with 3 hearty options as opposed to 5.
Here is my general rule of thumb:
Pick two curries that you can cook the previous day and refrigerate.
Add in a dry dish that can be made a day ahead too, or something quick enough to whip up in the morning.
Cook the Pulao fresh in the morning, adding in a bunch of pre-chopped frozen veggies for more oomph.
Chop up a large bowl of salad and refrigerate, tossing in the dressing when you're ready to serve.
Pick a few bags of frozen Naan/Rotis and warm them in the oven right before serving.
Add a few bowls of store-bought pickles and some plain yogurt or Raita on the table, and you've got a feast!
Dessert is usually always store-bought; take your pick from the huge variety of cakes, ice creams or chocolates readily available at your fingertips.
Here are some of my favourite meal combos that always prove to be a hit around here:
Lunch Menu A:
– Dahiwali Chicken Curry
– Palak Paneer
– Jeera Alu

Lunch Menu B:
– Matar Paneer (recipe follows)
– Chana Dal Masala
– Baingan Patiala

Lunch Menu C:
– Dal Makhani
– Masala Mushroom
– Ginger-Chilli Shrimp
Opt for Tea/Coffee with Snacks:
On most weekends, 4 PM in India is a widely popular time to meet up with friends and socialize over endless cups of hot steaming tea or coffee. Throw in a few plates of fresh-baked goodies, some store-bought savouries and you've got a party started!
I loved having friends over for a coffee when Baby Dear was teeny weeny because it was easy and made me feel empowered. All I had to do was bake a simple, delicious banana or cranberry loaf, fry up a mix of veggie pakoras, and reheat some store-bought or frozen Samosas. It's plain, no fuss entertaining where you can bake your cake and eat it too – literally!
This year, Baby Dear just turned 3 and is now old enough to allow me to manage a dinner party. Only difference is, our dinner parties now start and end at a much earlier time than pre-baby! But who cares, as long as I can cook a feast and feed my village (you all know who you are!) I'm a happy camper.
This Diwali was a memorable one – my first big party since Baby Dear was born and it was a roaring success. Since it was a Sunday, I wanted to do an early dinner since everyone had to prep for the dreaded Monday morning start of the week. I decided to go with an Indian street food theme – my all-time favourite!
I'd love to hear any tips you have that helped you entertain as a new mom, 'coz we all know there always new things to learn. So please, do share!
Here's wishing all my readers a Very Happy and Prosperous Diwali! For more special Diwali recipes, please click here.
Matar Paneer (Paneer and Peas)
Servings: 4
Ingredients
2 tbsp light cooking oil
1 tsp cumin seeds
1 large onion finely chopped
1 tbsp ginger paste
1 tbsp garlic paste
1/2 tsp red chilli powder
1/4 tsp turmeric powder
1 tbsp coriander powder
1/2 tsp amchoor powder
2 cups pureed tomatoes
500 gms paneer diced into bite-sized cubes
2 cups frozen peas thawed
1 tbsp dried fenugreek leaves
water as needed
salt to taste
Instructions
Heat oil in a large heavy bottomed pan on medium heat and add in cumin seeds. As soon as it starts to sizzle, add in onion and fry for 2-3 minutes till lightly browned.

Add ginger, garlic and spices, and fry for a few seconds till fragrant. Stir in the tomato puree and combine well with the onion and spices.

Mix in the paneer cubes and cook covered for 2-3 minutes on low heat. Stir in frozen peas, dried fenugreek leaves and salt, and cook covered for another 3-5 minutes. If you prefer it a bit more saucy, add some water and bring it to a slow simmer.

Serve hot with fresh rotis or a side of rice.
This post was originally published in November 2013 and has been recently updated.
If you enjoyed this recipe, then you will surely love my Palak Paneer and Paneer Biryani recipe as well.
Tried this recipe? Leave a Comment and let me know, also Rate it by clicking the number of stars on the recipe card. Want to share your version with me? Tag me on Instagram @hookedonheat
MORE POSTS ON INDIAN COOKING 101
MORE POSTS ON INDIAN COOKING: A-Z
A is for… Achari Mushrooms
B is for… Bhuna Chicken
C is for… Chatpati Bharwaan Bhindi
D is for… Dhabewali Dal Tadka
E is for… Egg Curry