Let me tell you all a little story. Once upon a time, there was a pretty little girl who absolutely loved peas – Peas Pulao being one of her favourites. She loved them so much that she would even unquestioningly eat steamed broccoli if it was served with a side of peas. Okay, that might be a bit of an exaggeration. Nothing, not even serving them with deliciously sweet peas would make her eat broccoli, least of all if it was steamed! She would simply devour all the luscious peas and probably slip the broccoli chunks under her seat when no one was watching. Yes, that's undoubtedly what she would do. But nonetheless, let's get back to the story shall we?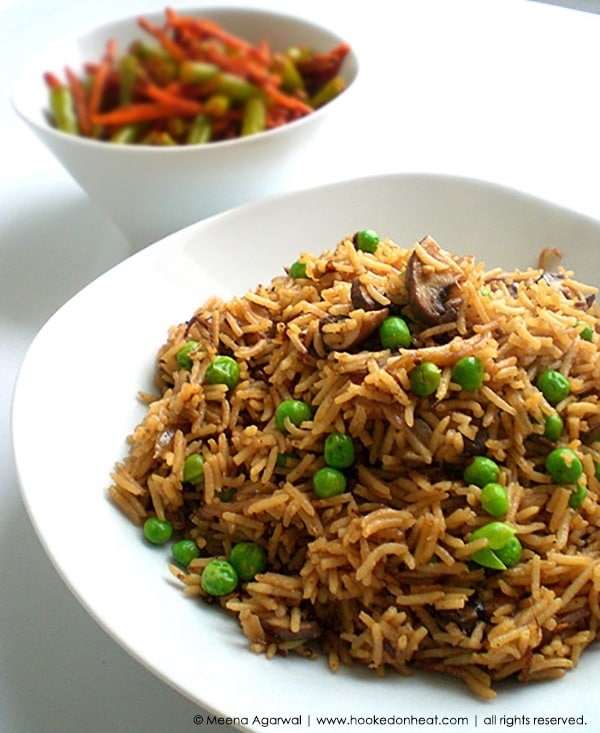 So yes, this girl loved her peas. She begged her Mom to add them into anything and everything they could possibly be added to. And if it weren't for her two evil green pea loathing siblings, her Mom might have even given in to some of her hideously bizarre ideas. But then, like every fairy tale, good things started to happen to her. She grew up, moved out of home away from the evil siblings (okay, they're not all that evil, but they do bug her some all of the time!), and began to cook for herself. Like the ugly frog who turned into a handsome prince on the very first kiss, her peas lusciously flavoured her food. They graced every dish they were added into and touched it with their sweetness.
On days like today, when the clouds darken the sky, and rain falls helplessly on the ground, all she can think of cooking for dinner is a one-pot comforting meal comprising of rice, mushrooms, and oh yes, most definitely, peas. This meal of Mushroom and Peas Pulao was a breeze to make, and the girl and her peas continue to live happily ever after, much to the chagrin of Hubby Dear. If only there was a law forbidding one to hate peas!
I love to serve this with some Jeera Alu on the side!
MUSHROOM & PEAS PULAO
Servings: 4
Ingredients
1 tbsp light cooking oil
1/2 tsp whole cumin seeds
2 large garlic cloves, minced
1 medium onion, thinly sliced
2 cups sliced shiitake mushrooms
salt, to taste
1/4 tsp red chilli powder
1/2 tsp coriander powder
1/2 tsp cumin powder
2 cups Basmati rice
1/2 cup frozen green peas, thawed
Instructions
Heat oil in a non-stick deep pan and saute cumin seeds, garlic and onions till tender and fragrant. Add mushrooms, and fry till brown all the moisture evaporates. Stir in salt and spices, and fry for a minute.

Add 3 and 3/4 cups of water, and once it comes to a boil, stir in rice and peas. Let simmer on low heat till water evaporates and rice is cooked through. Garnish with chopped coriander leaves and serve warm with a side of raita.
Tried this recipe? Leave a Comment and let me know, also Rate it by clicking the number of stars on the recipe card. Want to share your version with me? Tag me on Instagram @hookedonheat