You know how there is always this ONE recipe that no matter how hard you try to replicate, you never seem to be able to hit it just right? Somehow, the taste of when you first devoured the dish still lingers on your palate, and even after a dozen of your experimented versions later, you still know that it's not quite as close to the original. Well for me, I have one too many of those, but a particular Dal Makhani certainly tops that list!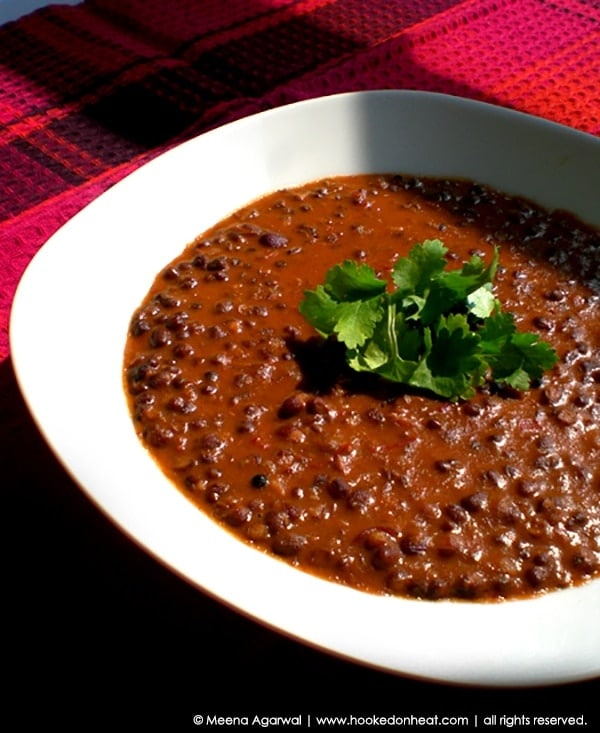 There's the PERFECT Mee Goreng served by the street hawker down the lane from my Grandma's house in Malaysia, the spicy Chole garnished with freshly chopped onions and served with giant-sized crisp Bhaturas in Delhi and the most amazingly luscious melt-in-your-mouth Tiramisu served at a corner cafe by the Colosseum in Rome, to name just a few! But of all of them, the ONE recipe that has me searching non-stop for a close flavour duplicate would definitely have to be of Dal Makhani from a little nondescript restaurant in Kuwait.
Growing up, I remember eating off the restaurant's classic menu once too often. They were especially known for their fantastic and lip-smacking combination of Chicken Tikka, Dal Makhani and Puris. But for me, even as a die-hard Chicken Tikka devotee, it was always their Dal Makhani that did the deed. It's thick, warm and creamy texture was everything I craved for any time of the year.
Ever since, I have always been on a search for a Dal Makhani that would come close to my childhood indulgence. But alas, none came even near an inch to tasting anything like it. I went high and low, to some of the most fabulous Indian restaurants as well as the local take-out favourites, but none of them could win me over. I had almost given up ordering the dreaded dish until one day my Mom decided to come to my rescue. She played and she toiled a few recipes, added this and subtracted that from the ingredients, and simplified the method to suit her needs, and Voila! What can I say? Now whenever I crave some lip-smacking comfort food, all I do is enter my kitchen. It's a perfect go-to recipe this time of year, and I need I add, an absolute hit at my Diwali bash last weekend!
Dal Makhani (Creamy Black Lentils)
Servings: 4
Ingredients
1 tbsp light cooking oil
1 tbsp butter
1 large onion finely chopped
1 tbsp ginger paste
1 tbsp garlic paste
1 tbsp tomato paste
1/2 tsp red chili powder
salt to taste
2 medium tomatoes finely chopped
1 cup whole black lentils and a handful of dried red kidney beans soaked overnight, drained and rinsed thoroughly
2 tbsp plain milk
fresh cilantro leaves chopped for garnish
water as needed
Instructions
Heat oil and butter in a pressure cooker and saute onions till lightly browned. Stir in ginger and garlic pastes, tomato paste, chilli powder and salt, and fry for a few seconds.

Add in the chopped tomatoes and cook for a few minutes to combine well. Add in pre-soaked lentils and kidney beans, and enough water to cover them. Pressure cook for 15-20 minutes till lentils are soft and done.

Stir in milk and let it come to a boil.

Garnish with fresh coriander leaves and serve warm.
A similar version of this recipe using an Instant Pot or any other electric pressure cooker can be found here.
If you enjoyed this recipe, you will surely like my Instant Pot Everyday Dal and Instant Pot Rajma recipe as well.
Tried this recipe? Leave a Comment and let me know, also Rate it by clicking the number of stars on the recipe card. Want to share your version with me? Tag me on Instagram @hookedonheat