I've always been a strong advocate of quick Indian dinner ideas and I truly believe that you DO NOT have to spend an eternity in the kitchen to churn out tasty and comforting Indian food.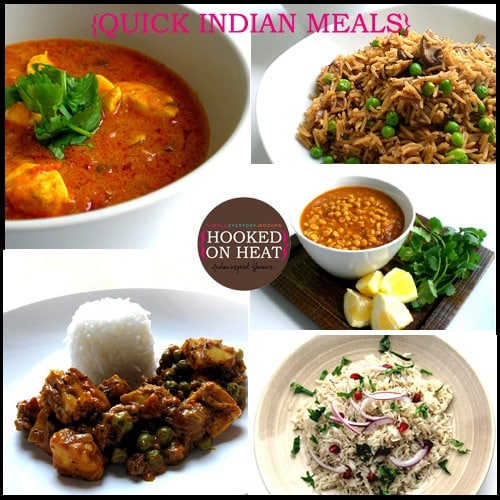 Many of us grew up with daily Indian meals that consisted of a Dal, a Sabzi or two, some Rotis, Rice and a Salad on the side. Top this off with some yogurt and Indian pickle, and the standard Indian meal was complete. In today's busy lifestyle that a majority of us lead, a meal like this not only requires immense planning and prep work ahead of time but also a lot of patience and dedication to clean up afterwards.
If you walk into our home at dinner time, you'll notice that we enjoy Indian food at least 3-4 times a week. Our meals are simple, most often quick and rarely consist of more than two dishes at a time. There is always a protein and vegetables, and some form of carbs to balance if all. I love giving new twists to traditional recipes and enjoy the challenge of revamping slow-cooking recipes to adapt them for a quick fix meal. Here are some of the tricks I use to make cooking Indian food a breeze when time is short on hand:
Plan Ahead:
Every morning, as I sit down with my cup of coffee, I take a quick look at my planner and jot out my to do list. This gives me a good idea of what I have in store for the day and also lets me plan my dinner accordingly. I love doing this early in the day since it allows me enough of time to do any prep work that may be required for the meal I've planned. This may include soaking beans or lentils, taking out anything that needs to defrost from the freezer, or even prepping a few vegetables like boiling potatoes, to cut down on my cooking time. If I decide to make rotis/parathas for dinner on a given night, then I also take this time to make the dough. This allows the dough to rest a few hours before rolling which always ensures soft rotis in the end.
Create and Use Shortcuts:
My weeknight Indian dinner ideas are always restricted to quick curries or stir-frys and I save the slow simmering delicacies for a Sunday afternoon when I can take my time and enjoy the process. That said, I use simple short cuts to quicken a lot of things even further. For example, I always have my freezer stocked with portion-sized bags of pre-boiled chickpeas, kidney beans and toor dal. Along with that, I also keep a steady stock of ready-to-use frozen vegetables like peas, corn, chopped carrots, beans and spinach. I portion out my meat and freeze them as soon as I'm back from to store, which allows me to quickly thaw out just enough that I need for a meal.
Use Time-Saving Appliances:
No Indian kitchen in complete without a pressure cooker, and duly so. It's my secret weapon to shorten the time it takes to cook beans and meat. I also use my blender and mini food processor a lot to blend ginger, garlic and onions instead of chopping them for starting quick curries.
Cook Extra and Appreciate Leftovers:
Hubby Dear and I have always been in the habit of eating leftovers for lunch the next day. So, I've kind of gotten into the habit of cooking more than I need and packing up the rest in the fridge. If I know that we won't be eating it in the next day or two, then I'll freeze the leftovers for a day when we need a quick fix and I need a break. To me, it simply make no sense to cook a tasty dinner for just one meal when you can easily double up the recipe and enjoy it another time.
Give Yourself a Break:
Nobody said that home cooked meals had to be 100% home cooked from scratch. Make it easy on yourself and pair up freshly made meals something from the frozen aisle in the store to make your like easier. Making rotis everyday is not possible for me, so I find no shame in warming up frozen parathas and naans and serving them alongside the delicious curry I just cooked with love.
Over the past 10 years since I've been cooking daily dinners, I've come to realize that there are a few recipes that find their way into my dinner rotation every few days. These recipes are great starting points to experiment with and can easily be jazzed up to create new tasty versions of themselves. My trick is to mix and match from the various categories to map out a well-balanced meal. I almost always multitask and cook them either at tandem or start on one while I prep for the other. Then, if need be, I add in a salad and some yogurt on the side and call it a perfect desi meal.
Here are some of my favourite quick Indian dinner ideas:
To help get you all started off on the right foot, here are a few Indian dinner ideas from the archives that might make dinner time a little easier this coming week:
Kadhi, Baingan Patiala and Rice
Chana Masala, Jeera Alu and store-bought Naans
Palak Paneer, store-bought Rotis and a Salad
Chana Dal Masala, Dahi Bhindi and Rice
Methi-Anda Curry, store-bought Rotis and a Salad
Coconut Chicken Curry, Jeera Pulao and a Salad
Matar Paneer, Alu Palak and Rice
MORE POSTS ON INDIAN COOKING 101