In my quest to dismiss the myth that Indian cooking is not for the faint-hearted and to help spread my knowledge on some simple and traditional Indian food recipes, like this Tadka Dal, I have started this series called Indian Cooking 101. To make it more interactive and as helpful as I can for my readers, I welcome you to email me any questions that you may have in the process. I will try and respond to the questions personally through email, or in the next part if it's connected to what I have already planned to discuss.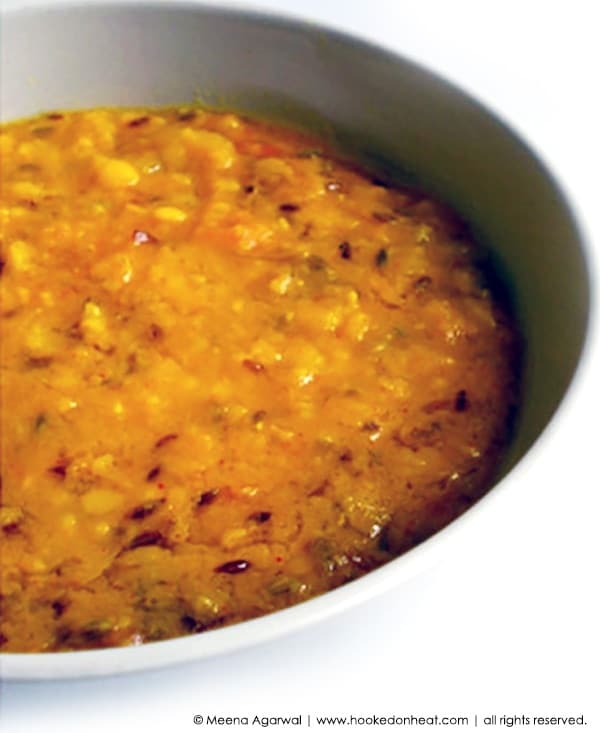 When I started out to try and impart what I know of Indian cooking, I had a few things in mind that I knew I just had to talk about – lentils sort of topping this list. I did not want to make this series all about the simplicity in the recipes, but instead, I wanted to discuss the essence of Indian food right from the basics. When one thinks of Indian food, the first few things that come to mind definitely include spice, curries, and Butter Chicken. While these may somewhat play key roles when introducing someone to Indian cuisine, it is hard to leave out the other factors that contribute to the rising popularity of Indian food.
Picking up from where I last left off with an introduction to the most basic spices found in almost every Indian home, let me go a step further and bring you into the whole new wonderful world of lentils. Lentils, or Dal, as they are most often known in the Indian menu, are a staple at almost every Indian meal. Ranging from the most basic cooking method of simply boiling it with a dash of salt and adding a robust tempering right before serving, to a more tedious method of slow cooking it with various spices and vegetables, lentils have come a long from where we first knew it to be.
What are lentils?
Lentils are basically legumes and have somewhat of a rich nutty flavour. They are usually sold pre-packaged in bags or boxes, but can also be bought in bulk. When shopping for lentils, it is most important to note how much of an effort you are actually willing to spend in their cooking process. When storing lentils, it is best to keep them in large air-tight containers in a cool spot. Right next to where you store your pasta, is probably also the best spot to display your lentil collection.
Lentils come in varied sizes, shapes and colours, each equipped with its own distinct flavour and commendable cooking times. Many of them cooked be cooked in similar ways, but don't let the difference in tastes of each of them surprise you. That's what's so special about including Dals in your meal plans. Not much of an effort where the cooking is concerned, and yet you can have variety in your meals simply by alternating the kinds of lentils you use.
Some of the most common lentils in Indian cooking are:
Masoor (red lentils): The red split Masoor lentils are most commonly used in many homes. They take the shortest time to cook and require no pre-soaking whatsoever. This type of lentils is usually found in everyday meals and make a quick go-to dish when you're running short of time.
Toor/Arhar (yellow lentils): The Toor Dal, is dull yellow in colour and is most often the base for many South Indian specialities like Sambhar. They need to soak for a few hours before cooking, and take longer to boil down to a soft edible center. A quick way to overcome the long cooking process would be to use a pressure cooker. On the contrary, they are perfect for a slow cooker if you're in need to let a meal do its own thing while you go about your own.
Chana (split-pea lentils): The Chana Dal, or split-pea lentils have a deep yellow colour and look like the halves of a chickpea, only in a smaller size. They take the longest to cook and are extremely compatible with both, the pressure cooker as well as a slow cooker. They often take center stage in special dishes, and are a favourite to serve at dinner parties.
Moong (green lentils): Being green in colour and taking the shape of a tiny bean is probably what sets this Dal apart from its various counterparts. The Moong Dal is rarely used in preparing everyday meals, but gets its fame as the star of a widely loved dessert call Moong Dal Halwa.
What does an everyday Indian meal look like?
An everyday Indian meal usually comprises of some rice, a few Rotis, a Dal and a vegetable, accompanied with some yogurt, pickle and a light salad. When you're in no mood to go the whole mile, Dals are best enjoyed with steamed rice and a dash of spicy Indian pickle. In many Indian households, a different Dal is cooked each day, accompanied by a complimenting vegetable. Dals are also used in many non-vegetarian preparations, the most popular known being the Dhansak. A gift from the Parsis, Dhansak is a slow-cooked stew of meat, vegetables and lentils, all simmering in rich, robust spicy flavours.
With its chockfull of proteins, lentils are a great addition to a vegetarian diet. Add a handful to your stews and soups for that extra burst of nutrition. Lentils can easily take on varied flavours and add richness to your daily meals. So go ahead, and give it a try.
Tadka Dal (Spiced Lentils)
Servings: 4
Ingredients
1 cup red lentils lal masoor
1 tbsp light cooking oil
1 tsp cumin seeds
1 tsp fennel seeds
1 small onion thinly sliced
1-2 green chillies finely chopped
2 garlic cloves sliced
1 inch piece of ginger peeled and thinly sliced
1/4 tsp turmeric powder
1/4 tsp red chilli powder
1 medium tomato chopped
2 cups water
salt to taste
finely chopped fresh cilantro for garnish
Instructions
Boil the lentils till tender and set aside.

In a deep pan, heat oil and add in the cumin and fennel seeds. Once they starts to sizzle, add in the onions, chillies, garlic and ginger.

Fry of a few minutes till onions lightly brown, before adding in the turmeric and chilli powder. Give it a quick stir and add in the tomatoes. Once the tomatoes start to soften, add in the cooked lentils and about 1-2 cups of water, depending on the consistency you prefer.

Season with salt, and let the Dal simmer for a few minutes to allow all the flavours to blend.

Garnish with fresh cilantro and serve warm.
Some other additions and substitutions to try with this recipe:
Alternate with different lentils to get varied flavours.
Make a tempering of curry leaves and mustard seeds to add a South Indian touch.
Substitute Masoor with Toor Dal, and add a teaspoon each of Sambhar Masala and Tamarind extract while boiling. Temper with curry leaves and mustard leaves and season with a splash of lemon juice to make Sambhar.
This post was originally published in May 2007 and has been recently updated.
If you liked this Tadka Dal recipe, I'm sure you will love my Dal Makhani, Simple Everyday Instant Pot Dal and my Palak Dal as well.
Made this recipe? Rate it by clicking the number of stars on the recipe card. Want to share your version with me? Tag me on Instagram @hookedonheat
MORE POSTS ON INDIAN COOKING 101