In my quest to dismiss the myth that Indian cooking is not for the faint-hearted and to help spread my knowledge on some simple and traditional Indian food recipes, like this Pindi Chana Curry, I have started this series called Indian Cooking 101. To make it more interactive and as helpful as I can for my readers, I welcome you to email me any questions that you may have in the process. I will try and respond to the questions personally through email, or in the next part if it's connected to what I have already planned to discuss.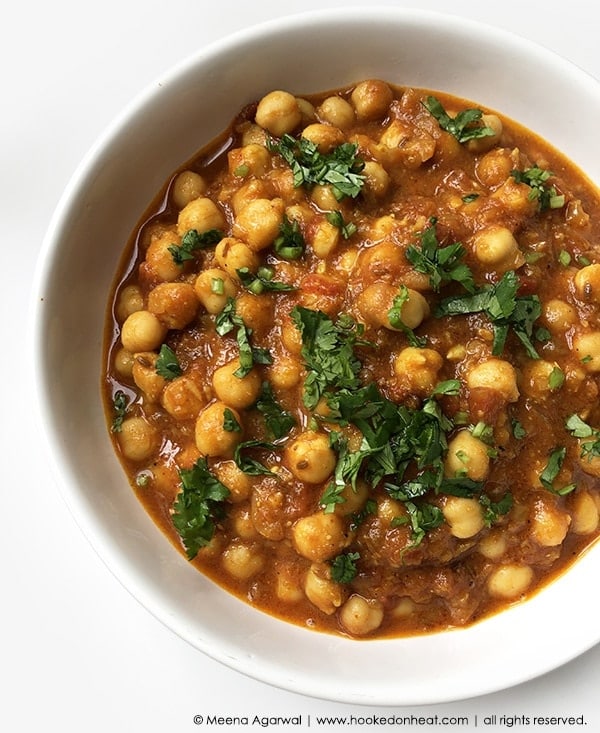 I get quite a few emails referring to a past post of mine, How NOT to Cook Indian food, from people confessing to me their creative and not so creative ways of imitating Indian flavours. As much as I love reading each and every one of them, it also sometimes makes me want to pull my eyes out when I see how much people actually enjoy Indian food, but yet, how ignorant they are about what actually goes into it. A common misdemeanour is of course, by far, the liberal addition of that yellow powdery substance known commercially as curry powder (say it with me now, YUCK!) to a quick saute of chopped onions and tomatoes.
What does an Indian curry look like?
Curry is undoubtedly one the most popular Indian dishes and can vary in style, colour and flavour depending on the region and kitchen it comes from. Although I can in no way humanly possible, map out step-by-step recipes for every curry that exists, I will try and share with you a few simple tips that I often use myself to create a lip-smacking bowl of curry with little, or no effort needed whatsoever. As with any classic dish, Indian curries vary in taste, colour and style within regions throughout the country, and every household has a secret family recipe that they claim is the best ever!
One thing to note here, however, is when I mention the word "curry", I am clearly pointing to a gravy-based dish of either meat or vegetables. To begin with, let's start by breaking up a curry into its basic components.
What makes a good curry?
Flavour base: I often like to start with deciding the flavour base for my curry. This would be the main ingredient that would dominate the flavour of the curry dish and could range anywhere from a simple blend of spices to coconut, yogurt or tomatoes. Deciding on your flavour base before you start to prep ingredients for the cooking will also help you to estimate what spices, meat or vegetables would best compliment it.
Feature ingredient: This would usually be the meat or vegetable that would carry the dish. In many cases, more than one feature ingredient can be used, but be sure to either group items that compliment each other well, or give you a wonderful contrast. Adding peas and carrots to a potato curry would bump up the blandness of the potatoes. But combining squash and sweet potatoes together, might not be such a great idea.
Flavour enhancers: This is undoubtedly my favourite part of the curry, and by far, a highly important one. They can range anywhere from herbs, spices and condiments or sauces. When picking a flavour enhancer, keep in mind that you always want to choose something that would enhance the flavouring of the dish, and not overwhelm it. It's often best when you get a slight hint of the flavour in the background, giving the other components of the dish enough weight to bring it out together.
To make a fabulous tasting curry, it's always best to look at each component separately and try and combine them together in such a way that they go well with each other. For eg., if I had decided to make a coconut-based curry, then I would normally pick fish as my feature ingredient, and ginger, lemongrass, and curry leaves as my flavour enhancers. The sharpness in the ginger and curry leaves would be well balanced with the lemongrass and coconut; and the fish, being much bland in taste, would carry all the flavours fairly well.
What are the types of Indian curries?
To give you an idea of how versatile curries can be, here are three very different recipes that are simple to make and can easily be adapted to suit any kind of taste preference:
Tomato-based curry with yogurt and whole spices:
Heat oil in a thick-bottomed pan and saute some cardamom, peppercorns, bay leaves, cinnamon stick and cloves, till they begin to sizzle. Add sliced onions and green chillies, and fry for 3-5 minutes on medium-high heat till onions turn pink and tender. Stir in some ginger-garlic paste and saute for another minute or two till it starts to gives out oil. Add red chilli powder, cumin powder, turmeric, coriander powder and garam masala, and fry for a minute. Mix in chopped tomatoes and salt, and cook for a few minutes till tomatoes pulp and releases oil around the sides of the pan. Slowly stir in beaten yogurt forming a smooth gravy base.
This curry base would go extremely well with chicken, paneer, mushrooms, and potatoes. A variation on this recipe can be seen here – Dahiwali Chicken Curry
Coconut-based curry:
Toast dried red chilies, cumin seeds and coriander seeds till fragrant. Grind in a food processor to a fine powder and set aside. Heat oil and saute garlic and curry leaves till fragrant. Add onions and fry for a few minutes till tender and pink. Add ground spices and turmeric, and fry for a few seconds before adding coconut milk.
This curry base would go extremely well with chicken, fish, tofu, and many leafy greens like spinach and bok choy. A variation on this recipe can be seen here – Coconut Chicken Curry
Tomato-based, tangy curry:
Add mustard seeds and curry leaves to warm oil and allow to sizzle. Once they begin to splutter, add sliced onions and fry till lightly browned. Add tomatoes, garlic, chilli powder, turmeric and salt, and cook for 5-6 minutes till tomatoes pulp. Add tamarind extract and stir to blend well. Add water and green chillies, and cook covered for 15-20 minutes.
This curry base would go extremely well with chicken, fish, and almost any vegetable. A variation on this recipe can be seen here – Hot & Sour Fish Curry
These are just a few guidelines and examples to help you understand the versatility of Indian cuisine. By all means, trust your instinct and experiment flavours with love with those new to you, and you never know; you may just create a masterpiece!
PINDI CHANA (SPICY CHICKPEAS CURRY)
Servings: 4
Ingredients
1 cup dried chickpeas soaked overnight
2 tbsp cooking oil
1 tsp cumin seeds
1 medium onion finely chopped
2 green chillies finely chopped
1 tbsp ginger-garlic paste
salt to taste
1/2 tsp red chili powder
1 tsp coriander powder
1 tsp cumin powder
1/2 tsp amchur powder dried mango
1 tsp anardana powder dried pomegranate seeds
1/2 tsp garam masala
1 large tomato finely chopped
1 tbsp tomato paste
water as needed
fresh coriander leaves chopped for garnish
Instructions
Boil pre-soaked chickpeas in enough water in a pressure cooker till soft.

Heat oil in a deep pan and saute cumin seeds till they begin to sizzle. Add in onions, green chillies and ginger-garlic paste, and fry till lightly browned. Stir in salt and spices, and fry for a few seconds.

Add in the chopped tomatoes and tomato paste, and cook for a few minutes to combine well. Add chickpeas and about a cup of water, and let cook on low heat for 8-10 minutes.

Garnish with fresh coriander leaves.
Notes
Serve warm with Naans, Puris or Rice.
Tried this recipe? Leave a Comment and let me know, also Rate it by clicking the number of stars on the recipe card. Want to share your version with me? Tag me on Instagram @hookedonheat
MORE POSTS ON INDIAN COOKING 101