Achari Gosht is something I always, always have to order when we eat out at an Indian restaurant. It's my absolute favourite curry dish and cooking it in the Instant Pot just makes the meat so soft and juicy and that it just melts in your mouth.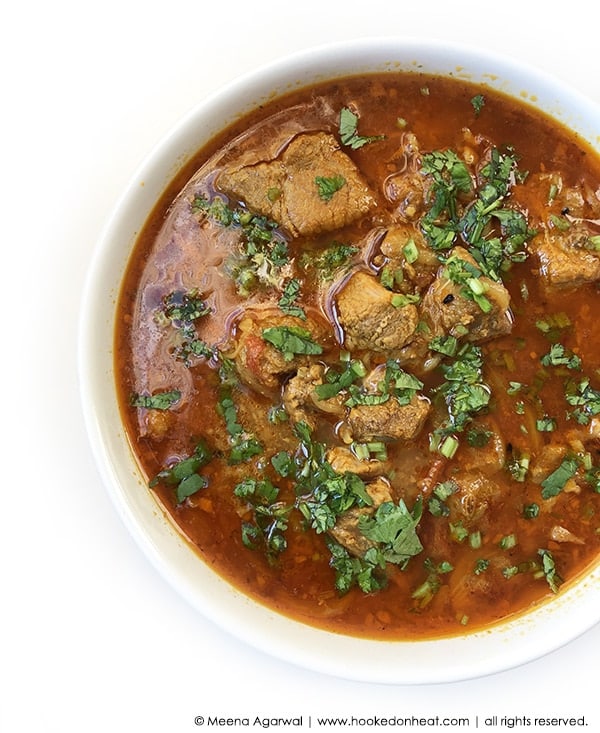 I feel like we cramped the whole of summer into the past weekend. We took advantage of the pleasantly warm weather and had a picnic at the park, walked by the lake, slept in and gorged on a lavish homemade brunch, read a book over endless cups of coffee in the backyard, and took pleasant afternoon naps. And as Monday sprung, bringing along with it a cold burst of strong winds, I got out my trusty Instant Pot and made my Achari Gosht for dinner.
As a child, the first day of school always marked a drastic end to a wonderfully joyous summer. Suddenly, our trips to the park were cut short because of pending homework that needed to be done. Barbeque parties came to an abrupt end since most parents had to shuffle their kids between weekend extra-curricular activities. And the worst of all, we had to get to bed early on Sunday nights and wake up at the break of dawn on Monday mornings.
But as the sun slowly hid behind heavy clouds and the rains and chilly winds became more frequent, I always looked forward to something even better. Comfort food. Food I can come home to from the cold, wet outdoors, that would instantly warm my insides and perk me up. Today, lounging on my favourite chair with a great book and bowl of warm leftover Instant Pot Achari Gosht and rice, I look out the window and bid a silent farewell to summer – only to follow it with a warm welcome to my most favourite season of all. The Fall.
Instant Pot Achari Gosht (Hot & Sour Lamb Curry)
Ingredients
2 lbs bone-in lamb cut into 1-inch pieces
1/2 cup plain yogurt
1/4 tsp turmeric powder
2 tbsp light cooking oil
1 tbsp panch phoron spice mix
1 large onion finely chopped
1 tbsp finely chopped ginger
1 tbsp finely chopped garlic
1 tsp red chilli powder
2 tbsp coriander powder
1 tsp garam masala powder
1 tsp amchoor powder
salt to taste
2 tbsp tomato paste
2 medium-sized tomatoes finely chopped
water as needed
finely chopped fresh cilantro leaves for garnish
2 tbsp fresh lemon juice
Instructions
Marinade the lamb pieces with yogurt and turmeric powder, and let it sit for at least half an hour.

Set the Instant-Pot to saute mode, and add in the oil to heat. Add in the panch phoron and let them start to sizzle.

Add in and saute the onions, ginger and garlic, stirring occasionally, till they begin to soften and turn slightly brown. Mix in the spices, salt and tomato paste, and fry for a minute or two to blend well.

Add in the tomatoes and cook for a couple of minutes till they start to soften and pulp.

Slowly stir in the lamb with all the leftover marinade and add in enough water to cover the meat. Put on the lid and set the Instant-Pot to Manual Pressure mode, and make sure that the valve is in the sealing position. Set the pressure timer to 25 minutes and let it cook.

Once the timer goes off, let the pressure release naturally, then give it a final stir and garnish with fresh cilantro leaves and some lemon juice. Serve hot.
If you enjoyed this recipe, you will surely like my Instant Pot Lamb Curry with Potatoes and Palak Gosht recipe as well.
Tried this recipe? Leave a Comment and let me know, also Rate it by clicking the number of stars on the recipe card. Want to share your version with me? Tag me on Instagram @hookedonheat