In my quest to dismiss the myth that Indian cooking is not for the faint-hearted and to help spread my knowledge on some simple and traditional Indian food recipes, like this Green Chutney or Coriander Chutney, I have started this series called Indian Cooking 101. To make it more interactive and as helpful as I can for my readers, I welcome you to email me any questions that you may have in the process. I will try and respond to the questions personally through email, or in the next part if it's connected to what I have already planned to discuss.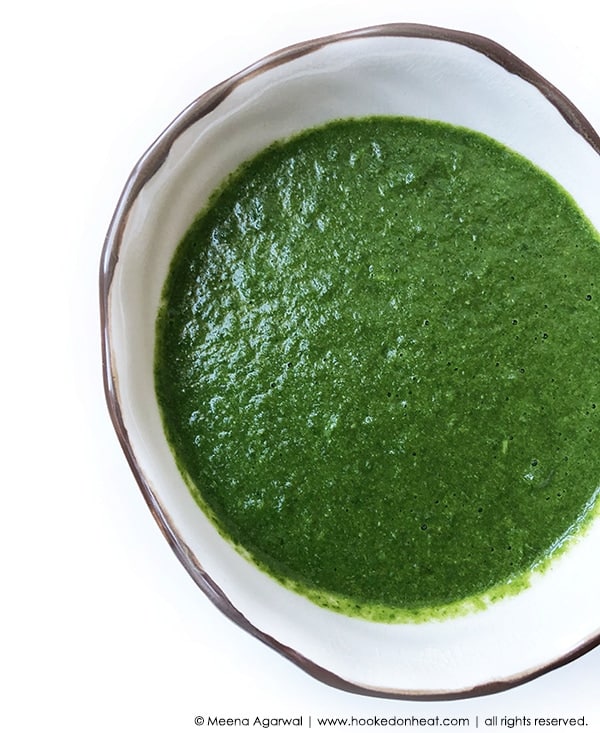 It's often believed that no Indian meal is complete without a good helping of tangy Green Chutney, also known as Coriander Chutney and a touch of spicy pickle on the side. Delicately spiced, these Indian condiments range in taste, texture and colour to suit every palate, be it hot, sour, salty or sweet. Since chutneys and pickles hold a very prominent place on every thali, a large round steel tray traditional used to serve a selection of different dishes, including rice, lentils, vegetables, rotis and a sweet dish, I couldn't help but dedicate a section to highlight its importance in Indian food.
What are Indian Pickles?
Unlike the classic dill pickle found in almost every refrigerator in every home in North America, Indian pickles are fiery hot condiments that are often eaten in tiny quantities. They can be seen as preserves, with salt being the most common preservative and can be stored up to many months. While most Indian pickles tend to be sour, you can also find a good range in the sweet varieties. Earlier pickles were most commonly made from mangoes that are available in abundance throughout, but now one can easily find a jar of any pickled vegetable desired or even a combination of them.
Most pickles are made by sun-drying the fruits and vegetables and then storing them in a jar of salt over a period of time. Mixed in oil and spices and they are then flavoured, some even simmered for hours. Over the hot summer months, it's very common to find a family gathered out on the patios or terraces, sitting in a circle preparing the ingredients for pickling, while at the same time sharing in idle gossip. Each family prides in its own secret recipe passed on from generations, making this a family event to look forward to.
What are Indian Chutneys?
Chutneys can be classified into two basic categories. The fresh chutneys, those that are blended with fresh ingredients and spices – like this Coriander Chutney, require no cooking whatsoever. The cooked chutneys, however, are simmered over low heat till all the flavours are blended well. While chutneys are enjoyed and eaten in almost every home throughout the country, it is as diverse in its flavour as the number of hands that make it every day.
Some of the most popular chutneys include:
Coconut Chutney: A favourite accompaniment to the spicy Masala Dosa, this fresh chutney is made by blending freshly grated coconut with generous amounts of green chillies, fresh ginger, curry leaves, Urad dal and mustard seeds.
Tomato Chutney: This refreshingly sweet chutney is made by slowing cooking fresh tomatoes with an added flavour of curry leaves, ginger and spices. Eaten hot or cold it brings a wonderful additional dose of flavour to any simple meal.
Tamarind Chutney: A slow simmering chutney of tamarind pulp, jaggery (unrefined sugar) and a mix of spices, this tangy chutney is always a welcome companion to many Indian snacks. It is a wonderful blend of sweet and sour flavours with a hint of spice and adds that much needed zing to many popular street foods.
Mango Chutney: This chutney is easily made by sautéing diced mangoes with an array of different spices and lemon juice. As much as it is enjoyed with a traditional Indian meal, it also serves as a great topping for any regular sandwich.
Onion Chutney: A personal favourite, onion chutney is a quick two-step process. First, sliced onions are sautéed in a skillet with red chillies. Then, once cooled, it is blended to a touch of tamarind and sugar to a smooth fine paste. A perfect blend of spicy, sweet and sour, this delicious relish is good enough to enjoy on its own.
Green Chutney (Coriander Chutney)
Ingredients
2 cups roughly chopped fresh cilantro
1/2 cup fresh mint leaves
1 large garlic clove
1-2 green chillies roughly chopped
2-3 tbsp fresh lime juice
1/2 tsp cumin powder
salt to taste
water as needed
Instructions
Add all the ingredients into a blender with a splash of water and grind into in smooth paste, slowly increasing the amount of water as needed.
This tangy lip-smacking Coriander Chutney is best enjoyed with Samosas, Chaats, Pakoras, or even as a sandwich spread.
This post was originally published in June 2007 and has been recently updated.
Made this recipe? Rate it by clicking the number of stars on the recipe card. Want to share your version with me? Tag me on Instagram @hookedonheat
MORE POSTS ON INDIAN COOKING 101