A grilled cheese sandwich was one of the first big people finger foods I introduced to Baby Dear when he started to show an interest in feeding himself. I figured that if I could stuff a bunch of veggies, protein and some healthy fat in the form of delicious cheese between two slices of whole grain bread, and have him eat it with gusto, then it was win-win for us both! Of course, it worked like a charm. Even today, these kinds of warm sandwiches are always my fall back option when I'm in a crunch for time and need to get something healthy and filling on table, pronto.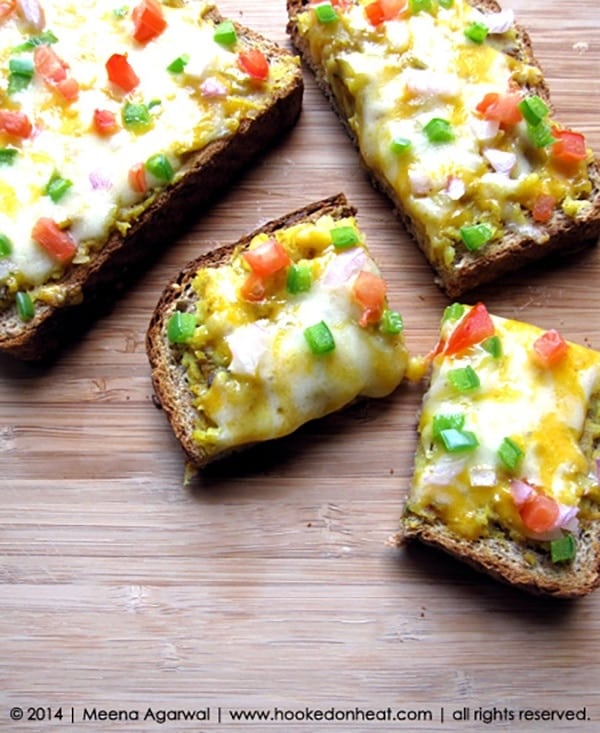 I personally love a grilled cheese sandwich for the fact that they can easily fit into any meal of the day – as Rachael Ray would say, they're a perfect candidate for B-L-D. They're also so versatile – fill in anything and everything you have, top it off with cheese and grill till warm and crisp. I always have a few different kinds of cheese and bread in my fridge/freezer, and you'll find us enjoying sandwiches fresh from the griddle at least once a week.
It's funny that now when I look back and think about it, I seem to have served some form of warm sandwiches every time I had a crowd to feed and a short notice to do so. We busted out the griddle when my bff decided to spend the night with us on a whim after her husband left on a business trip. We had to make a quick run to the corner store at midnight once when we all craved something warm during a movie marathon weekend. And I also remember making an insane number of them at Hubby Dear's 30th Indian street food themed birthday bash.
A few days ago, as I did some cleanup on the site and started to organize my recipe list, it suddenly occurred to me that in all of these years of cooking and blogging about it, I had, not even once written about this humble and yet, amazingly satisfying dinner option. I made a mental note right there that I just had to get it done soon. This recipe is one of my personal favourites. It uses everything you might have in your fridge, freezer or kitchen pantry. To get more creative and introduce Baby Dear to new lunch ideas for when he starts school soon, I left them open-faced and shoved them into the toaster oven to melt and crisp. Do as you please and add/omit ingredients as you like, keep it open-faced or slap another slice of bread on top. Afterall, a sandwich is nothing if not flexible. So here it is, as promised!
POTATO MASALA MELTS
Prep time: 10 min | Cooking time: 3-5 min | Makes: 4 open-faced sandwiches

Ingredients:

1 medium potato, boiled and mashed
1/2 tsp chaat masala
1/4 tsp crushed dried mint
1/4 tsp garlic powder
salt and pepper, to taste
4 slices of whole grain bread
1 cup shredded cheese (mozzarella/marble/cheddar/monterey jack)
1/4 cup finely chopped green pepper
1/4 cup finely chopped tomato
2 tbsp finely chopped onions

Directions:

Preheat oven to 350 degrees.

Mix mashed potato with spices, salt and pepper to blend well.

Spread the spiced mashed potato on each slice of bread. Top with shredded cheese and veggies, and place on a baking sheet in a hot oven till the cheese melts and the bread gets toasty.

Serve warm.
Tried this recipe? Leave a Comment and let me know, also Rate it by clicking the number of stars on the recipe card. Want to share your version with me? Tag me on Instagram @hookedonheat