Today I have for you my very own recipe of Tofu Garlic Noodles – what I like to call one of my 'no-recipe recipes'. These are a class of recipes that I often come up with at the spur of the moment – they have no reason, no inspiration. Just a bunch of ingredients thrown together in the hopes of creating something edible.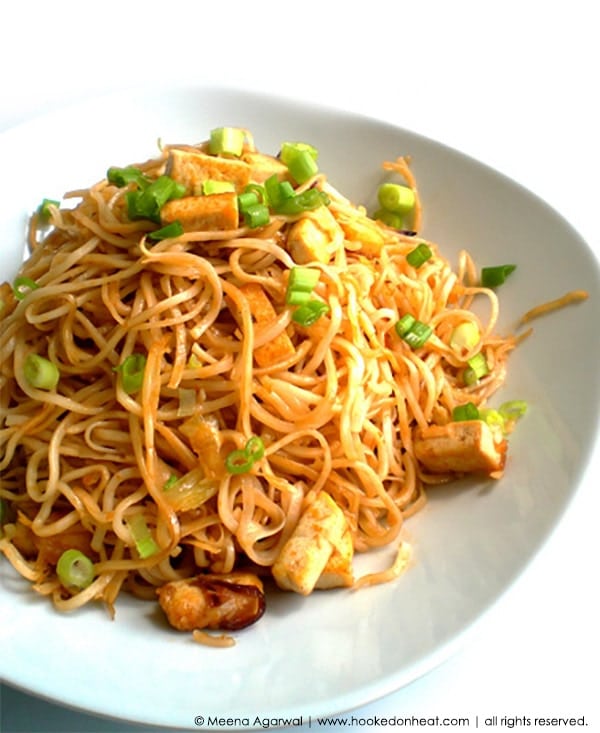 While a few of such of my creations have turned out perfect to go into the trash, many of them have become a family favourite over the years and continue to make their appearances on my dinner table. Most of them are throw-it-all-into-one-pot-and-hope-for-the-best kinda meals, while others are quick assembly ones. But they each have one thing in common: a few starving mouths waiting to be fed.
I remember this one time when I tried cooking spaghetti with some leftover meatball curry – spaghetti bolognese a la Indian, which did not work out much to our liking. Neither is combining paneer with green curry paste in hopes of creating a Thai-Indo fusion fried rice such a great idea. But I digress, a ravenous tummy = brains cells on holiday! But sometimes, the lack of time, energy and a frighteningly increasing hunger can create the most delicious meal.
Take today for example – I woke up with a strong will to bake. And bake I did! A bunch of sorry looking carrots found its way into my baking pan and turned into the most deliciously moist treat, a perfect pairing for my evening cup of coffee (but that's a recipe for another day!). Then I slowly crossed off things on my to-do list one after the other. I was on a roll and nothing was going to stop me. Except, of course, my screaming stomach who knows nothing about keeping its cool when hungry.
A quick glance at the clock confirmed that I was past my regular lunchtime, and I had to act fast! So I did what I could – picked a bunched of that, chopped a few of those, boiled a pot of this, and stir-fried them all together. And might I add, as hideously simple as it sounds – it was a great meal. Or maybe that's just my tummy talking!
Tofu Garlic Noodles
Servings: 4
Ingredients
2 tbsp light cooking oil
1 large onion, finely sliced
2 tbsp finely chopped garlic
1 cup diced extra-firm tofu
1 cup finely shredded cabbage
1 tbsp Sambal Olek (chilli paste)
3 cups boiled egg noodles
2 tbsp light soya sauce
salt, to taste
Instructions
Heat oil in a deep non-stick wok and saute onions and garlic, till lightly browned and fragrant. Add in tofu and fry for a few minutes till crisp around the edges. By this time, the onions and garlic should be caramelized and very fragrant.

Add in the shredded cabbage and Sambal Olek, and stir-fry for a few minutes to combine well. Stir in noodles, sprinkle soya sauce, and stir fry to coat noodles well with the sauce and veggies. Season with salt and serve warm.
If you like this recipe, then you will surely like my Curry Noodle Bowl.
Tried this recipe? Leave a Comment and let me know, also Rate it by clicking the number of stars on the recipe card. Want to share your version with me? Tag me on Instagram @hookedonheat