When it comes to simple everyday meals, I find it hard to succumb myself to the traditional Indian daily routine of Dal–Sabzi, translated, simply meaning a lentil and vegetable preparation. My idea of a simple Indian lunch would mainly consist of a quick Chicken Curry and a side of rice and a salad.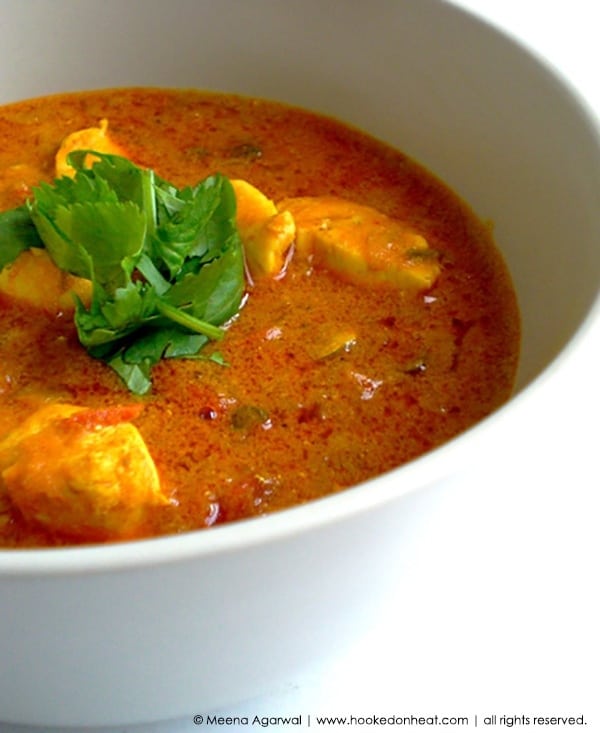 Often, when I talk to people on the topic of curries, the most common concern I get confronted with is the amount of time, and not to mention the effort that comes with it. I for one, beg to differ. For me, curry is nothing but a smooth blend of flavours brought together to highlight a star ingredient. True, you can spend hours toasting, pounding, and grinding spices to form the smoothest of pastes; you can spend days marinating and chopping to achieve the most delicate blend possible, and you can also lose yourself in a cloud of spices and herbs that would fill your kitchen and your home with an aroma almost so ambrosial, you would think you woke up in a foreign land. But then again, you could do what I do on days when all I have at my disposal are a few measly minutes at the brink of lunch-time with a rumbling tummy to cater to.
As I see it, curries are not something one should be afraid of. Neither are they something to look at with such cynicism or vengeance. A simple chicken curry can be easily tamed to suit one's tastes and preferences. I like mine to be quick and robust in flavour, and I don't stop till I find my way with it.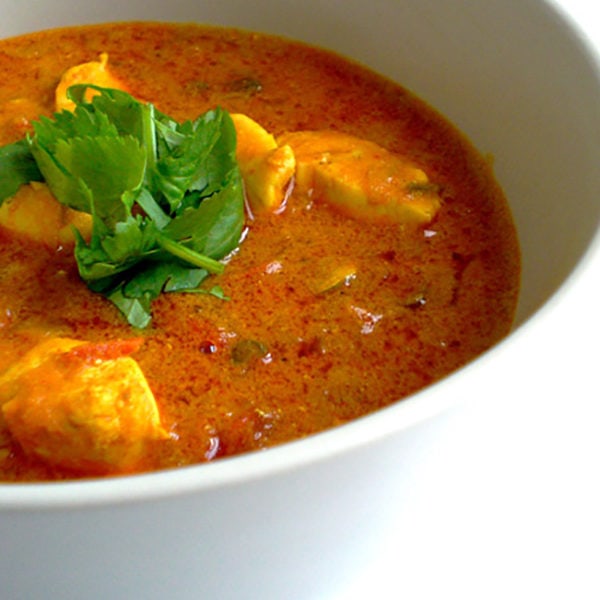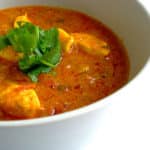 Print Recipe
DAHIWALI CHICKEN CURRY (CHICKEN SIMMERED IN A CREAMY YOGURT GRAVY)
Ingredients
2

tbsp

light cooking oil

1

cinnamon stick

3-4

green cardamom pods

bruised

3-4

whole cloves

2

dried bay leaves

1

large onion

finely chopped

1-2

green chillies

finely chopped

1

tbsp

ginger paste

1

tbsp

garlic paste

1/2

tsp

red chilli powder

1/4

turmeric powder

1

tsp

cumin powder

1

tsp

coriander powder

1/2

tsp

garam masala powder

2

medium tomatoes

finely chopped

salt

to taste

1/2

cup

plain yogurt

beaten till smooth

2

large boneless chicken breasts

diced into 1-inch cubes

a handful fresh coriander leaves

chopped for garnish
Instructions
Heat oil in a thick-bottomed pan and add in cinnamon stick, cardamom, cloves and bay leaves. Once they begin to sizzle, add in onions and green chillies, and fry for 3-5 minutes on medium-high heat till onions turn pink and tender. Add in ginger and garlic pastes and saute for another minute or two till fragrant.

Add in red chilli powder, turmeric, cumin powder, coriander powder and garam masala, and fry for a minute. Mix in chopped tomatoes and salt, and cook for a few minutes till tomatoes pulp and releases oil around the sides of the pan. Slowly stir in beaten yogurt forming a smooth gravy base.

Add chicken pieces, water if necessary, and allow to cook covered for 10-15 minutes on medium-low heat till done. Garnish with fresh chopped coriander leaves and serve piping hot with a side of rotis or rice, and a salad.
This post was originally published in January 2007 and has been recently updated.
If you liked this recipe, then you will surely enjoy my Homestyle Chicken Curry.
Made this recipe? Rate it by clicking the number of stars on the recipe card. Want to share your version with me? Tag me on Instagram @hookedonheat