In my quest to dismiss the myth that Indian cooking is not for the faint-hearted and to help spread my knowledge on some simple and traditional Indian food recipes, like these Tandoori Chicken Pops, I have started this series called Indian Cooking 101. To make it more interactive and as helpful as I can for my readers, I welcome you to email me any questions that you may have in the process. I will try and respond to the questions personally through email, or in the next part if it's connected to what I have already planned to discuss.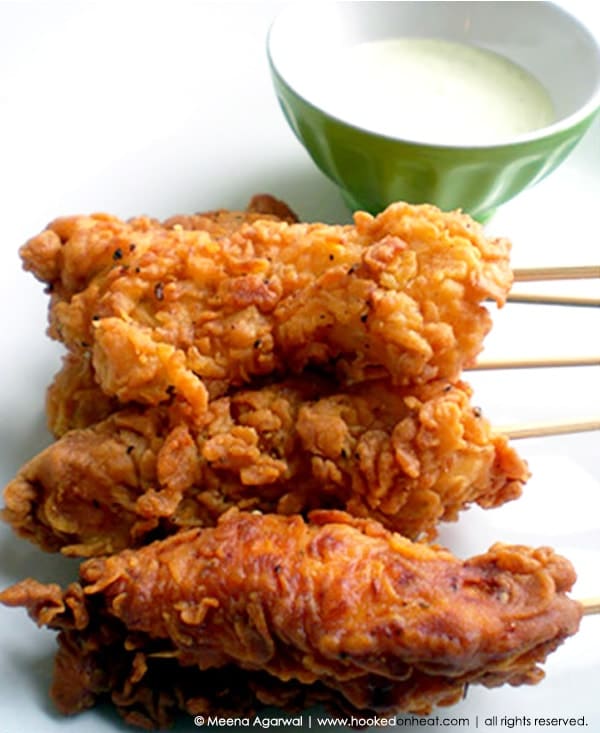 Growing up, I seldom remember a weekend where we had the house to ourselves. While few weekends were spent hosting visiting family and friends from far off places, most of our Saturday nights were spent amidst mighty morsels of succulent bites of food – like Tandoori Chicken. My parents, like most true-blood Indians, love to shower people with their hospitality and feed them till they're almost ready to burst. We Indians are known for our need to treat our guests with the utmost care and generosity, and one common way we all seem to achieve in doing so is through our food – like these Tandoori Chicken Pops.
Food holds a very special place in any Indian household. No festivity is complete without a table laden with colourful dishes end to end, enough to please a king. It's no wonder that out of all the rooms in a home, many Indians take the most pride in showing you their kitchens. Truly, we love food, and our life surrounds it. Our conversations, no matter how they begin always seem to divert to something food-related with the topic in question. A simple wedding announcement would automatically lead to the designing of the menu. Even meeting up with a long lost friend would be done over lunch or dinner, over the food they could reminisce about.
While our meals may be laced with rich aromatic flavours, what I look forward to the most at any Indian-inspired party is the platter of appetizers. Indian hors d'oeuvres range from savoury street food, like the most loved samosas (deep-fried pastry filled with potatoes) and pakodas (spiced fritters), to the ever famous tandoori chicken and tikkas (marinated meat grilled in a clay oven). They are steamed, grilled and fried. They come in various sizes and shapes, some that can be daintily picked by two fingers, and others that require a spoon and lots of napkins. No matter in what form, they each have something special to offer, and no cocktail party would regret having them.
Ask anyone who has ever walked the streets of any major Indian city, be it Delhi, Mumbai or Bangalore; and they will attest to the fact that no evening stroll is complete without making a stop at one of the many hawker stalls that surround every busy area in these cities. Street after street, stall after stall, you will be greeted by smiling faces and tempting plates that urge you to come and give it a try. Smothered with spicy and tangy chutneys, yogurt and tons of other fixings, each plate creates a whole new tale in your mouth. My fondest memories of my days spent in India involve sneaking out of the house on the pretext of an evening walk while I actually skipped to hawker next door and enjoyed deep fried savoury chips drowned in tangy yogurt and sweet tamarind chutney, running through the rain to buy a big batch of jalapeno fritters, and waiting in long lines to savour a bite of the best kebabs I had ever tasted on the face of this planet.
A friend recently asked me to make a list of some of my favourite food joints that I strongly feel she should try on her visit to Delhi. My response was simple: if she could stomach it, nothing beats the spicy street food.
TANDOORI CHICKEN POPS
Servings: 4
Ingredients
2 large chicken breasts cut into thin strips
2 tbsp plain yogurt
1 tbsp fresh lemon juice
1/2 tsp ginger-garlic paste
1/2 tsp red chili powder
1/2 tsp cumin powder
2 tbsp coriander powder
salt to taste
light cooking oil enough for deep frying
1 cup all-purpose flour
bamboo skewers
Instructions
Marinate chicken strips yogurt, lemon juice, ginger-garlic paste, spices and salt. Allow it to sit in the fridge for at least an hour or so. For best results, marinate over night.

Heat oil in a deep pan, large enough to fry 3-4 strips at a time. Dip each strip into plain flour, coating well on all sides, before adding them to hot oil.

Deep fry the chicken strips till crisp and golden on all sides. Drain on paper towels, poke through with skewers and serve with Coriander-Mint Chutney.

Alternatively, you can avoid deep frying by simply grilling the marinated chicken on a hot grill till tender and done.
If you enjoyed this recipe, then you will surely love my Crispy Spicy Fried Chicken recipe as well.
Made this recipe? Rate it by clicking the number of stars on the recipe card. Want to share your version with me? Tag me on Instagram @hookedonheat
MORE POSTS ON INDIAN COOKING 101