Paneer Jalfrazie is a very popular Indian restaurant-style dish that is not only quite simple to make as a midweek meal, but also very tasty. This dish comes together fairly quick and easy by sauteing tender pieces of paneer with crisp peppers and onions in a light flavorful tomato-based sauce.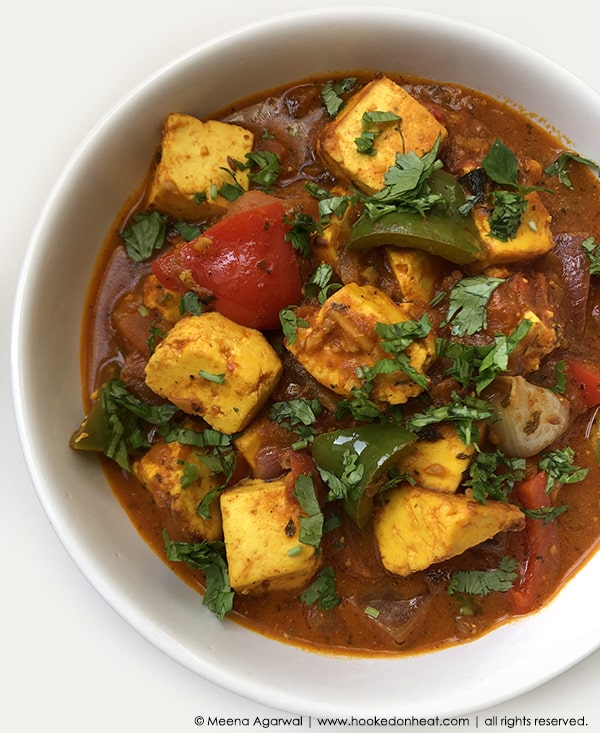 This restaurant-style Paneer Jalfrazie recipe is one of my favourite dishes to serve at dinner parties. Since the paneer is fairly quick to cook, it hardly takes any time to bring this together. I like to keep all the ingredients prepped and ready to go so that it is a quick stir-fry process.
On days when I'm rushing to get dinner on the table and can't be bothered to make a side of fresh rotis or even something as simple as rice, I love to use this recipe as a filling for wraps or sandwiches and serve it with a big salad to complete the meal. If you have any leftovers, it would also work great for a quick lunch.
Although this recipe is a mild one, you can increase its heat level by adding in 2-3 thinly sliced fresh jalapenos along with the peppers. As the dish cooks, the heat from the jalapenos will penetrate through the dish and impart its heat. You can also increase the amount of red chili powder to make this dish much more spicier.
You can add in any kinds of vegetables you like to this Paneer Jalfrazie recipe including, carrots, cauliflower, mushrooms and peas to this recipe. If using carrots, mushrooms or cauliflower, add them into the pan along with the onions, and sauté them for a couple of minutes until all the vegetables cook through, before adding in the paneer and spices. Frozen peas should be added along with the peppers, to avoid over cooking them.
I often like to make an extra batch of this recipe to save for a later date. Let the dish cool to room temperature before you store it in airtight containers and freeze for a later use. The paneer freezes really well and the flavors get even more concentrated as they sit for a longer time. When you are ready to serve again, let it thaw overnight in the fridge before heating it in the microwave.
To make a vegan version of this Paneer Jalfrazie recipe, simply substitute the paneer pieces with extra firm tofu. 
Paneer Jalfrazie (Stir-fried Paneer in a mild Tomato Sauce)
Servings: 4
Ingredients
2 tbsp light cooking oil
1 tsp whole cumin seeds
1 tbsp finely chopped ginger
1 tbsp finely chopped garlic
1 large-sized onion thinly sliced
1/4 tsp turmeric powder
1/2 tsp red chilli powder
1/2 tsp cumin powder
1 tbsp coriander powder
1 tbsp tomato paste
400 gms paneer cut into 1-inch sized cubes
1 medium-sized tomatoes cut into wedges
1 medium-sized green bell pepper cut into bite-sized pieces
1 medium-sized red bell pepper cut into bite-sized pieces
salt to taste
roughly chopped fresh cilantro leaves for garnish
Instructions
Heat oil in a large non-stick wok and fry cumin seeds, ginger and garlic for a few seconds till fragrant. Add in sliced onions and spices, and mix well. Fry for 1-2 minutes.

Add in tomato paste and mix well with the onions and spices. Add in paneer pieces, and stir-fry for another 1-2 minutes until lightly browned along the edges.

Now add in the tomatoes and peppers, season with salt, and mix well. Let it cook covered for 5-6 minutes until the paneer is completely cooked through and a light sauce starts to form.

Garnish with fresh cilantro leaves and serve warm.
Notes
To make a vegan version of this Paneer Jalfrazie recipe, simply substitute the paneer pieces with extra firm tofu. 
If you enjoyed this recipe, you will surely like my Palak Paneer, Paneer Tikka Shashlik and Kadhai Chicken recipe as well.
Tried this recipe? Leave a Comment and let me know, also Rate it by clicking the number of stars on the recipe card. Want to share your version with me? Tag me on Instagram @hookedonheat