Growing up, the only mushrooms I ever ate were the ones my Mom drained out of a can to spread on homemade pizza. It may sound completely unappetizing, but I loved it. So much so, that I would actually fish out any pieces I could find on the leftover slices. And yes, sadly, pizza was the only time my Mom opened the can of mushrooms. It wasn't until I actually moved to Canada that I had my first taste of a real, fresh mushroom. One bite and I was blown away, and to this day, mushrooms remain a desired vegetarian option for me – and this Masala Mushroom recipe is one of my favourites!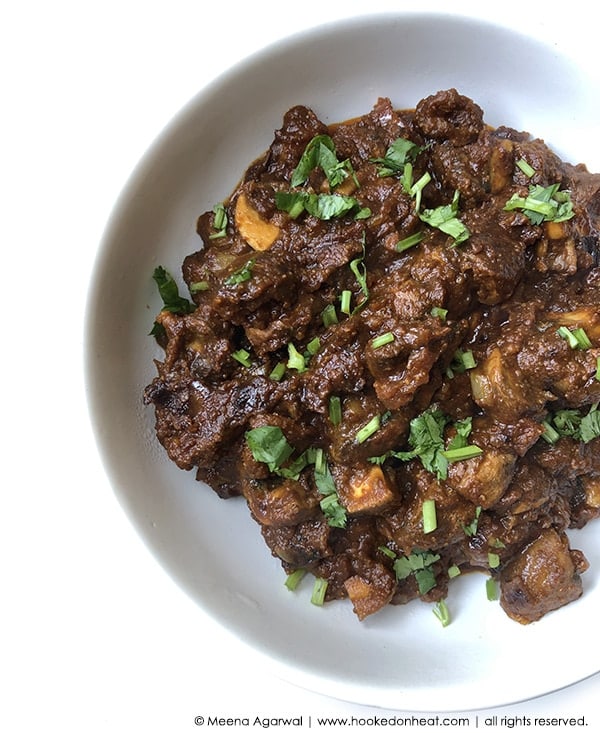 When my parents were visiting during the early months after Baby Dear was born, my Dad had a craving for mushrooms. Like many people from Indian households, where mushrooms were a very rare sight at the dinner table, he wanted to know what they actually tasted like. He had often heard and read of recipes where mushrooms were cooked in a thick, almost dry masala base. He asked me to cook up a batch for him and I was more than happy to oblige! And so, this Masala Mushroom recipe was created.
It was almost too simple to put together. Like most Indian dishes, I started this Masala Mushroom recipe with a base of onions and tomatoes, slowly sauteing it till all the moisture evaporated and the flavours of the various spices had a chance to deepen. Next came the mushrooms, a few more minutes of slow cooking, and voila! Dinner was ready. My Dad had waited a long while to eat mushrooms cooked this way, and his expectations were pretty high. He took a bite, looked at me, and said that I HAD to teach my Mom this recipe. My Mom's retort – they didn't sell mushrooms at the vegetable market she shopped at!
This Masala Mushroom recipe is one I often go to on days when the heart desires something meaty, rich and lip-smackingly good! I've made it for fancy dinner parties, used it as an extravagant side for a simple Dal-Chawal, and also as a filling for sandwiches and wraps. I chose cremini mushrooms since they easily take on robust flavours and shine through. But I suspect regular button and oysters mushrooms would also work well.
Masala Mushroom
Servings: 4
Ingredients
2 tbsp light cooking oil
1 large onion finely chopped
1 tbsp minced ginger
1 tbsp minced garlic
1/4 tsp turmeric powder
1/2 tsp red chilli powder
1 tbsp coriander powder
1/2 tsp amchoor powder
1/4 tsp garam masala
salt to taste
1 tbsp tomato paste
2 medium-sized tomatoes finely chopped
15-20 cremini mushroom quartered
finely chopped fresh coriander leaves for garnish
Instructions
Heat oil in a deep wok and saute onions till they turn lightly brown. Add in ginger and garlic paste, and fry for a minute to blend well.

Add in spices, salt and tomato paste, and fry for another minute mixing everything together.

Add in tomatoes and cook, stirring occasionally till all the moisture evaporates and starts to turn into a thick sauce.

Add in the mushrooms and mix well. Let the mushrooms cook through, until all its water dries up. Garnish with fresh coriander leaves and serve warm.
This post was originally published in October 2011 and has been recently updated.
If you enjoyed this recipe, then you surely love my Mushroom Pulao recipe as well.
Tried this recipe? Leave a Comment and let me know, also Rate it by clicking the number of stars on the recipe card. Want to share your version with me? Tag me on Instagram @hookedonheat