In my quest to dismiss the myth that Indian cooking is not for the faint-hearted and to help spread my knowledge on some simple and traditional Indian food recipes, like this Panch Phoron Dal, I have started this series called Indian Cooking 101. To make it more interactive and as helpful as I can for my readers, I welcome you to email me any questions that you may have in the process. I will try and respond to the questions personally through email, or in the next part if it's connected to what I have already planned to discuss.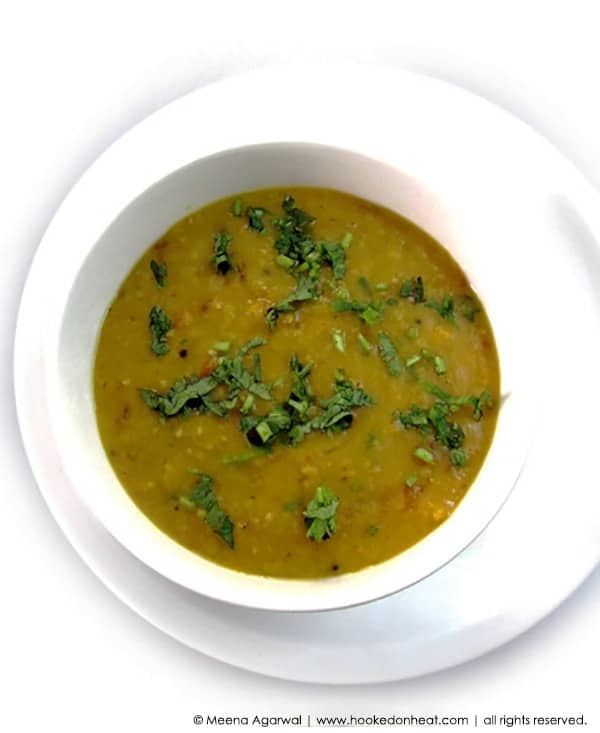 I recently received quite a few queries on how to cut down the cooking time and hasten the process when it comes to Indian cooking. Rustling up an Indian dinner like this Panch Phoron Dal on a busy weeknight can be a daunting task for a newbie, and compared to boiling up a batch of pasta and pouring on jarred tomato sauce, can take a bit more time in the kitchen. But that does not mean that it's impossible to do! Take a look at my weekly meal plans, and you'll get a sense that I serve up an Indian meal at least 2-3 times a week.
I like to leave the deep, rich curries mostly for the weekends when I have the luxury of time to let them simmer and slow cook to enhance the depths of flavour. For weeknights, I stick to recipes that do not need much babysitting like this Panch Phoron Dal, and combined with a few of my quick-cooking tips and tricks, I'm confident to plate up a delicious, wholesome dinner.
Here are some of the steps I take that allow me to cook up a complete Indian meal in under 45 minutes from start to finish. Follow these tips, and you'll never find yourself reaching for that Indian food take-out menu during the week again!
Use that Pressure Cooker:
It goes without saying that the Pressure Cooker is one of the most prized possessions in any Indian kitchen. Beans and lentils, like this Panch Phoron Dal, go from rock-hard to melt-in-your-mouth in a matter of minutes, and meat and poultry become so tender that they literally fall off the bone. It's no wonder that in any Indian city, at any given time, you will hear the hissing of the pressure cooker during the few hours prior to lunch and dinner times.
Take the help of your Freezer and/or Pantry:
One of the first things I do to meal prep for the week is to pre-cook a few varieties of lentils and beans and freeze them for later use. For kidney beans and chickpeas, I simply soak them overnight and pressure cook them in water till tender. I then set them to drain and cool, before portioning them into baggies and throwing them in my freezer. This allows me to almost cut the cooking time in half for dishes like Rajma or Chana Masala, by simply making a quick curry base. For lentils, I like to cook them till they are soft to the touch but still retain their shape and are not mushy. This way, I have the option to use them up in salads, rice dishes and other things instead of the regular Dal. I also never add any salt or seasoning to the beans/lentils before freezing. That way they are ready to be spiced up in any flavour and way I fancy, like this Panch Phoron Dal.
I also always make sure that I have a steady stock of frozen veggies like peas, carrots, beans, corn, cauliflower and even sprouted beans/lentils in the freezer. These are great for a quick stir-fry, tossing into a salad or even to bump up the nutrition in a simple Pulao.
Keep the rice ready:
I rarely ever make rotis during the week, unless I know I will have plenty of time. So rice, and savoury Indian crepes made with a quick-mix batter of lentils and/or chickpea flour often accompany our main dishes. I can't stress enough on the benefits of always cooking up more rice that you'll need. Rice freezes extremely well and can be a lifesaver when you have hungry mouths to feed. Fried rice with a mix of veggies, protein and spices is always a crowd-pleaser, or simply fry up an egg and serve the warmed up plain rice with a side salad or some Indian pickle for a satisfying meal.
Use readymade spice mixes:
Most nights, instead of reaching for my Masala Dabba and adding in pinches of this or dashes of that, I like to rely on my collection of various spices mixes. Most of these are store-bought, and range from Sambhar Masala, Tandoori Masala, Kitchen King Masala and many, many more. They never fail to jazz up any vegetable I have in the pan and can even take the humble scrambled egg to new heights!
Save the leftovers:
A smart move in the kitchen is to always cook some extra and freeze the leftovers for a rainy day. Dals, Rajma and Chana cooked in an onion-tomato base freeze extremely well and often stay good for a few weeks when frozen. Even leftover idlis and cutlets/kebabs taste great reheated.
PANCH PHORON DAL (SPICE-TEMPERED LENTILS)
Servings: 4
Ingredients
1.5 cups toor/yellow lentils
2 tbsp light cooking oil
1 tsp panch phoron spice mix
1 medium onion finely chopped
1 tsp finely chopped garlic
1 tsp finely chopped ginger
1/4 tsp red chilli powder
1/4 tsp turmeric powder
1/2 tsp coriander powder
1 medium tomato chopped
water as needed
salt to taste
a handful of fresh coriander leaves finely chopped for garnish
Instructions
Boil the lentils till tender and set aside.

In a deep pan, heat oil and add in the panch phoron spice mix. Once it starts to sizzle, add in the onions, garlic and ginger.

Fry of a few minutes till onions soften, before adding in the spices. Give it a quick stir and add in the tomatoes. Once the tomatoes start to pulp, add in the lentils and about 2-3 cups of water, depending on the consistency you prefer.

Season with salt, and let the Dal simmer for a few minutes to allow all the flavours to blend.

Garnish with fresh coriander leaves and serve warm.
Tried this recipe? Leave a Comment and let me know, also Rate it by clicking the number of stars on the recipe card. Want to share your version with me? Tag me on Instagram @hookedonheat
MORE POSTS ON INDIAN COOKING 101
MORE POSTS ON INDIAN COOKING: A-Z
A is for… Achari Mushrooms
B is for… Bhuna Chicken
C is for… Chatpati Bharwaan Bhindi
D is for… Dhabewali Dal Tadka
E is for… Egg Curry