Super fast and simple, this Ginger Shrimp Stir Fry recipe is perfect for a quick lunch or busy weeknight dinner. I love it best served over steamed rice.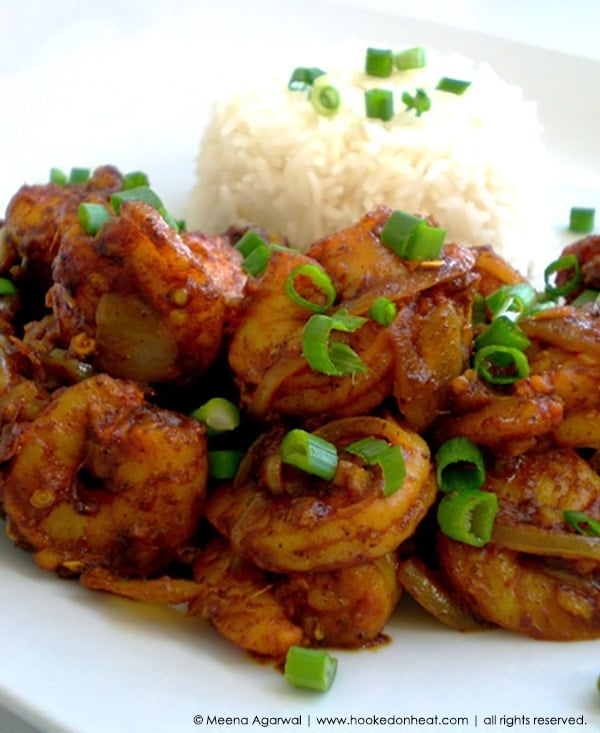 When it comes to cooking, I hardly ever follow a recipe – like this Ginger Shrimp Stir Fry. I often give it a quick read, making a mental note of the spices, and then just play by instinct. But baking, now that's a whole different post altogether! Coming back to cooking, apart from my daily ritual of pouring through endless mounds of paper scattered all over my floor, I also make time to decide what would be on the day's menu. Some days, I plan in advance, like say the night before, while most other days, I go by my mood.
Take today, for instance, I woke up craving for a shrimp stir fry. While I don't often cook seafood, I do, however, have tons of recipe ideas for them. And today was just the day to try one out. As I sipped my morning cuppa and went through my regular rounds of email, I heard a little voice in my head – "Ginger Shrimp Stir Fry"!
As I read an email from a fabulous lady requesting me to review her latest cookbook, I heard it again – "Ginger Shrimp Stirfry"! Half an hour later, drooling over an episode of Ina's where she made the most delicious looking lemon loaf, there it was again – "Ginger Shrimp Stirfry"!
By the time it was mid-morning, I could take it no longer and set off to cook myself some lunch – and I knew just what I was going to make!
Ginger Shrimp Stir Fry
Servings: 4
Ingredients
15-20 large shrimp peeled and deveined
1/4 tsp turmeric powder
1/4 tsp red chilli powder
1 tbsp lime juice
2 tbsp light cooking oil
1 tbsp finely chopped ginger
1 medium onion finely sliced
1 tsp crushed red chilli flakes
salt to taste
1 tbsp tomato paste
2 tbsp soy sauce
chopped green onions for garnish
Instructions
Marinate shrimp with turmeric, chilli powder and lime juice for 20 minutes. Fry in a bit of oil till crisp on both sides. Set aside.

Heat remaining oil and saute ginger till fragrant. Add onions and fry for a few minutes till tender and pink.

Add in chilli flakes, salt, tomato paste and soy sauce, and stir-fry for a few minutes till it starts to give out oil from the sides. Add shrimp, and stir fry for a minute or two blending spices well.

Garnish with chopped green onions and serve alongside plain rice and a large pitcher of ice-cold water.
If you like this recipe, then you will surely like my Shrimp Sambal.
Tried this recipe? Leave a Comment and let me know, also Rate it by clicking the number of stars on the recipe card. Want to share your version with me? Tag me on Instagram @hookedonheat