A Biryani is a dish that's layered with either meat or vegetables and rice, seasoned with a variety of spices and aromatic essence, and slow-cooked till all the flavours mingle and slowly come together – and this Paneer Biryani recipe is pretty good – if I may say so myself!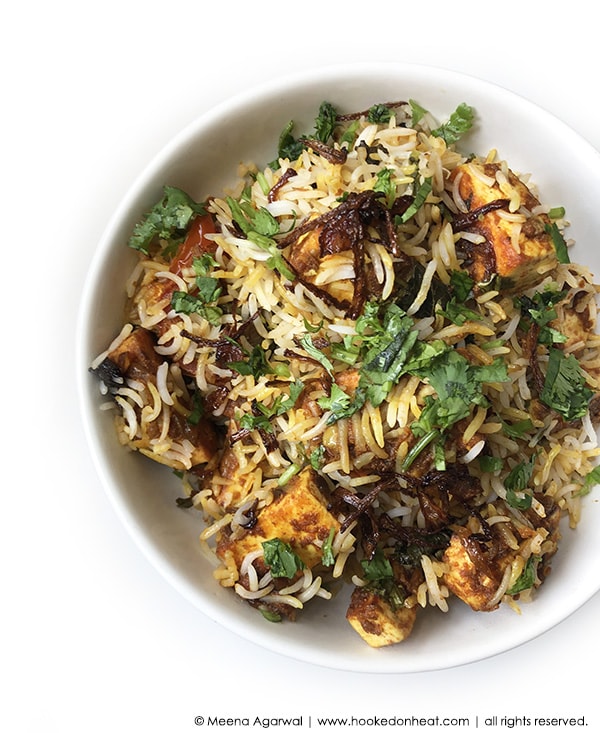 The sweltering heat and the unwelcome humidity for the past few weeks has led me wanting to shed skin and simply drown in a cold pool somewhere. But alas, neither am I an amphibian nor am I able to grow new epidermal layers! Just when I was almost done sulking about the weather and about to make peace with it, out come the heavy clouds and makes me run to the nearest shelter! And do you know what I love doing when its raining cats and dogs outside? Cook a big pot of Paneer Biryani that we can enjoy on our covered deck area while it pours.
Little Dude has been a big fan of Biryani for as long as I can remember. A few years ago when he was just a wee toddler and free time was a luxury Hubby Dear and I could only dream of, we would grocery shop together as a family every weekend. It helped that Hubby Dear could push the cart and entertain Baby Dear at the same time, while I ran around like a headless chicken picking things off my long grocery list – all the while trying my best to get it all done before the tiny guy would get hungry and scream at the top of his lungs. We would then stop by this particular take-out joint on our way home and pick up a large serving of our favourite Chicken Biryani.
It was a well known fact that this place served one of THE best Biryanis in the area, but they were also pretty notorious for their spice levels. Although we always opted for the mild version, it was still impossible for us to finish our meal without a few glasses of chilled water on the side. You would think that for someone as tiny as Baby Dear at the time, spicy food was a big NO-NO! But really, that kid went to town on that Biryani every weekend! Its funny how he never complains how spicy the food is when its something he loves and will happily drink copious amounts of water after each bite to calm that little mouth of his. But give him a bowl of the mildest dish ever with veggies like eggplant and okra – and he'll run around in circles claiming his tongue is on fire. Dramatic much? I'm guessing he gets it from his Dad!
I first made this Paneer Biryani recipe several years ago after being served a pretty sad looking Vegetable Biryani at a dinner party. Call me a Biryani snob, but I'm always disappointed when I'm served a one-pot meal of rice and veggies along with a handful of spices that's been wrongly named as a Biryani. A Biryani to me really means a rice dish that's layered with either meat or vegetables and rice, seasoned with a variety of spices and aromatic essence, and slow-cooked till all the flavours mingle and slowly come together.
Sounds poetic? Of course! And that's exactly what a Biryani should be! This Paneer Biryani recipe been a staple ever since and is a welcome change when you want something meat-free. The recipe does require a bit of prep work in advance, but it can all be done simultaneously and I promise you, the little extra effort that it does need to cook this is well worth it in the end. Trust me!
Paneer Biryani
Servings: 4
Ingredients
For the Rice:
3 cups Basmati rice thoroughly rinsed and drained
4 cups water
1 cinnamon stick
3-4 whole cloves
3-4 whole black peppercorns
5-6 whole green cardamom pods
pinch of salt
For the Paneer:
2 tbsp light cooking oil
1 tsp cumin seeds
1 tbsp finely chopped ginger
1 tbsp finely chopped garlic
1 large onion finely chopped
1 tbsp coriander powder
1/4 tsp turmeric powder
1/2 tsp red chilli powder
1/2 tsp cumin powder
1/2 tsp garam masala
salt to taste
3 tbsp tomato paste
400 gms paneer cut into cubes and fried till lightly browned on all sides
1 medium tomato sliced
For the Biryani:
1 tbsp light cooking oil
1 cup fried onions
1 cup finely chopped fresh cilantro
1/2 cup finely chopped fresh mint
1 tsp rose water optional
Instructions
For the Rice:
Cook the rice with the spices and salt till all the water evaporates and the rice is about halfway done. Spread it out on a large platter so that the grains do not clump and set aside.
For the Paneer:
Heat oil in a non-stick pan and fry cumin seeds, ginger and garlic for a few seconds till fragrant. Add in onions and fry for a few minutes till onions get tender and lightly brown.

Add in spices, salt and tomato paste, and fry for another minute or two to mix well.

Add in paneer and tomatoes and stir-fry for 2-3 minutes till the paneer is nicely coated with all the spices. Do not cook the tomatoes for too long since we want them to retain their shape and not give out too much moisture. This should be fairly thick and the paneer pieces should be well coated with the spice paste.
For the Biryani:
To assemble the Biryani, heat oil in a large heavy-bottomed pot.

Spread about half the paneer mix at the bottom of the pot. Then layer over with half of the pre-cooked rice, and top that with half the amounts of the cilantro, mint and fried onions.

Repeat the layering with the remaining half of the ingredients.

Sprinkle the rose water on top, and cook covered on low heat for 10-15 minutes till the rice is completely cooked through. Serve warm with a side of Raita.
If you enjoyed this recipe, you will surely love my Mushroom and Peas Pulao and Paneer Makhani recipe as well.
Tried this recipe? Leave a Comment and let me know, also Rate it by clicking the number of stars on the recipe card. Want to share your version with me? Tag me on Instagram @hookedonheat