This recipe for Low-fat Paneer Makhani was created in partnership with Nanak Foods. All opinions, as always, are my own. I only write about and recommend products I use and love myself.
Whoever invented the ever-so-rich-finger-licking-melt-in-your-mouth delicious Butter Chicken, or its vegetarian counterpart Paneer Makhani, truly did not take my whims and fancies into consideration! Let me explain…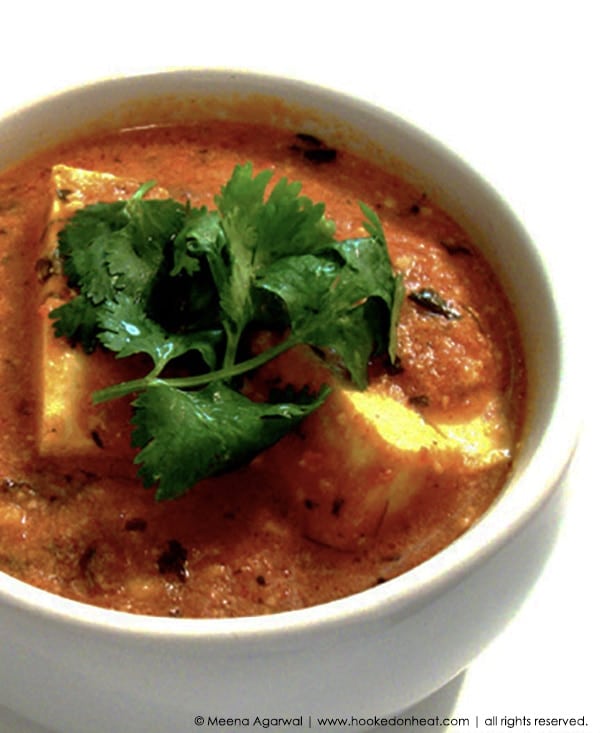 I've never enjoyed eating Butter Chicken or Paneer Makhani. Yes, you heard me right, and no, I'm not kidding! Whenever I refuse to order these age-old dishes at any restaurant, people dining at my table often look at me like I'm from out of space. Though Hubby Dear has been seen wiping his plate clean of these dishes whenever he gets the (good) fortune to dig into them, being the sweetheart that he is, he has not once asked me to cook it at home. You see, I hate cooking with cream. There's something about adding cream to my food that makes me look at it with such torment. While I happily add dollops of cream to make my own chocolate desserts, adding cream to my actual meal gives me the jitters. So clearly, Butter Chicken or Paneer Makhani for that matter, which are both as rich as the amount of cream added to it, steered clear from my palate.
But now I also have Baby Dear's whims and fancies to cater to. This roly-poly little person is infamous for watching The Food Network (I only have myself to blame of course!!), pointing to anything that looks even remotely delicious on the screen, and requesting that I serve him that for dinner. Need I add, his way of requesting something to be cooked sounds much like this, "I WANT THIS DINNER!!!!". Yes, the letters in caps are there to make a point.
Just the other day, I was catching up on one of my favourite Indian cooking shows by Sanjeev Kapoor and he just happened to be making Butter Chicken. Being an ardent fan of chicken, Baby Dear almost fell off his 2-foot car. I just had to oblige. It was already too late to defrost the chicken, so I used paneer instead and created my low-fat version of this crowd-pleaser. Paneer Makhani is the vegetarian version of Butter Chicken and the sauce for both dishes can be used interchangeably. Try this recipe once, and I promise you that you'll come back asking for more. Just remember to leave all that butter and cream at the door!
Low-Fat Paneer Makhani
Servings: 4
Ingredients
2 tbsp light cooking oil
1 tbsp minced ginger
1 tbsp minced garlic
1 tbsp tomato paste
1/4 tsp turmeric powder
1/2 tsp red chilli powder
1 tbsp coriander powder
1/2 tsp garam masala powder
salt to taste
3 cups pureed fresh tomatoes
2 tbsp cashew paste
1/2 cup plain yogurt beaten till smooth
500 gms paneer cut into bite-sized cubes
1 tbsp dried fenugreek leaves
Instructions
Heat oil in a deep non-stick pan and saute ginger, garlic and tomato paste with spices for a minute till fragrant. Season with salt, and add in the tomato puree and cook for 4-5 minutes till it comes to a slight boil and starts to give out oil along the sides. Stir occasionally to prevent the bottom from burning.

Add in the cashew paste and beaten yogurt, stirring well to blend in. Cook covered on low heat for a few minutes stirring occasionally, and allow it to come to a boil.

Mix in paneer pieces and dried fenugreek leaves. Cover and cook for another2-3 minutes, adding extra water if required depending on the consistency you prefer.
NOTE: For a vegan version, substitute paneer with firm tofu and use dairy-free yogurt instead.
If you enjoyed this recipe, then you will surely love my Palak Paneer recipe.
Tried this recipe? Leave a Comment and let me know, also Rate it by clicking the number of stars on the recipe card. Want to share your version with me? Tag me on Instagram @hookedonheat