Me and Hubby Dear are what some might call munchers. You know, the kinds that could live on finger foods alone. Yes, now that I think back a little, we most certainly are one of those kinds.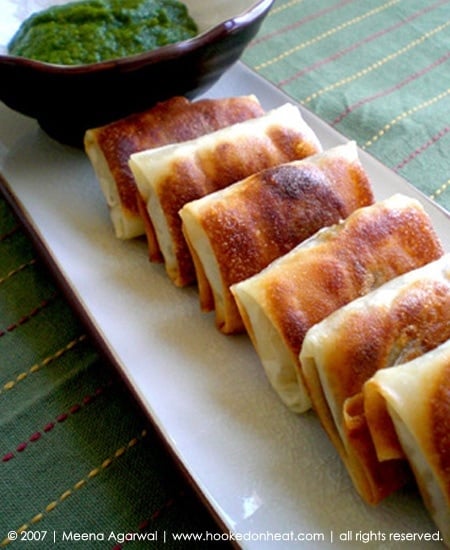 The first time we went out, ever, we unsuccessfully tried to share a plate of french fries. I say we tried, because truly, I was was the one trying my best to get my fork into the plate while Hubby Dear conveniently walked at a much faster pace covering it with his arms. (Walking, since unlike the traditional way of going out to dinner for a first date, we chose to spend a day at the CNE.) Yes, the guy does like his fries, sometimes, I believe, even more than his pretty little wife. We spent the rest of the day bouncing between samosas, popcorn and fiery wings.
When we're not having friends over, our Friday nights usually turn out the same each week – a bunch of movies enjoyed over a platter of assorted mini treats. As much as our choice of movies may differ, the only variable constant to our evening would be the finger food. Constant, because they mostly always find themselves to be potato-based. And variable, because they almost never taste the same.
I love experimenting with different flavours, and what better way to try a new flavour than to toss it over a bowl of plain boiled and mashed potatoes. From chat masala to chipotle-lime, the list of flavourings is endless, and the combinations one can come up with is overwhelming. We made this a couple of weeks ago. We, because while I fried, Hubby Dear ate, much to the dismay of his burning tongue. The things men do for food, or should I say, potatoes!
SPICED POTATO PARCELS
Prep time: 30 min | Cooking time: 20 min | Makes: 24 bite-size parcels

Ingredients:

2 large potatoes, peeled, boiled, and mashed
12 large spring rolls wrappers, cut in half to make 24 strips
1 tbsp cumin seeds
1/2 tsp red chilli powder
1/4 tsp garam masala
salt, to taste
light cooking oil, for frying
water, as needed

Directions:

Mix mashed potatoes with salt and spices, and set aside to cool.

Put about a teaspoon of the potato filling on a cut-in-half spring-roll wrapper. Fold it up to form a tiny parcel. Seal the edges with water. Set aside on a platter covered with a damp cloth to keep them from drying out. Repeat for remaining strips.

Heat oil in a non-stick frying pan and shallow-fry parcels a few at a time so as not to crowd the pan. Remove parcels when they turn crisp and golden on both sides. Drain excess oil by placing parcels on paper towels. Serve warm with ketchup or chutney of choice.
Tried this recipe? Leave a Comment and let me know, also Rate it by clicking the number of stars on the recipe card. Want to share your version with me? Tag me on Instagram @hookedonheat