This Simple Egg Curry recipe is one of the simplest ways I make a curry – everything blended, no chopping required, and ingredients thrown into a pan one after the other and left to create its own magic.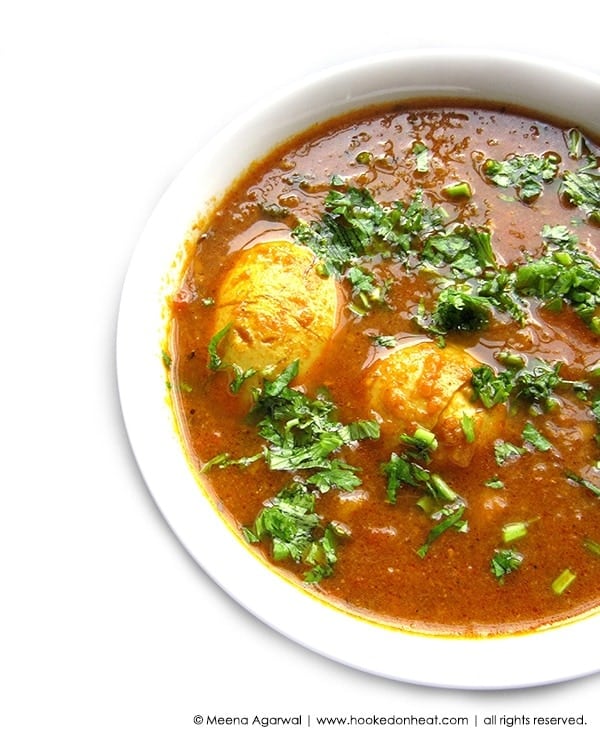 On days when I am absolutely out of groceries (which is very, very rare – I must admit), you can still find onions, garlic, tomatoes, potatoes and eggs in my kitchen. This is because I go in panic mode when I'm running short on any one of these items and stock up on them regularly. I consider these ingredients to be my holy grail of cooking and with them in tow, a quick, nutritious and tasty meal is never far behind. Eggs are as versatile in Indian cooking as is the humble potato.  It takes well to any kind of flavour combinations and is the perfect solution to a time crunch. There are as many versions of a Simple Egg Curry recipe as there are home cooks – each with its own special touch.
This Simple Egg Curry recipe I'm sharing with you today is nothing out of the ordinary. But trust me, it is good. Really good! It's one of the easiest ways I make a curry – everything blended, no chopping required, and ingredients are thrown into a pan one after the other and left to create its own magic.
I can't even begin to count the number of times this very recipe has come to my rescue. Be it as a broke college student who needed some homemade nourishment, a busy freelancer strapped for time, or a frazzled mom of a sick, clingy toddler who needed to get dinner on the table pronto. Throw in a couple of cups of rice in the rice cooker or a few naans in the oven to warm up, make a huge chopped salad and call it a balanced meal. Last-minute guests? Crack open that bottle of Chardonnay and you have a party!
SIMPLE EGG CURRY
Servings: 4
Ingredients
2 tbsp light cooking oil
1 cinnamon stick
3-4 whole green cardamom pods
1 tsp cumin seeds
1 medium onion, ground to a fine paste
1 tbsp ginger paste
1 tbsp garlic paste
1/2 tsp red chilli powder
1/4 tsp turmeric powder
1 tbsp coriander powder
1 tsp garam masala powder
2 tbsp tomato paste
3 medium tomatoes, ground to a fine paste
2 tbsp plain yogurt, beaten till smooth
salt, to taste
water, as needed
6 eggs, hard boiled and peeled
a handful fresh coriander leaves, finely chopped for garnish
Instructions
Heat oil in a large non-stick pan and add in cinnamon, cardamom and cumin seeds. As soon as they begin to sizzle, add in onion paste, and fry for 3-5 minutes on medium-high heat till it starts to brown a bit and give out oil along the sides. Add in ginger and garlic pastes and sauté for another minute or two till fragrant.

Add in the spices and tomato paste, and fry for a couple of minutes to blend well. If it starts to dry out and stick to the bottom of the pan, add in a splash of water.

Mix in blended tomatoes, yogurt and salt, and cook covered for a few minutes till well incorporated. Add in the boiled eggs, toss gently and cook covered on low heat for another 3-4 minutes.

Garnish with fresh chopped coriander leaves and serve piping hot with a side of rotis or rice, and a salad.
If you enjoyed this recipe, then you will surely love my Egg & Potato Curry and Boiled Egg Sambal recipe as well.
Tried this recipe? Leave a Comment and let me know, also Rate it by clicking the number of stars on the recipe card. Want to share your version with me? Tag me on Instagram @hookedonheat