It's midweek. Which just means that energy levels of us regular 9-5 folk are slowly dying out. It's also raining heavily outside, which means that a warm comfort meal ranks high on the wishlist! The simple solution – a one-pot meal like this Instant Pot Tomato Rice warming enough to drive away those heebee-jeebees!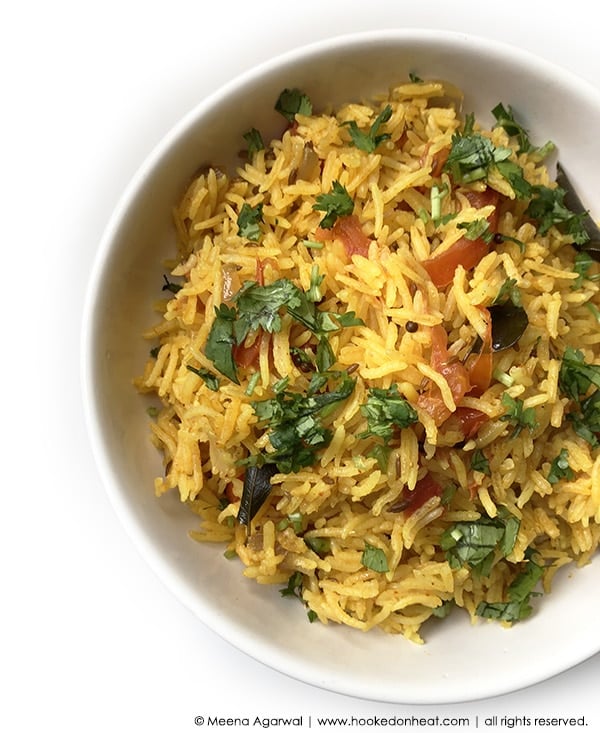 One-pot meals are a great way of getting dinner on the table when you're short on time. Sometimes all you want and need to do is put everything but the kitchen sink into one big pot and hope that it transforms into something delectable. One-pot meals are also a great way for me to clean up my fridge of leftovers. Often times, I've added any vegetable within arms reach into a thick hearty stew or curry.
But not today. Today, I wasn't in the mood for a soup or stew. True, it's droopy and cold out, but that just makes me crave for a huge helping of warm flavoured rice. My Instant Pot, as usual, came to my rescue and this aromatic Tomato Rice was served up in minutes. And then… everything was good again!
Instant Pot Tomato Rice
Servings: 4
Ingredients
2 tbsp light cooking oil
1 tsp cumin seeds
1 tsp black mustard seeds
5-6 fresh curry leaves
1-2 garlic cloves finely chopped
1 small onion thinly sliced
1/4 tsp turmeric powder
1/2 tsp red chilli powder
1 medium-sized tomato chopped
2 cups Basmati rice thoroughly rinsed and drained
3 cups water
salt to taste
a handful of fresh cilantro leaves finely chopped for garnish
Instructions
Set the Instant Pot to Saute mode and add in the oil. Once the oil starts to heat up, add in cumin seeds, mustard seeds and curry leaves.

As soon as the spices start to sizzle, add in the onions and garlic and fry for a few minutes till they start to lightly brown.

Add in the spices and fry for a few seconds before adding in the tomatoes. Mix well with the spices and let it cook for about a minute, stirring occasionally to prevent it from burning.

Add in the rice, water and salt, and mix well. Close the lid and set to Manual Pressure mode for 4 minutes.

Let the pressure release naturally. Carefully open the lid and fluff the rice with a fork carefully. Garnish with cilantro leaves and serve warm.

Enjoy with a side of Mango Pickle and cool Cucumber Raita.
This post was originally published in May 2006 and has been recently updated.
If you liked this recipe, then you will surely enjoy my Instant Pot Chicken Pulao and Mushroom & Peas Pulao recipe as well.
Made this recipe? Rate it by clicking the number of stars on the recipe card. Want to share your version with me? Tag me on Instagram @hookedonheat