In my quest to dismiss the myth that Indian cooking is not for the faint-hearted and to help spread my knowledge on some simple and traditional Indian food recipes, like this Methi Matar, I have started this series called Indian Cooking 101. To make it more interactive and as helpful as I can for my readers, I welcome you to email me any questions that you may have in the process. I will try and respond to the questions personally through email, or in the next part if it's connected to what I have already planned to discuss.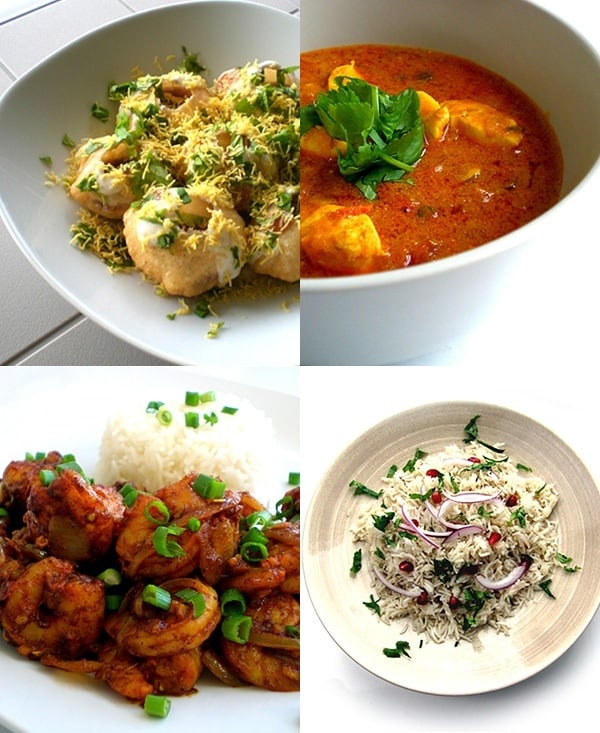 Since I've been buried in deadlines the past week, writing and researching for some of my upcoming freelance assignments, I had the privilege of spending many long hours at the bookstore amidst some of the best collections of cookbooks – all the while thinking about his Methi Matar that I was going to cook for dinner.
Don't you just love it when you can grab your favourite cup of coffee, and comfortably settle yourself on a cosy plush leather chair in the cookbook section of a huge store? Yea, me too, and that's just why I plan on spending many more days there. I figure even if I don't actually get any work done, I could at least read about food to my heart's content. While on the topic of simplifying Indian food, something I was working to write on, I decided to go on a little hunt and see what I could find. Shockingly, I wasn't impressed at all!
I picked up a few books, most that looked very promising, and began skimming through some of the most popular recipes, that the authors, no doubt tried their best to recreate as quick and simple as possible. While many made good sense to me, I was horrified by what a few others instructed. So, as I sat down and began taking notes, I decided to make my own list of do's/don'ts, more on the don'ts actually, of what NOT to do when making an Indian dish.
Here is what I came up with:
In no case, and I mean NO case, should you add ketchup while making curry. If you're short of time for chopping tomatoes, run them through a food processor to puree. If that's still not an option, then please, at least use canned tomato paste. But DO NOT use ketchup! That just won't work. I can only begin to imagine the taste it would give to your so-called curry!
Whatever people may like to think, curry powder is not really a solution to making a quick curry. In fact, until and unless it's a blend from an actual Indian location, like say, Madras curry powder, or Malabar curry powder, then it probably won't and can't even taste anything close to the Chicken Curry you ravished for dinner at the nearby Indian restaurant. The pale yellow curry powder found on the shelves of many grocery stores hardly taste anything like the real deal. For a quick solution, make sure you have the 5 most basic spices at hand – red chilli powder, coriander powder, turmeric, garam masala and cumin powder. When you have less time to spare, just add about half a teaspoon of each of them, adjusting the chilli powder to your taste of course, before stirring in the yogurt. I promise you, you won't regret it.
No matter what happens, DO NOT add flour to thicken your gravy. Stir in some yoghurt, or better still, a tablespoon or two of cashew/almond paste/powder. The results will be delicious, without being lumpy and looking a mess.
I really do hope this helps in bringing people a step closer to understanding the basic of Indian cooking. I will try and touch upon similar subjects through my Indian Cooking 101 series, and can only hope that Indian food will be perceived as something that one can easily whip up on a normal weeknight.
MORE POSTS ON INDIAN COOKING 101