Hubby Dear and I met over 17 years ago. This past Tuesday, we celebrated our 15th wedding anniversary. Ever since we've met, he's always told me that he makes an AMAZING Dal and Pulao. It's been almost two decades since we've been together – and I've finally, after all these years, gotten a taste of this amazing Dal just two weeks ago. I now call it my Everyday Instant Pot Dal.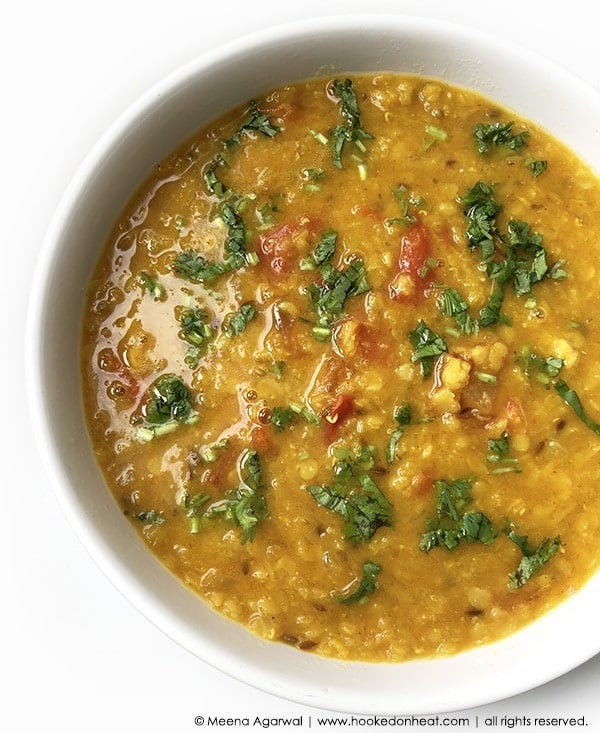 While food has always played a huge part in our relationship – from picking out travel destinations based on a cuisine we'd like to try, deciding on how to celebrate special occasions depending on which restaurants we'd like to go to, to planning out guest lists and party menus based on the kind of food we'd like to serve, food has often taken center stage. Hubby Dear's kitchen escapades, however, have been very few and far between.
There was this one time I remember, a long time ago, when he confidently declared that he would take charge of dessert for a dinner party we were hosting that weekend. Normally, I would always have a backup at hand – but somehow, that day I decided to trust him. He ran off and came back an hour later armed with a couple of boxes of readymade Brownie mix. Sure, we all like Brownies, and using a boxed mix is absolutely fine by me!
Except, when it came time to serve the supposedly decadent Brownies, it resembled nothing like the picture on the packaging. We realized that he had added in twice the amount of liquid that was asked for and we now had a newly invented Dark Chocolate Soup instead of a Fudgy Brownie as expected.
Then there were not-so-few incidents at the grocery store that always make me break into prayer as soon as he walks out the door with my list. Like the handful of times when he just could never get the right brand of milk, or even the fat content right. It came to a point where Little Dude had to always accompany him just so he could tell his Dad the kind of milk we use.
Then one day Little Dude couldn't make it to the store with him, and I desperately needed a carton of milk and wasn't able to rush to the store myself. I gave Hubby Dear as clear instructions as I could on what I needed – Organic, 2% plain milk, from a particular brand. He came home sometime later beaming with the biggest grin on his face. He had finally done it and was so proud of himself – he bought the right milk, and since it was on sale, picked up 2 liters of it!
He pulled the milk cartons out of the bag and showed them to me like he had won the Oscar. Right brand? Check! Organic? Check! 2%? Check! Except, CHOCOLATE MILK! The best part – no one drinks chocolate milk in our home.
I kid you not – I can't make this stuff up even if I tried. If you're a regular at our dinner parties, you'll know that there are plenty more of these kinds of stories. And I will share them till the end of time! Till then, I hope you enjoy this everyday Instant Pot Dal.
Everyday Instant Pot Dal
Servings: 4
Ingredients
2 tbsp light cooking oil
1 tsp cumin seeds
2-3 large garlic cloves bruised
2-3 thin slices of ginger
1 medium-sized onion finely chopped
1/4 tsp turmeric powder
1/4 tsp red chilli powder
1/2 tsp coriander powder
salt to taste
1 large tomato finely chopped
2 cups red lentils, also known as masoor dal thoroughly washed and drained
3 cups water
finely chopped fresh cilantro leaves for garnish
Instructions
Turn on the Instant Pot and set to Saute mode. Once it's heated, add in oil and cumin seeds.

Once the cumin seeds start to sizzle, add in the garlic, ginger and chopped onions. Fry for a few minutes, stirring occasionally, till onions start to brown.

Add in spices and salt, and give it a quick mix. Add in chopped tomatoes and let it cook for a couple of minutes till the tomatoes start to soften and pulp.

Mix in the lentils and water and let it come to a quick boil. Put on the lid and set the Instant Pot to manual Pressure Cook mode for 8 minutes, making sure that the valve in on the sealing position.

Let the pressure release naturally before removing the lid. Give it a good stir and garnish with cilantro leaves before serving.
Notes
Once the Dal is done cooking, if you'd like the consistency on the Dal thinner, then set the Instant Pot to Saute mode, add in some water and let it come to a boil. If you'd like it thicker, then set the Instant-Pot to Saute mode and let it cook down slightly, stirring occasionally to avoid burning.
I've used my 6 Quart Instant Pot Duo 7-in-1 for this recipe, but any kind of electric pressure cooker will work.
If you liked this Instant Pot Dal recipe, I'm sure you will love my Tadka Dal and my Chana Dal Masala as well.
You can find the web story to this Instant Pot Dal recipe here. To watch more of my other recipe web stories, click here.
Tried this recipe? Leave a Comment and let me know, also Rate it by clicking the number of stars on the recipe card. Want to share your version with me? Tag me on Instagram @hookedonheat