Who is Meena?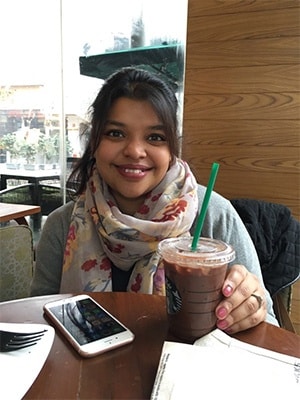 Hi there! My name is Meena, and I'm the writer and recipe developer behind Hooked on Heat. As a little girl, I remember sneaking my Mom's favourite wok and ladle into my room and pretending that I had my very own cooking show – happily chatting away to the "camera" while I stirred and added imaginary ingredients. A magician in the kitchen and my biggest inspiration, I loved watching my Mom prepare delicious and fulfilling meals with ease. Though cooking had always been a hobby, I only began to take it seriously after moving out of home and into a hostel for college. Unwilling to survive on tasteless meals provided by the hostel cafeteria, I finally decided to don on the apron and armed with a ladle set to work. Now, many years later, I can happily make a mean Indian meal at the drop of a hat!
And what about her hubby?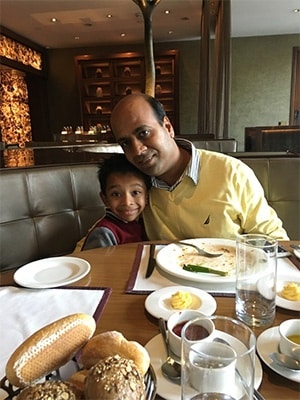 The star of the show, Hubby Dear has gained a handful of admirers, thanks to all his antics in and around the kitchen. Call him the guinea pig or taste-tester! Being the first to try everything that comes out from this overworked kitchen, it's no surprise he's the talk of the town. Or so he believes!
Hold on, isn't there a baby in the picture now too?
Why of course! Baby Dear became an integral part of HOH in the summer of 2011 when he was finally introduced to his first solid food – the sweet potato. Now, he continues to experiment with different flavours and textures of food. Not one to watch us eat from the sidelines without at least attempting to grab a bite of what's on our plates, it won't be too long before he joins the ranks of his Daddy Dear as one of the official HOH taste-testers.
What's with all the heat?
I truly believe that even a simple, quick meal can be made to feel special, and a little spice never hurt anyone, now did it? This food blog is my attempt at sharing my creativity and love of food with everyone. It's a food journal with many little notes that I hope would come in very handy when I finally write my own cookbook. Now, if only that publisher would come along! I'm pleased to have you know that the publisher did come knocking after all, and I am now the proud author of FOUR cookbooks:
So how did she get into cooking?
I began cooking when I moved into a hostel about 11 many, many years ago. Living on your own teaches you a lot, and cooking is one of them! The first few months, I survived mainly on instant noodles and the local takeaway. Not long after, I decided that it was time to do something about it. So I called up my Mom, and that was the beginning of our regular recipe exchanges over the phone (did I mention it was long-distance?).
Every time we would talk, the topic of what each of us had for lunch or dinner was an unavoidable question. With that continued the saga of how it was made, and what other variations could be added to make it better, and not to mention, simpler. It wasn't long before I realized that I really enjoyed cooking. It was always a proud moment for me when I got a compliment on my culinary skills. And an even bigger one for Mom when they would tell her that her daughter fell right into her footsteps.
So don on those aprons, fire up that stove and allow me to take you on a culinary journey. A journey so satisfyingly good, you'll be surprised that you haven't even stepped out of your home. And as every good host is always proud to declare, I say to you, Let the party begin!
Now seriously, can Indian cooking really be as quick and simple as she says?
Of the few complaints that I often get on Indian cooking, the one that stands most prominent is the myth that Indian cooking is just too hard.
Now, before you roll your eyes at me and say, yea sure, easy for her, she's Indian, just hear me out. True, I was born Indian, but as much as I would like to believe, I wasn't born with Indian culinary instincts induced within my being. Like any of you not familiar with South-Asian cuisine, I too started off without much knowledge of this exotic cuisine.
After spending too much of my time cribbing about how little people actually knew about Indian food, I decided to start a series, Indian 101, to introduce my lovely readers to its simple cooking basics. This cooking primer became so popular, that I was asked to turn it into a monthly column for the food section of The Mississauga News. So what are you waiting for? Click here to get started.
Questions? Suggestions? Requests?
I try my level best to correspond and respond to each comment personally. However, I am only human and do make it a priority to spend as much time with my family and lead a life outside this blog. Drop me a line with all your queries and I'll try to get to them as soon as possible! Regarding recipe requests, I will try and fulfill them to the best of my culinary capability. Unless of course, it contains chocolate. I'm always in the mood for chocolate!
You can find me and connect on: YouTube | Facebook | Instagram | Twitter | Pinterest
You can email me: [email protected]