Disclaimer: Philips provided me with an Airfryer to experience and review at no cost to myself. Opinions are my own and completely unbiased and honest. An additional AirFryer will also be provided by Phillips to GIVEAWAY to ONE lucky winner!
And the winner is… HASNAH!! Congratulations Hasnah, you'll be receiving a Philips Airfryer free of charge, soon. Please check your email for details.
If you know even a little bit about me, then you'll know how much I LOVE fried food. Honestly, if it wasn't for the scare of me just suddenly dropping dead one fine day due to a clogged artery, then I'd probably have my way with it too! Hubby Dear is no different. We both love our Samosas, and crave crispy, salty fries every two days.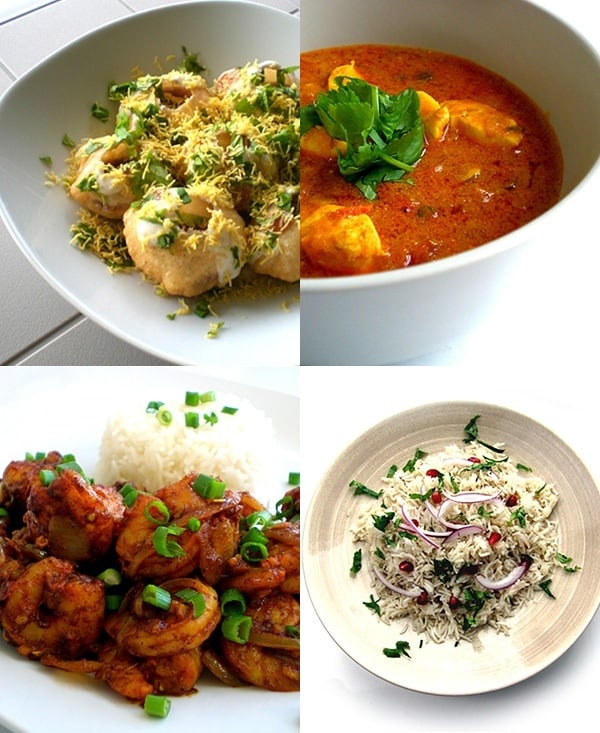 About a month ago, I was given the opportunity to test out the new Airfryer and get creative in the kitchen. It was an offer I just could not turn down and decided to take my own time with it before I shared my thoughts with you all. I first heard about the Airfyer over a year ago, and to be honest, was really skeptical if this machine, or any machine for that matter, could actually deep fry food with hardly any trace of oil!
Like many other home cooks, I too wondered if it was worth the investment and all the hype. Let's be honest here and lay all cards on the table. I do NOT need any more fancy kitchen gadgets to take up my precious counter space, and that would only be used a few times in a year. Over the years, I've acquired tons of them – some bought, some gifted, and some sent to me by PR companies to test out or develop recipes for. And except for 2-3 of them, the rest have found a cozy home in my basement, neatly tucked on a shelf, only to be taken out occasionally.
I love a good investment and any help that I can get in the kitchen to aid in my cooking in a big way is worth my money. Which is why I decided to take own time with the Airfryer and see what this baby could do!
Does it really fry with NO oil?
The Airfryer works on Rapid Air Technology, which just means that the grill on top gets heated while high-speed air circulates, allowing the food to cook faster and evenly on all sides. So just by brushing on a tiny bit of oil, the food bakes to a crisp, almost fried-like texture. Think of it like a super-high performing convection oven – only smaller, and much, much faster!
Does the food come out tasting deep-fried?
Well, yes and no! You do get an amazing resemblance in most food types. Stuff like fries, chicken nuggets and cutlets came out superbly well. Even my Spicy Stuffed Peppers, which I decided to add in on a whim, came out delicious – maybe even better than if I'd have fried them! But the Samosas and spring rolls were definitely missing something. Now don't get me wrong… I didn't mind them too much and they still tasted good – but if you were looking for the exact same deep-fried version, then no. But then again, I'd take this any day over the amount of fat that actually goes into a real deep-fried Samosas.
How big is it?
It's a decent, not too big – almost comparable to a Keurig or Tassimo machine. But it's also not too heavy and portable enough to tuck into a kitchen cabinet when you don't need it out in the open.
Is it useful for a large family?
Not really. Since the mesh basket is not too big in surface area, you can't cook large amounts of food at any given time. Now, if you're deep-frying anyway, you'd be doing it in batches – so the AirFryer would be comparable given the quick cooking time. But if you're cooking for a crowd, and would have done the meal in the oven – then no, it would take you a very long time to feed every mouth in the room.
What all can you cook in it?
Now here is where it gets really interesting! Although it's highly advertised as a healthy alternative to deep-frying, the AirFryer can and should be used in many more ways. I've made kebabs and Tandoori chicken, both finger-licking good. Roast vegetables were a definite winner for a meal one evening. And I even experimented with baking muffins. They all worked great, and I can honestly say this a very versatile machine.
Should you buy it?
Hubby Dear and I have discussed this quite a bit over the past year and even contemplated of getting it as a combined present to each other this holiday season. But the price is steep, and we can never really make up our minds. Knowing what I know now after using it these past few weeks, I'd say maybe I would.
Here's the thing – it's a wonderful gadget, no doubt about it! But what you have to evaluate here is how useful it's going to be for you. For us, as a small family of 3, it's perfect. I can get a huge part of my dinner done fast. But if you're a family of 5 or more, or even a family of 4 with a much larger appetite than us, then you may be better off using your oven instead – to avoid cooking in batches. Then again, since the AirFryer is pretty powerful, I do prefer this to my oven since the quick cook time avoids drying out the food.
So there you have it! Now for the fun part… it's GIVEAWAY time!!
To enter the giveaway to win a Philips AirFryer (retail value: $249.99), leave a comment on this post telling me what you'd like to make with it. Also, don't forget to leave your email so that you can be contacted in case you're the lucky winner.

ONE winner will be selected at random. Only ONE entry per person. Canadian residents only. Contest ends on Friday, August 14th at midnight, Eastern time. The winner will be contacted directly and announced here on Hooked on Heat, as well as on my Twitter and Facebook.
Good luck!