Mutton Curry is something I always, always have to order when we eat out at an Indian restaurant. It's my absolute favourite curry dish and something I don't normally cook at home, simply because it can take quite a while to soften the meat so that it just melts in your mouth.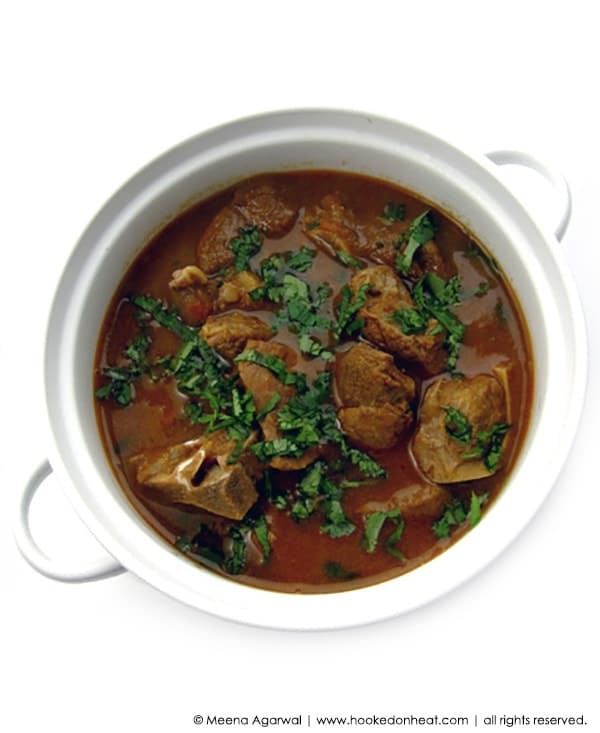 I have a love-hate relationship with my pressure cooker. While most Indian home cooks swear by it to dish out family dinners every night, I often shy away from mine. I haven't much gotten the hang of using one for cooking everyday Indian food. The problem for me is trying to keep track and remember how much time or how many whistles is needed to cook a particular food. I either simmer the dish for too long and turn it to mush, or release the pressure too soon and have to start all over again to get it completely cooked through.
A couple of weeks ago, Hubby Dear was away on a 12-day business trip leaving me and Baby Dear at the mercy of each other. He left early Sunday morning and by the time Friday rolled around, I was ready to wave my white flag. We'd both had it with the week's routine, missed our teammate terribly and were in a dire need of some strong comforting. As we dragged our feet into the house after I picked him up from school, something clicked. There's nothing that a good home-cooked meal can't cure, and I'd decided that Baby Dear and I were going to spend our Friday night with a good movie and some amazing homecooked Indian food.
I had just picked up some fresh cut mutton from the butcher's earlier that day and figured it was as perfect a time as any to turn it into something lip-smacking. As I took a peek at the clock across my kitchen, it occurred to me that it just had to be the pressure cook way or else there was no way that I was going to get dinner on the table before Baby Dear would turn into Baby-Zilla out of hunger!
So I busted out the beast and got to work. When it came time to lock the lid and place the whistle on it, I said a little prayer and crossed my fingers. And whaddya know! 30 minutes later, we were laughing over the antics of those silly Minions and digging into our luscious and super delicious Mutton Curry.
Mutton Curry (Indian-style Goat Curry)
Servings: 4
Ingredients
2 tbsp light cooking oil
2 dried bay leaves
1 cinnamon stick
1 large onion finely chopped
1 tbsp ginger-garlic paste
2 tbsp tomato paste
1/2 tsp chilli powder
1 tbsp coriander powder
1 tbsp cumin powder
1 tsp garam masala powder
2 medium tomatoes finely chopped
1 lb mutton pieces bone-in
1/2 cup plain yogurt beaten till smooth
water as needed
salt to taste
finely chopped fresh coriander leaves for garnish
Instructions
Sauté bay leaves and cinnamon stick with onions in hot oil till lightly browned. Add in ginger-garlic and tomato pastes, as well as the spices and fry for a few seconds till fragrant.

Add in tomatoes and cook for a couple of minutes till tomatoes soften and pulp. Add in the mutton and yogurt and mix well. Add a heavy splash of water and season with salt.

Pressure cook for about 20 minutes, letting the curry simmer until all the pressure releases on its own. Garnish with fresh coriander leaves and serve warm.
If you like this recipe, you will surely like my Lamb & Potato Curry.
Tried this recipe? Leave a Comment and let me know, also Rate it by clicking the number of stars on the recipe card. Want to share your version with me? Tag me on Instagram @hookedonheat