I recently received an email from a mom who wanted a few well-balanced meal ideas that would cook in 30 minutes or less – exactly like this Shrimp Sambal. When it comes to prepping and planning our weeknight dinners, here's the guide I follow – pick a veggie, a protein and a carb. Then follow tried and tested family favourite recipes, that you can cook with one hand tied behind your back and you will never fail at putting a delicious meal on the table.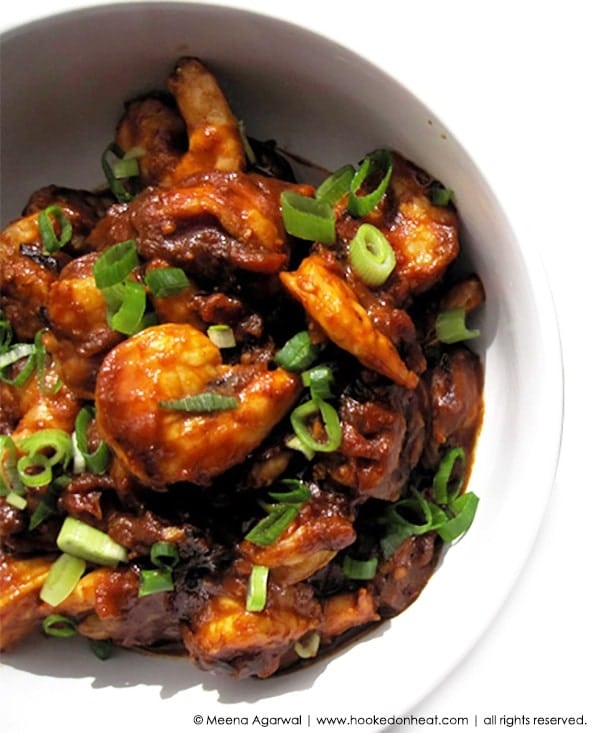 Our weeknight dinners are, for the most part, simple, quick meals. For our protein, I generally opt for a quick curry style wherein I know that after the initial 8-10 minutes of chopping, sautéing and seasoning, I can then leave it to simmer and trust that the dish will come together with no more babysitting on my part. Veggies are great roasted or as a quick stir-fry, or just chopped and thrown into a salad. Top this with some rice, bread or any other grain of choice and you're done! Here are a few meal combinations that I often fall back on, that come together with minimal effort and time:
Meal Option A:
– Dahiwali Chicken Curry
– Alu Palak
– Rice
Meal Option B:
– Roast Veggie Pesto Pasta
– Salad
– Garlic Bread
Meal Option C:
– Egg Curry
– Mushroom & Peas Pulao
– Salad / Raita
Meal Option D:
– Tadka Dal
– Matar Paneer
– Rotis / Rice
Meal Option E:
– Chana Masala
– Jeera Pulao
– Salad
Meal Option F:
– Chilli Tofu
– Nasi Goreng
If you follow me on Facebook or Instagram (and if you're not, then what are you waiting for?), you'll know that I often post pics of what we eat for dinner. You'll also notice that at least once every 7-10 days, our dinner includes some form of Sambal (mostly egg or shrimp), stir-fried veggies and rice. And the sole reason for this is because it is one of Baby Dear's favourite meals. What can I can say, the kid loves robust flavours.
SHRIMP SAMBAL
Servings: 4
Ingredients
2 tbsp light cooking oil
2-3 large garlic cloves finely chopped
1 large onion finely sliced
1/2 tsp red chilli powder
1 tsp coriander powder
1/4 tsp turmeric powder
2 tbsp tomato paste
1 tsp tamarind concentrate
2 medium tomatoes finely chopped
salt to taste
15-20 medium-sized shrimp peeled and deveined
chopped green onions for garnish
Instructions
Heat oil in a large non-stick pan and sauté garlic and onions till soft and lightly browned. Add in spices and fry for a few seconds.

Stir in tomato paste and tamarind concentrate, and fry for a few seconds to mix well with the spices and onions. Throw in chopped tomatoes, season with salt and cook covered till tomatoes start to soften and pulp.

Slowly add in the shrimp, and stir-fry with the tomato mixture to coat. Cook covered for a few minutes till shrimp is cooked through, garnish and serve warm.
Tried this recipe? Leave a Comment and let me know, also Rate it by clicking the number of stars on the recipe card. Want to share your version with me? Tag me on Instagram @hookedonheat