Sabudana Tikkis are mini tapioca cutlets usually made during the Indian festive season.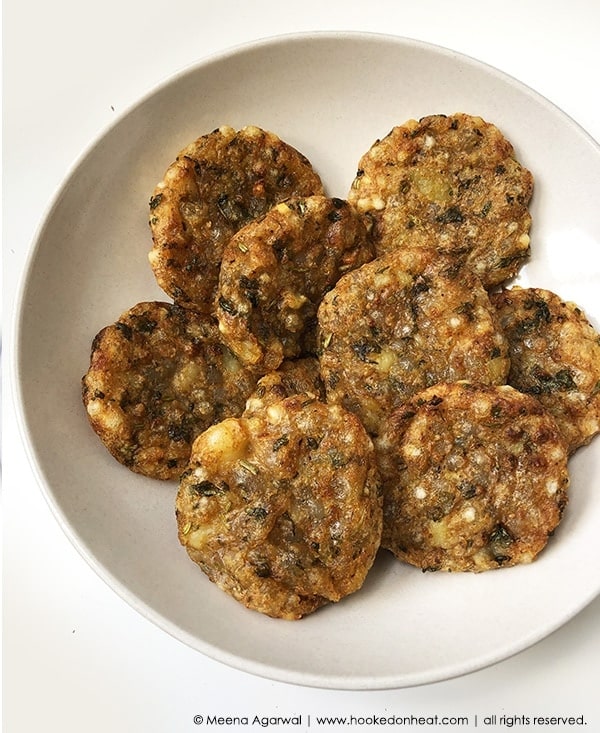 This recipe for Sabudana Tikkis (Tapioca Cutlets) was created in partnership with Hamilton Beach Canada, as one of their brand ambassadors. All opinions, as always, are my own. I only write about and recommend products I use and love myself.
No festivity is complete without a table laden with colourful dishes end to end, enough to please a king. It's no wonder that out of all the rooms in a home, many Indians take the most pride in showing you their kitchens. Truly, we love food, and our life surrounds it. Our conversations, no matter how they begin always seem to divert to something food-related with the topic in question. A simple wedding announcement would automatically lead to the designing of the menu. Even meeting up with a long lost friend would be done over lunch or dinner, eating food they could reminisce about.
While our festive meals may be laced with rich aromatic flavours, what I look forward to the most at any Indian celebration is the platter of appetizers. Indian hors d'oeuvres range from savoury street food, like the globally loved samosas (deep-fried pastry filled with potatoes) and pakodas (spiced fritters), to the ever famous tandoori tikkas (marinated meat grilled in a clay oven). They are steamed, grilled and fried. They come in various sizes and shapes, some that can be daintily picked by two fingers, and others that require a spoon and lots of napkins. No matter in what form, they each have something special to offer, and no cocktail party would regret having them.
Each year, during the week before Diwali, my kitchen automatically gets converted into a mini snack shop – producing quantities of savouries large enough to feed my entire neighbourhood. And then some. Requests start pouring in from Hubby Dear and Little Dude a month in advance – they have their favourites and it almost never changes. One such request from Little Dude was Sabudana Cutlets – crisp fried patties made from mashed potatoes and tapioca pearls. They're absolutely addicting and no one can really stop at one!
Sabudana Tikkis, although quite simple to make, are a hassle to actually fry. For starters, they usually absorb a ton of oil and turn into a soggy mess once cooled. Then there is the fear of the patties falling apart in the hot oil, which I've had once to many time happen to me! This time, I decided to put my new Hamilton Beach Digital Air Fryer to the test. And guess what – they were a hit! Not only did they require just a light spraying of oil, but they were also deliciously crisp and perfect.
SABUDANA TIKKIS (TAPIOCA CUTLETS)
Ingredients
1/2 cup tapioca pearls, soaked for 3-4 hours and then drained
3 medium potatoes, boiled and mashed
1 big handful fresh cilantro leaves, finely chopped
1/2 tsp red chilli powder
1/2 tsp amchur powder
1 tsp cumin powder
salt, to taste
light cooking oil, for spraying
Instructions
Mix all the ingredients, except the oil, in a large bowl to incorporate well. 

Divide the mix into golf ball-sized portions and form into patties.

Spray or brush them with a slight amount of oil on both sides, and place 5-6 of them in the Air Fryer in a single layer.

Air-fry the patties in 400 degrees for 12-15 minutes, turning once in between until crisp of both sides. Serve hot with some Green Chutney on the side!
If you like this recipe, then you will surely like my Spinach & Beet Cutlets.
Tried this recipe? Leave a Comment and let me know, also Rate it by clicking the number of stars on the recipe card. Want to share your version with me? Tag me on Instagram @hookedonheat