This Potato & Chickpeas Rice is a family favourite. I served mine simply with a big bowl of mixed veggie Raita and some Papad.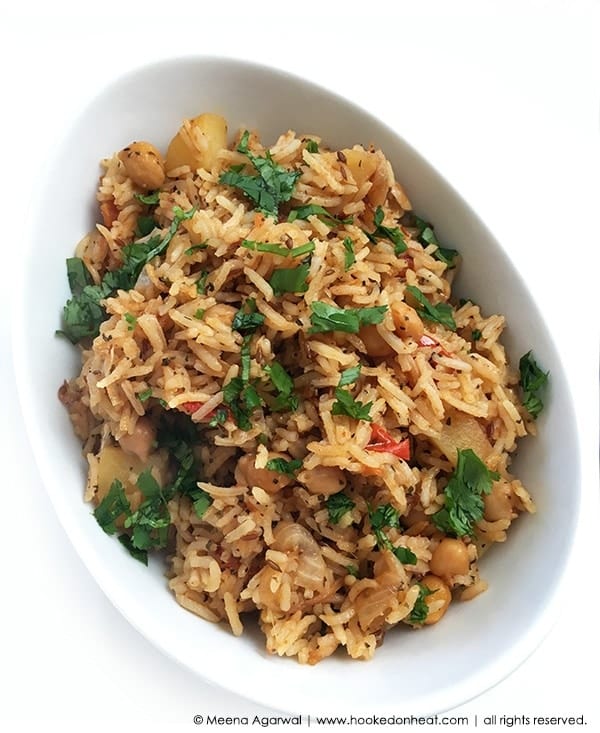 This recipe for Potato & Chickpeas Rice was created in partnership with Hamilton Beach Canada, as one of their brand ambassadors. All opinions, as always, are my own. I only write about and recommend products I use and love myself.
I often find that when thinking up dinner ideas, I tend to gravitate a lot more towards rice dishes, like this Potato & Chickpeas Rice. Maybe it's the quick comfort that comes from a big bowl of rice, or the fact that I'd rather eat raw wheat than knead and mould it into rotis, waiting for them to puff over a burning stove! So it comes as no surprise that I find myself cooking more varieties of rice-based dishes multiple times a week.
There's an unsaid rule when it comes to cooking rice, that's followed in many kitchens throughout Asia – when cooking rice, NEVER cook just enough! You always make sure there's plenty left over. And I completely agree – rice is just great to use as leftovers. It freezes perfectly, can easily be revamped into an amazingly tasty dish in a matter of minutes, and not to mention, tastes divine when simply warmed up and served alongside a fried egg and some Indian pickle!
Often, I make a big batch of plain rice over the weekend and spruce it up during the week. Of the many variations I make from (purposely) left-over rice, some of my all-time easy-breezy favourites can be seen here, here and here, all quick, simple and delicious dinner ideas.
When I decided to make dinner last night, I knew I would once again be cooking what else, but rice. So I settled for a recipe that was simple and so delicious – Pulao or as some call it, Pilaf. Pulao is very common in North Indian cuisine and is often served as a side to exotic curries and salads.
Potato and Chickpeas Rice
Servings: 4
Ingredients
2 tbsp light cooking oil
1 tsp whole cumin seeds
2 large garlic cloves minced
1 medium onion thinly sliced
1/4 tsp red chilli powder
1/2 tsp coriander powder
1/2 tsp cumin powder
salt to taste
2 medium-sized potato cut into bite-sized cubes
1 medium-sized tomato finely chopped
1 can chickpeas rinsed thoroughly and drained
2 cups Basmati rice rinsed thoroughly and drained
4 cups water
a handful of fresh cilantro leaves chopped for garnish
Instructions
Set the rice cooker function in Saute mode. Heat oil and saute cumin seeds, garlic and onions till tender and fragrant. Add in spices, salt and potatoes, and fry for a few seconds.

Add in tomatoes and stir-fry for a minute before adding in the chickpeas. Mix well to coat the chickpeas with the spices.

Add in the rice and water, and give it a quick stir to mix everything well.

Close the lid of the rice cooker and set it to White Rice mode. Once the rice is done, gently fluff it with a fork and garnish with fresh cilantro leaves. Serve warm.
If you enjoyed this recipe, you will surely love my Peas Pulao, Tomato Pulao and Mushroom and Peas Pulao recipe as well.
Tried this recipe? Leave a Comment and let me know, also Rate it by clicking the number of stars on the recipe card. Want to share your version with me? Tag me on Instagram @hookedonheat