Often, when I'm pressed for time after a long busy day, I seek out a one-pot meal that will not only be a breeze to get from stove to table, but will also comfort me after a hard day's work. This Tawa Pulao recipe checks all of the boxes. It's done in less than 30 minutes from start to finish, it contains the warm, comforting spices of home, and it offers delicious flavors that I always rely on.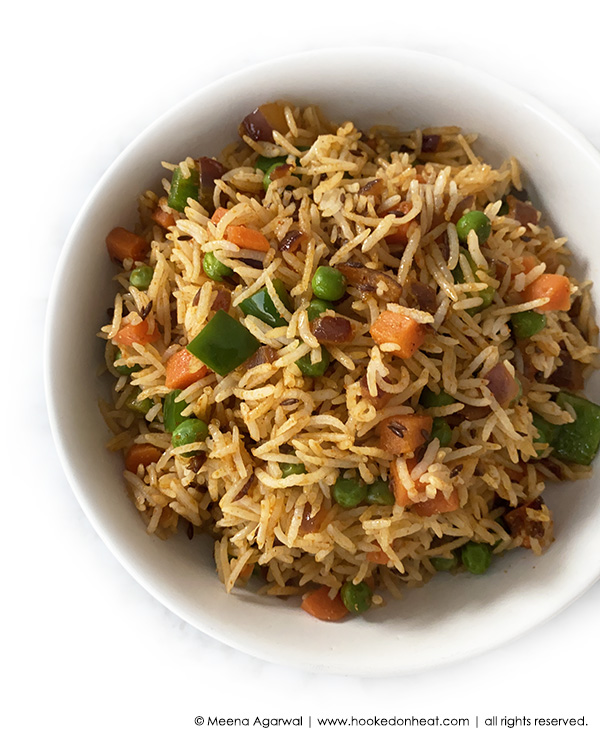 As much as I enjoy cooking elaborate meals and spending precious time creating culinary art, there are times when I just want to come home and not take more than a few minutes to whip up a delicious yet wholesome dinner for my family.
It is always at these times when I find retreat in my over-stocked pantry. I love my pantry, and I honestly believe that if I happen to have an unexpected emergency at hand, I'll most probably be very well prepared to cook up a meal for 10 people using just its contents. I always make sure my shelves are well stocked with a variety of pasta, flour, canned beans, sauces and quick eats.
I've always loved grocery shopping, which only added to my pantry stock. I love losing myself in the aisles with the variety of oils, sauces and international fares. Learning to grocery shop the right way is an acquired art. It takes brain power and perfect precision to buy things in just the right amount to stock a pantry. There were times when I would find myself staring at 5 cans of tuna, each with an expiry date well past.
It took time, and a lot of practice, but I learnt. I now have the perfect pantry to help me build my meals each day. And at times like tonight, when all I want is a quick fix and hours in front of the TV, my pantry is what I can count on!
Print Recipe
Tawa Pulao (Indian-style Fried Rice)
Servings: 4
Ingredients
3 tbsp light cooking oil
1 medium-sized onion finely chopped
1 tbsp finely chopped garlic
1/2 tsp red chilli powder
1/4 tsp turmeric powder
1 tsp coriander powder
1 tsp pav bhaji masala
1 tbsp tomato paste
salt to taste
1/2 cup chopped carrots
1/2 cup frozen peas thawed
1/4 cup chopped green bell peppers
3 cups cooked Basmati rice
finely chopped fresh cilantro leaves for garnish
lime wedges for garnish
Instructions
Heat oil in a large non-stick pan and fry onions and garlic until lightly browned and fragrant.

Add in all the spices, tomato paste and salt, and fry for a few seconds.

Add in the veggies and stir-fry for a few minutes until they start to soften up a bit. Add in rice and mix well.

Cook covered on low heat for 2-3 minutes until all the flavours blend in together.

Garnish with fresh cilantro leaves and serve warm with a sprinkling of lime juice on top.
This post was originally published in June 2014 and has been recently updated.
If you enjoyed this recipe, then you will surely love my Keema Matar Pulao, Instant Pot Chicken Pulao and Mushroom and Peas Pulao recipe as well.
Tried this recipe? Leave a Comment and let me know, also Rate it by clicking the number of stars on the recipe card. Want to share your version with me? Tag me on Instagram @hookedonheat