This recipe for Thai Basil Chicken is a perfect candidate for a quick weeknight meal served with some plain steamed rice and sliced fresh cucumbers on the side. The flavour comes from the fresh Thai basil, so if you're using Italian or any other kind of basil keep in mind that it will change the flavour of the dish.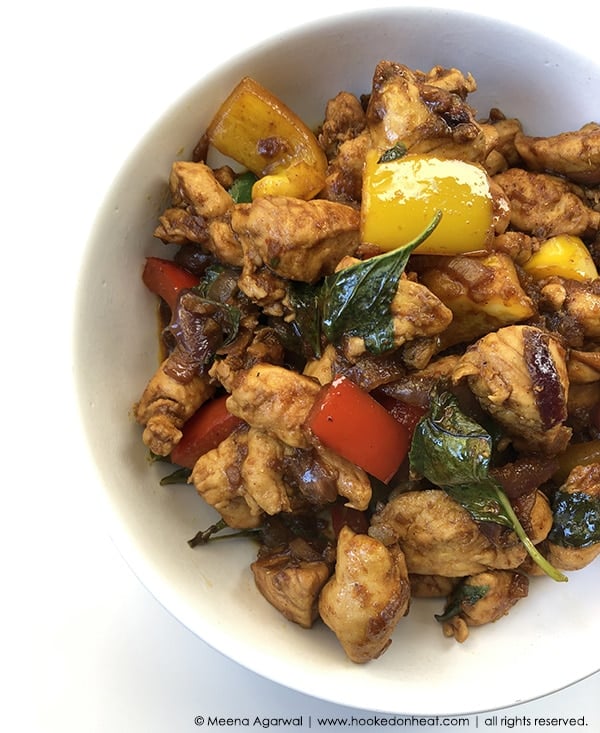 I remember the very first time I was introduced to Thai food, and this Thai Basil Chicken in particular. I was about 13 and on our family vacation in Bangkok. I have fond memories of those five days; most of which revolve around the culture and shopping in Thailand and none, unfortunately of its cuisine. You see, my Dad is not in the least adventurous when it comes to his food. The man wants his Dal-Roti-Sabzi no matter where he is, and will stop at nothing to find it! So needless to say, while in Thailand we religiously avoided all the street food and ate a lot of meals of our meals at Mrs. Balbir's. The food there, from what I remember was absolutely delicious. Authentic north Indian cuisine in the heart of Bangkok.
It was on one such visit that my Mom decided she wanted to try something representative of the country we were visiting and opted for a bowl of Tom Yum Soup and some Thai Basil Chicken, while the rest of us dug into our Chicken Curry and Dal Makhani. Now, for those of you who've followed my blog since the very beginning, know that my Mom is a Malaysian. And Malaysians are nothing if not known for their lip-smacking spicy food – for the most part at least.
So my Mom, like a true-bred Malay took and big slurp of the piping hot soup and almost cried in pain! I couldn't resist and HAD to see what the hoopla was all about. But I wanted to be careful, so only took about a third of the spoon. Boy, were my ears on fire! It was probably the spiciest thing I've eaten my entire life!! But that was years ago in Thailand. Thai food in other countries is much more tamed in spice level but just as authentic and delicious in flavour.
Hubby Dear and I have always been huge fans of Thai food and love to try out any new establishment that opens near to where we are. Over the years, we've settled on our favourites and are now quite critical on how the dishes we prefer taste. Baby Dear, being the budding food connoisseur that he is, is a die-hard fan of Pad Thai – the tangier, the better. I love my Green Curry with tons of gravy and veggies, and Hubby Dear often shuttles between Pad Thai loaded with peanuts (at times even more nuts than noodles!) or a spicy Cashew Chicken. But one dish that we MUST always order for the table is Thai Basil Chicken. That is, of course, until I tried my hand at making it this week. I can now honestly say that we can cross out Thai Basil Chicken from our future orders and substitute it with an extra plate of Papaya Salad.
Thai Basil Chicken
Servings: 4
Ingredients
2 tbsp light cooking oil
6 boneless chicken thighs cut into bite-sized pieces
1 tbsp finely chopped ginger
1 tbsp finely chopped garlic
1 large onion thinly sliced
1 medium red pepper çut into bite-sized pieces
1 medium yellow pepper, çut into bite-sized pieces
1/2 tsp red chilli powder
1 tsp coriander powder
1 tsp white pepper powder
salt to taste
2 tbsp light soya sauce
a big handful of fresh Thai basil
Instructions
Heat a tbsp of oil in a large wok on high heat, add stir-fry the chicken for 2-3 minutes till lightly browned along the edges. Remove from wok and set aside.

Add in the remaining oil, and add ginger and garlic, and fry for a few seconds till fragrant. Add in onions and peppers and stir-fry for a minute or two till onions become transparent.

Add in the browned chicken, spices and salt, and stir fry to mix everything well. Add in soy sauce and fresh basil and stir-fry for another minute or two.
Notes
The flavour comes from the fresh Thai basil, so if you're using Italian or any other kind of basil keep in mind that the taste may vary.
Tried this recipe? Leave a Comment and let me know, also Rate it by clicking the number of stars on the recipe card. Want to share your version with me? Tag me on Instagram @hookedonheat