Murtabak is a pan-fried stuffed flatbread, much like the Indian parathas, that is a very popular street food in Malaysia and Singapore. This quick and easy Chicken Murtabak recipe uses readymade frozen parathas to cut down the prep and cooking time considerably.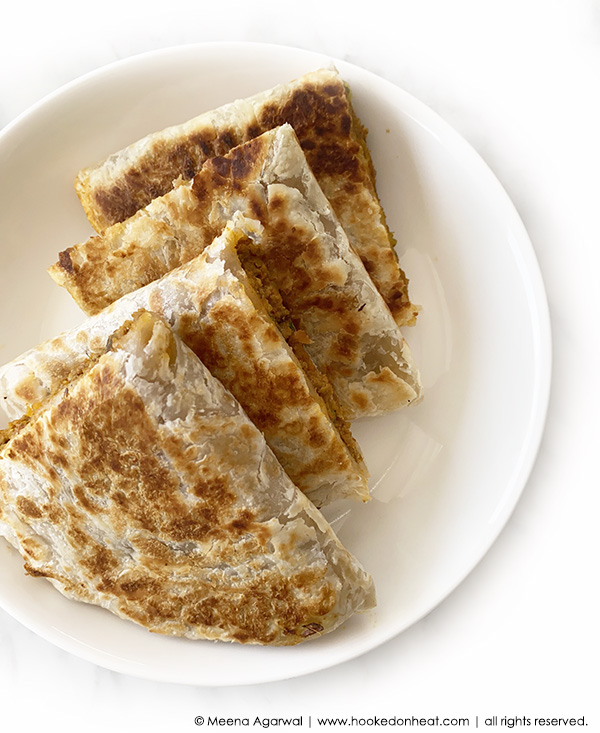 With back-to-school planning going on in full swing at our home, the ONE that usually stresses me out the most is what to pack in Little Dude's lunch box. Coming up with creative lunch ideas every morning five times a week seems crazy and understandably very hard for most of us busy moms. Which is why I like to have a handy list of ten to fifteen options that are quick and/or easy to pull together in a pinch!
This Chicken Murtabak recipe is one that I fall back on quite often. I always make sure to have a couple packs of frozen parathas of different kinds in my freezer. These often come in handy for dinner on busy weeknights. If you have leftover meats or veggies, then they make a great filling for these frozen parathas and are an excellent option for kids lunchboxes.
How to make easy Murtabak at home?
To make Murtabak quick and easy at home, you will need to look for frozen parathas that are the flaky kinds. Sometimes these are also known as Malay-style parthas. You can find them at most Indian or Asian grocery stores in the freezer section, and a lot of regular grocery also carry them nowadays. I personally prefer the Shana brand and have used them for years for this recipe.
What to Use as Murtabak filling?
Although traditionally Murtabak is made using spiced ground chicken or beef for the filling, you can pretty much use anything you like when making it at home. I will often use leftover Keema Matar for my Chicken Murtabak. If you're vegetarian or vegan, a simple saute of mixed vegetables lightly spiced will work wonderfully as well. Masala Egg Bhurji, Paneer Bhurji, Masala Mushroom and Sukhe Aloo (Sauteed Potatoes) will all taste delicious when used as Murtabak fillings. In a pinch, you can also substitute the ground chicken in the Keema Matar recipe for textured ground soy.
How to Serve Murtabak?
In Malaysian and Singapore, Murtabak is usually served with a side of Dal or Curry. Doing so can transform this quick and easy recipe into a hearty meal. If you plan to packing up this Chicken Murtabak into your kids lunchbox like I do, then a side of green chutney, ketchup or hot sauce works great. They also taste delicious on their own and at room temperature.
If you're looking for more quick and easy school lunch ideas, then you can find them here.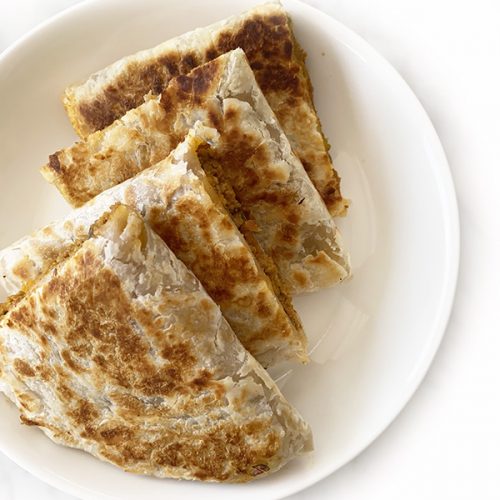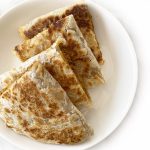 Print Recipe
Chicken Murtabak (Quick and Easy Cheat's Version)
Servings: 4
Ingredients
4 frozen Malay-style parathas*
2-3 cups Keema Matar* recipe linked in the Notes section
Instructions
Heat a non-stick frying pan on medium-low heat and warm up a paratha on one side.

Once the paratha starts to turn slightly translucent on the top, add a generous amount of the filling on one half of the paratha.

Slowly fold over the other half of the paratha and press down to form a sandwich. Let the paratha cook and crisp on the bottom on low to medium heat before turning it over. Cook the paratha on the other side as well till crisp.

Cut into half and serve warm.
If you enjoyed this recipe, you will surely love my Chicken-stuffed Crescent Rolls, Paneer Croissants and Chicken Tikka Quesadilla recipe as well.
Tried this recipe? Leave a Comment and let me know, also Rate it by clicking the number of stars on the recipe card. Want to share your version with me? Tag me on Instagram @hookedonheat