A few weeks ago, I had a gang of girls over from our book club meet. I always look forward to these all-girl meetings, especially when it's my turn to host. I get to experiment with fun recipes like this Honey-Garlic Spring Rolls and love the fact that we girls can totally agree on the fact that chocolate cake is a filling dinner option.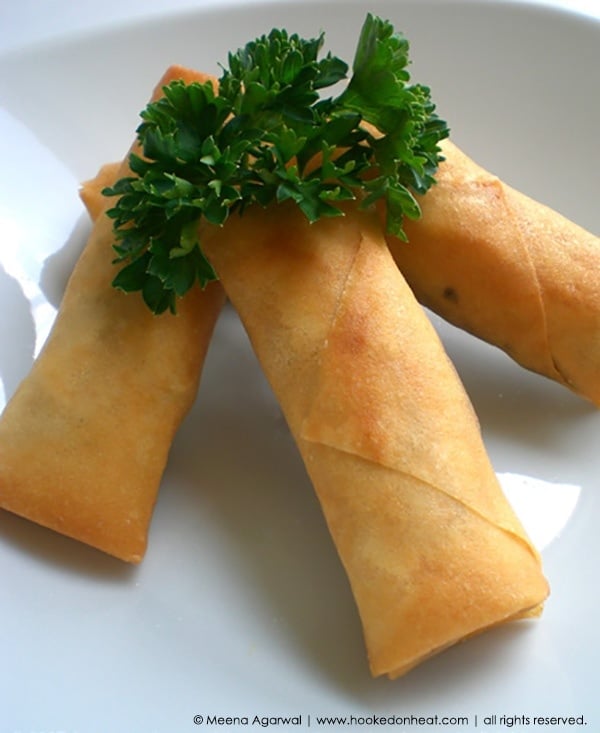 For the past few months, I've been toying with the idea of throwing an appetizer sampler party. According to me, it's probably the best party you could get invited to, second of course only to a chocolate-themed night. This book meet was the perfect setting for what I had in mind. We were meeting to discuss the book, Cooking for Mr. Latte, and though I enjoyed the read, I knew that planning the party was going to be even more fun.
It was obvious that I was going to serve tiny bites and mini morsels of divine finger food, in all shapes, sizes and forms. My centrepiece comprised of a huge platter flavoured oven-roasted pita chips and deep bowl overflowing with cool creamy hummus. It was to be the decoy for those health-conscious skinny ones. Neatly arranged around that were the actual sinners. Melt-in-your-mouth Tandoori wings, my simply-to-die-for Ginger-Chilli Shrimp, and not to mention, petite little squares of a rich dark chocolate almond fudge cake that I had baked for the first time in my life, among many other delicious treats.
The cake was delicious, to say the very least, and if I were locked alone in a room with it, you'd probably find me digging into it with my bare hands and stuffing large chunks of it into my face. I also made sure I catered to every palate by dishing out a variety of sweet and savoury treats, including, mini quiches, spiced potato wedges, and spiked hot chocolate in mini espresso cups for that something extra after dinner. But the highlight of my evening had to be the warm crispy spring rolls that simply had me wishing I were in the Orient somewhere, digging into a bowl full of slurpy noodles to go with it.
HONEY GARLIC CHICKEN SPRING ROLLS
Servings: 12
Ingredients
24 small spring rolls wrappers
1 chicken breast finely chopped into tiny pieces
1 medium onion thinly sliced
1 green pepper thinly sliced
1 tbsp garlic finely crushed
1 tsp black pepper powder
1/2 tsp white pepper powder
1 tsp sesame oil
2 tbsp honey-garlic sauce
1 tbsp light cooking oil
salt to taste
oil for deep frying
water as needed
Instructions
Marinate chicken, onions, green pepper and crushed garlic with honey-garlic sauce and pepper powder for at least an hour.

Heat sesame oil and a tbsp of cooking oil in a non-stick wok and stir-fry marinated ingredients with any leftover marinade over high heat till chicken is cooked through. Remember to stir and mix continuously, so as not to let it burn. Season with salt, and set aside to cool.

Once the filling is cooled, begin rolling out the spring rolls. Start with placing a spring roll wrapper on a cool flat working surface. Place about 2-3 tbsp of the filling to one corner of the wrapper. Fold over that corner and roll up half way, tucking in the open side corners. Seal edges with a bit of water and set the spring roll aside on a cool plate. Continue to roll out remaining cigars, making sure to cover them with a slightly damp towel so that they don't dry out.

Deep fry in hot oil till golden and crisp.
If you like this recipe, then you will surely like my Honey-Garlic Chicken Wings.
This post was originally published in December 2007 and has been recently updated.
Tried this recipe? Leave a Comment and let me know, also Rate it by clicking the number of stars on the recipe card. Want to share your version with me? Tag me on Instagram @hookedonheat