This Bhindi ki Sabzi or Stir-Fried Okra recipe is a super quick and easy way to spice up okra for a weeknight dinner. Don't let the small ingredient list food you – this recipe is packed with flavour!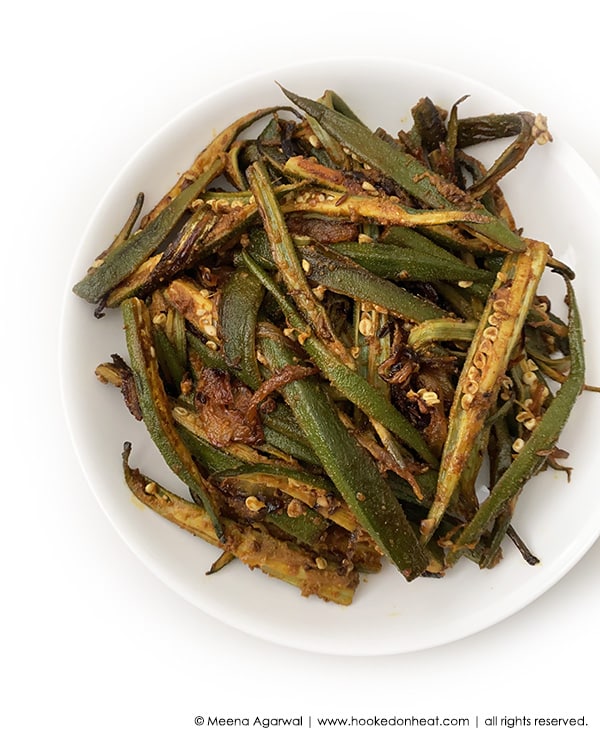 I wouldn't call myself a fussy eater as a child, but there were a few vegetables on our dinner rotation that I simply refused to eat. I guess my reasoning for this is that my Mom only cooked them in ONE way and never experimented to change up the flavours. Needless to say, it wasn't the vegetable that I actually disliked, but the particular way it was cooked. My Mom's Aloo Gobhi tops that list till today, with her Bhindi ki Sabzi coming in a close second.
As I started cooking and getting comfortable playing with various ingredients and flavour pairings in my own kitchen, I began experimenting with veggies that I swore I would NEVER touch as an adult. And whaddaya know! I've found ways to really enjoy and relish them. The cauliflower, for example, has become one of my favourite veggies to roast in the oven. And Aloo Gobhi? I've created a recipe for it that I truly love and can serve to my guests with pride.
I've always believed that cooking is an art and you can be as creative with your recipes as your heart desires. There's really no ONE way to make a certain dish – it becomes whatever and however you make it. This Bhindi ki Sabzi or Stir-Fried Okra is one that I make on a fairly regular basis. It is quick and easy for a weeknight dinner and the perfect pairing to a simple Dal-Chawal meal.
Bhindi ki Sabzi (Stir-fried Okra)
Servings: 4
Ingredients
25-30 medium sized okra washed, dried and tops cut off
2 tbsp light cooking oil
1 tsp whole cumin seeds
1/4 tsp turmeric powder
1/2 tsp red chilli powder
1 tbsp coriander powder
1/2 tsp garam masala powder
1 tsp amchoor powder
salt to taste
Instructions
Cut each okra in half lengthwise.

Heat oil in a large frying pan on medium heat and add in cumin seeds. Once they start to sizzle, add in the sliced okra.

Stir fry the okra for 2-3 minutes, then add in all the spices. Give it a good mix and let it cook covered for another 5-6 minutes until the okra becomes tender.

Keep stirring occasionally to prevent from burning.

Season with salt, give it a good mix and serve warm.
If you enjoyed this Bhindi ki Sabzi recipe, you will surely love my Bharwaan Bhindi and Dahi Bhindi recipe as well.
Tried this recipe? Leave a Comment and let me know, also Rate it by clicking the number of stars on the recipe card. Want to share your version with me? Tag me on Instagram @hookedonheat