When it comes to cooking a fulfilling dinner on weeknights, my keyword, or should I say keywords, are QUICK and SIMPLE – and a Pulao is great to start with! I have many times blogged on how much I love easy recipes that hardly take any of my time and effort and yet seem to please our over-demanding palates. Truly, coming home in the evening after a long and tiring day doesn't leave me even in the slightest mood to cook anything. But eat we must and that's where I make use of my instincts. A little bit of this, a splash of that, and dinner is on the table!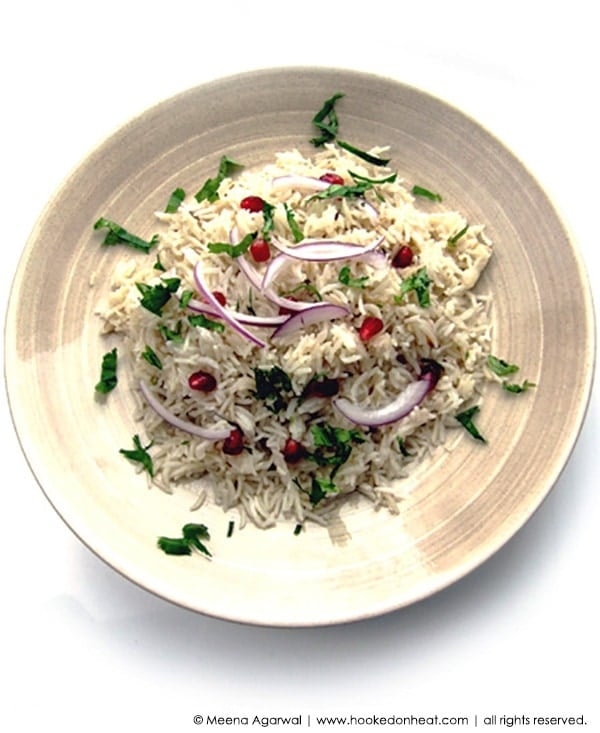 I always wonder why people look at cooking Indian food with such disdain. According to so many non-Indians I've come across, they all have the same thing to say – it takes a lot of time and many more ingredients to cook a traditional Indian meal! Well, all I can say yet again is that you, my dear are mistaken!
Now, if you are one of those who think that the traditional Indian meal comprises of exotic dishes such as, Briyani, Butter Chicken, Dal Makhani and Naans, then, well, I think you need to invite yourself to an Indian home for a simple dinner.
When it comes to food, we Indians know how to make a gala of the mere act of eating. But at the same time, we have our home-grown secrets of making a simple "Dal-Chawal" meal seem fit for a King, or Queen of course! One look at my long list of recipes and you can easily see that many of them are simple to the touch – this Pulao recipe included. Don't get me wrong, I love to cook. In fact, I am known to spend an entire day in the kitchen cooking for parties a day in advance. But sometimes, I just want to take it easy. After all, even the greatest rulers of all-time needed to take a break!
This recipe for a simple Cumin-scented Pulao will do just that! Pair it with a side of Dal and some spiced Jeera Alu, maybe a salad, and you'll have a delicious well balanced, nutritious meal. At times when I'm in a real crunch, I'll quickly whip up a mixed veggie Raita and call it day – no other sides needed! Try this for your next dinner party and watch your guests swoon over the aroma and flavour.
JEERA PULAO (CUMIN PILAF)
Special equipment recommended: a deep heavy-bottomed pan or Dutch Oven
Servings: 4
Ingredients
2 tbsp light cooking oil
1 tsp cumin seeds
1 cinnamon stick
3-4 cloves
3-4 green cardamom pods
1 medium onion thinly sliced
5 cups water
2 and 1/2 cups Basmati rice rinsed thoroughly and drained
salt to taste
fresh coriander leaves finely chopped for garnish
Instructions
Heat oil in a deep non-stick pan on medium-low heat and add in cumin seeds, cinnamon, cloves and cardamom pods.

Once they start to sizzle and become fragrant, add in onions, and fry for a few seconds till lightly browned. Be careful not to let it burn.

Add in water, season with salt, and once it starts to come to a slight bowl, lower heat and stir in the rice. Let the rice cook on low heat, covered, till water evaporates and rice is cooked through.

Garnish with cilantro leaves and serve.
Tried this recipe? Leave a Comment and let me know, also Rate it by clicking the number of stars on the recipe card. Want to share your version with me? Tag me on Instagram @hookedonheat