This Vegetable Pulao with Paneer is great when you want that something rich and comforting, yet have less time on your hands.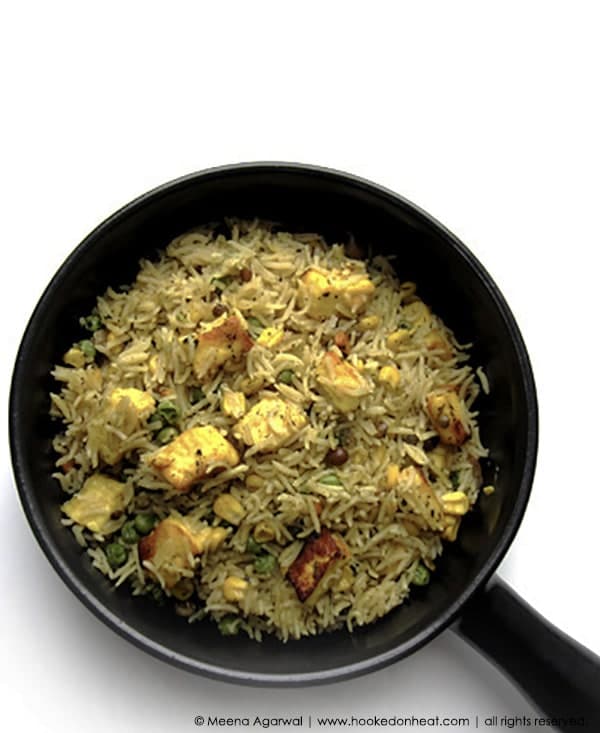 This recipe for Vegetable Pulao with Paneer was created in partnership with Nanak Foods. All opinions, as always, are my own. I only write about and recommend products I use and love myself.
Looking back a couple of years ago, I can only smile when I think of how naive I was as a new mom. I had this crazy idea in my head that being the ardent food lover and advocate of good eating that I am, my 'lil guy would turn out to be a food connoisseur in the making. I had visions of us carrying huge baskets filled to the brim with fresh fruits and veggies while we discussed how they were organically and locally grown – all the while meeting and greeting the growers themselves at farmer's markets throughout the summer.
I dreamt of Sunday nights where we were all seated at the table enjoying a wholesome spread of slow-cooked dishes with family and friends. I got giddy with excitement when I planned out what my weekly menus would look like – a three-course meal laden with seasonal ingredients – all fresh, made from scratch. And all this, with Baby Dear by my side nodding in agreement as I explained the benefits of everything we put into our mouths – like this Vegetable Pulao with Paneer.
Baby Dear is growing, and fast. He is at that wonderful age where anything and everything piques his interest. He wants to know what, how and why; and won't give up asking till he's satisfied with your answers. Today, our life is anything but slow. Our summer flew by in a whirlwind, what with family visiting, impromptu weekend trips and lots of fun had in between. We didn't make it to even ONE farmer's market this year, although, we did go strawberry picking where Baby Dear had a wonderful time filling his basket with the biggest, juiciest and freshest strawberries he could find.
We even stepped up our container gardening this year and added 4 kinds of chillies, red and green peppers and lettuce along with 2 kinds of cherry tomatoes. So while exchanging pleasantries with our local farmers was not something we could conjure up time for, Baby Dear happily went about his task of plucking fresh red tomatoes from our backyard for salads throughout the week – which paired perfectly well with this Vegetable Pulao with Paneer.
When I think of it, it was quite silly of me to think that I could even manage a freshly cooked meal each night of the week let alone a 3-course one. Most days, I still haven't got a clue of what dinner will look like while Hubby Dear is on his way driving home from work. It's on days like these that I thank my fully stocked freezer, whip out that bag of multi-grain chicken nuggets, slice up some fresh veggies, toast some bread and call it a sandwich night! And in all this, Baby Dear still manages to grow into a healthy, adventurous eater, and for that, I couldn't be more thankful. So I guess I must be doing something right after all!
Let me tell you something about Baby Dear and his palate. This wee little guy is nothing if not bold with his flavour pairings – as you will see with this Vegetable Pulao with Paneer. Like any toddler, he loves his burgers – but with tons of mustard and pepper, hold the pickles, please! He prefers sharp Cheddar Cheese to the regular processed yellow stuff you get for snacking. He enjoys his Macaroni laced with hefty spoonfuls of Pesto and gorges on Hummus by the ladle. And garlic? Well, the more the better in his books!
So needless to say, it wasn't a big surprise when he declared his love for Biryani – even braving the super spicy takeout version with copious sips of water in between spoonfuls. So much so, that we even celebrated his birthday recently with my Mom making a Gulliver-sized pot of Lamb Biryani. Her plan was for there to be enough leftover for him to enjoy again. And boy did he, for the next two days, for both lunch and dinner!
Although I pride myself in cooking a mean Indian meal, there are few dishes that I that simply shrug at. Mostly because they are either too time-consuming or require ingredients that force me to drive around town for. Biryani, for me, is just one of those dishes that I'd rather get take-out. It's laborious to begin with, and I simply can't find the patience to cook up a pot. But I do love my Biryani as much as Baby Dear, and have been known to crave it for days on end. It's for days like these that I came up with this Vegetable Pulao with Paneer recipe. Now, while this is nothing close to the real thang, it's an amazing addition to your repertoire. Use it when you want that something rich and comforting, yet have less time on your hands. Try it out and let me know what you think.
Vegetable Pulao with Paneer
Servings: 4
Ingredients
2 tbsp light cooking oil
1 medium-sized onion thinly sliced
500 gms paneer cut into bite-sized cubes
2 cups mixed frozen veggies thawed
1/4 tsp red chilli powder
1 tsp coriander powder
1/2 tsp cumin powder
1 tbsp dried mint leaves
2 cups Basmati rice rinsed thoroughly
salt to taste
4 cups water
Instructions
Heat oil in a deep non-stick pan on medium-low heat and saute onions till tender and lightly browned. Add paneer, and fry till it starts to brown along the edges. Make sure to stir continuously so that the paneer does not burn.

Add in the mixed veggies, spices and dried mint, and fry for a couple of minutes.

Add in rice and salt, and stir well to coat each grain with oil and spices. Pour in water, cover, and cook for 15 minutes till all the water evaporates and the rice is cooked through.
If you enjoyed this recipe, then you will surely love my Mushroom & Peas Pulao recipe as well.
Tried this recipe? Leave a Comment and let me know, also Rate it by clicking the number of stars on the recipe card. Want to share your version with me? Tag me on Instagram @hookedonheat