Although I have made Samosas from scratch at home before like these Punjabi-style Aloo Samosas and these Minty Potato Samosas, they are still deep-fried – and that alone has me often turning away from the very idea of whipping up a quick batch. I would usually make them on Diwali – the ONE day of the year where all things deep-fried are completely justified, and my kitchen looks and smells like a that of a busy take-out joint. That is of course before I tried baking these babies! My recipe for Baked Samosas is a super simple one – you make the dough, get the filling ready, wrap them up and shove them into the oven.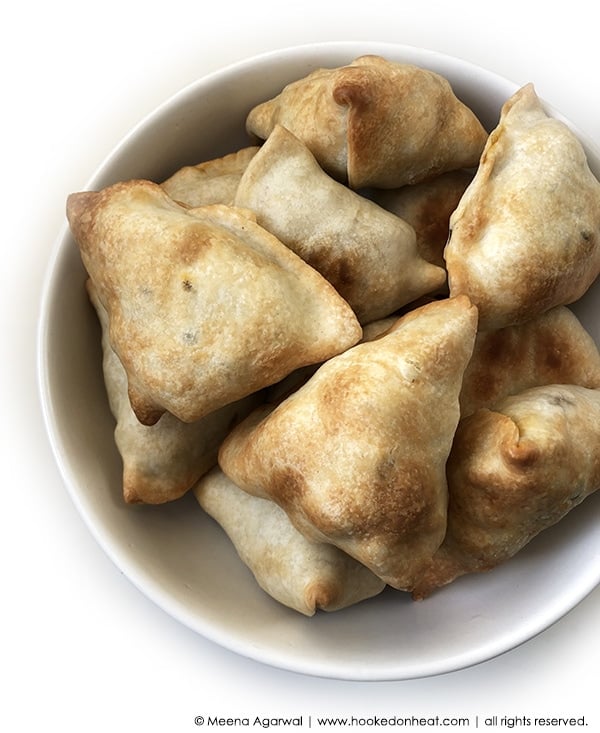 Growing up with a Dad who HAD to have his Samosa fix at least once a week meant that I believed it was the most normal thing to do. I mean, I fully supported the fact that my Mom needed a break from cooking our meals and what's better than crispy warm Samosas dunked into cool, creamy chutneys on a Friday night! Except, that wasn't what most families I knew were doing. None of my friends or anyone I know for that matter, are as crazy for Samosas as I am – so much so, that when the lockdown was announced, I almost cried knowing that I wouldn't be able to enjoy my regular Friday night guilty pleasure for a long time to come. And yes, I still, to this day enjoy Samosas on Friday nights.
After all, as a Mom, even I need a break from the kitchen every once in a while – and these Baked Samosas have become my saving grace!
I also tried a batch in the Air-fryer, which honestly, both Hubby Dear and I declared to be even better than those that came out of the oven. Either way, they are totally guilt-free! And if you're anything like me (seriously though, if you love a good Samosa as much as I do, then please, let's be besties for life!), then you can make and enjoy these whenever you wish. I'm sure you've heard of the saying, "Bake your own cake and have it too"? Well then, why not make your own Baked Samosas and have as many as you want!
Baked Samosas (Air Fryer & Oven)
Servings: 24 samosas
Ingredients
1 tbsp light cooking oil for spraying or light brushing
For the Dough
2 cups all-purpose flour
1/4 cup light cooking oil
a big pinch of salt
water as needed
For the Filling
1 tbsp light cooking oil
1 tsp cumin seeds
1/2 tsp red chilli powder
1 tsp coriander powder
1/2 tsp amchur powder
1/2 cup frozen peas thawed
2-3 medium-sized potatoes boiled and cubed into tiny pieces
salt to taste
1/4 cup finely chopped fresh cilantro
Instructions
For the Dough
Mix all the dry ingredients in a big bowl and slowly add in a bit of water at a time to form into a nice soft dough. Divide the dough into 12 equal parts and set aside.
For the Filling
Saute cumin seeds in hot oil in a large skillet till they start to sizzle. Add in spices and peas, and fry for a few seconds just to warm through – be careful not to let it burn.

Add in the potato cubes, season with salt and mix everything well. Mix in fresh coriander leaves and mix again. Set aside to cool.
For the Samosas
Roll out each dough ball into circular discs about half a centimetre thick. Cut the circles in half, to form two semi-circles.

Taking each semi-circle, roll one end to the other forming a cone. Press the edge of the cone slightly with your fingers to prevent it from opening. Fill each cone with about 2 tablespoons of the potato filling. Press and seal the open edges together to tightly close, forming a pyramid-like shape.

Place the prepared Samosa on a baking sheet lined with parchment paper. Continue for the remaining of the dough.

For the Air Fryer: Spray or brush a very light coating of oil on the top of the Samosas, and bake them in an Air Fryer at 400 degrees for 20 minutes, turning them over once in between. Serve hot with some Green Chutney on the side!

For the Oven: Spray or brush a very light coating of oil on the top of the Samosas, and bake them in a 400 degree preheated oven for 30 minutes, turning them over once in between. Serve hot with some Green Chutney on the side!
Notes
To freeze the Samosas for later use, allow the prepared samosas to cool in the fridge for a few hours and then store them in sealed bags in the freezer. When ready to bake, just remove from the freezer and follow the baking instructions without thawing them.
I've used my Hamilton Beach Digital Air Fryer for this recipe, but any kind of Air Fryer will work.
If you enjoyed this recipe, then you will surely love my Punjabi-style Aloo Samosas and my Minty Potato Samosas recipe as well.
Tried this recipe? Leave a Comment and let me know, also Rate it by clicking the number of stars on the recipe card. Want to share your version with me? Tag me on Instagram @hookedonheat