The Thanksgiving menu I planned was seasoned with an Indian touch, and I knew I just had to serve my Rajma Masala – which is an Indian-style Red Kidney Bean Curry.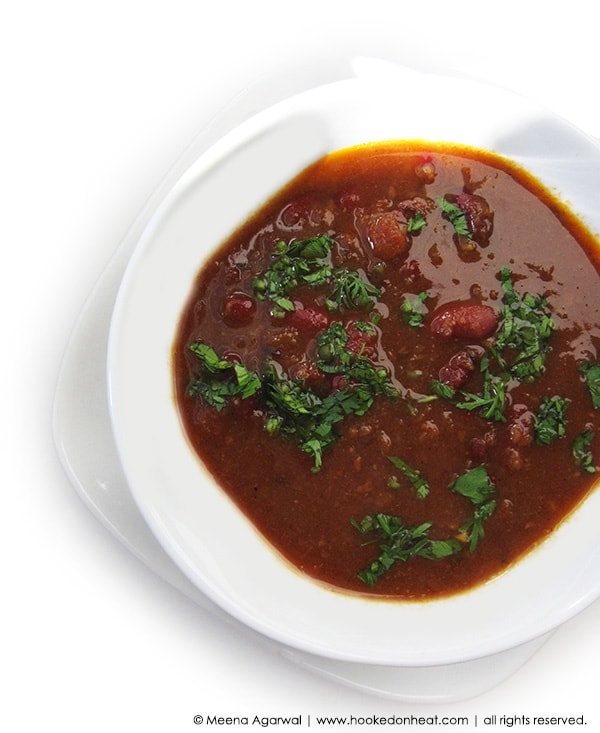 This recipe for Rajma Masala was created in partnership with Hamilton Beach Canada, as one of their brand ambassadors. All opinions, as always, are my own. I only write about and recommend products I use and love myself.
I've always loved the idea of Thanksgiving. After all, what's there to complain about? A whole day dedicated to spending time with loved ones and eating good, comfort food – like Rajma, count me in! Roasting an entire bird large enough to feed half of my neighbourhood has never been my kinda thing, so I always pick an alternative. This year, our Thanksgiving in Canada just whizzed by me – mainly because this time around, it plopped itself right on Little Dude's ninth birthday! So while the rest of the country feasted on mouthwatering seasonal fare, we folks in the HoH household celebrated the little guy's big day with things that made him most happy – cake, toys and Biryani.
Early on this year, I had decided that I wanted to host a wonderful Indian-inspired Thanksgiving feast. Well, Thanksgiving came and went; and now here I am still caressing the desire to feed my family and friends. So like I always do in similar situations, I just decided to throw caution to the wind and host a huge dinner anyway. Folks in the US can say I celebrated with them, while the rest of the world can take this as my pre Holiday Season bash.
Appertizers
Dinner
Dessert
What does your Thanksgiving menu look like? I'd love to hear some of your favourite dishes and traditions around this holiday, so please do share! In the meanwhile, I do hope you try this Rajma recipe – which just happens to be one of my personal favourites.
Rajma Masala (Indian-style Red Kidney Bean Curry)
Servings: 4
Ingredients
2 tbsp light cooking oil
1 cinnamon stick
1 tsp whole cumin seeds
1 large onion finely chopped
1 tbsp ginger paste
1 tbsp garlic paste
1/2 tsp red chilli powder
1/4 tsp turmeric powder
1 tbsp coriander powder
1/2 tsp garam masala
2 tbsp tomato paste
2 medium tomatoes finely chopped
2 cups dried red kidney beans soaked overnight, then drained and rinsed thoroughly
water as needed
salt to taste
a handful of finely chopped cilantro leaves for garnish
Instructions
Set the pressure cooker to Saute mode and heat oil for a few seconds. Once the oil is warm, add in the cinnamon stick and cumin seeds. As soon as the cumin seeds start to sizzle, add in the chopped onion and fry for 2-3 minutes till lightly browned.

Add ginger, garlic and spices, and fry for a few seconds till fragrant. Stir in the tomato paste and combine well with the onion and spices.

Add in chopped tomatoes and let it cook covered for a few minutes till the tomatoes start to pulp and blend with the spice mixture. Keep stirring occasionally to prevent the bottom from getting burnt.

Stir in kidney beans, season with salt and add about 1-2 cups of water (depending on the thickness of gravy you prefer). Close the lid of the pressure cooker and set it to the Pressure cooking mode. Set the timer to 20 minutes.

Once the time is done, allow the pressure to release naturally. Be careful while opening the lid, and give it a good stir. Garnish with fresh cilantro leaves and serve warm.
If you like enjoyed this recipe, then you will surely love my quick and easy Rajma using canned beans.
Tried this recipe? Leave a Comment and let me know, also Rate it by clicking the number of stars on the recipe card. Want to share your version with me? Tag me on Instagram @hookedonheat