Dal Fry served at a dhaba is like no other and I believe is a must to experience when in India. It is always perfectly spiced, with just the right amount of heat and tang, and often comes to the table with a thick slick of oil on top. But nonetheless, it is THE perfect accompaniment with fresh warm naans or rotis, to be dunked and slurped.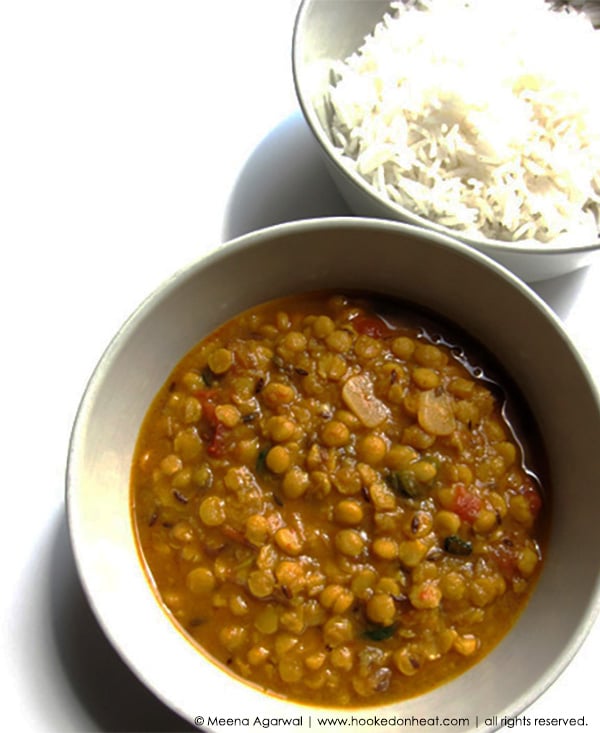 Road trips in India are whole different ball game altogether when compared to those in North America. Driving conditions are worlds apart, and not to mention, traffic rules are seldom followed by the book. But while families in the western part of the world make pit-stops at fast-food chains and greasy diners for meals while driving, those in India look forward to long relaxed lunches often featuring Dal Fry Dhaba-style (also quite greasy, to be fairly honest!) at one of the gazillion roadside restaurants called dhabas along the highway. Dhabas are India's version of the 24/7 diner – food is made fresh to order, the menu is extensive, and you'll be served huge portions of food any time of day – almost always, with a generous pat of butter or ghee on top!
While I've not as yet taken as many road trips in India as I would've like to, I have had my fair share of dhaba experiences. You see, so popular and charming are these quaint little eateries, that a lot of times people just head out along the main highways to simple enjoy a meal. If you ever find yourself at a dhaba, with no clue on how to get started with your meal, always opt for either the stuffed parathas, dal tadka, or any dry spicy chicken dish they have on offer. If you're willing to treat yourself to a food celebration and wish to go an extra mile – order all three! Dhabas are well known for these dishes and I've never to one who screwed up on any of them.
My Dhaba-style Dal Fry recipe today is anything but. However, you still get the delicious array of flavours without the added hike to cholesterol levels. So enjoy it, guilt free until the next time you find yourself hungry on the road in India – then of course, you'll know exactly what to do!
Dal Fry – Dhaba-style (Street-style Spicy Lentils)
Servings: 4
Ingredients
2 tbsp light cooking oil
1 tsp cumin seeds
1 tsp fennel seeds
1 inch piece of ginger julienned
3-4 garlic cloves thinly sliced
1-2 green chillies finely chopped
1 large-sized onion finely chopped
1/2 tsp red chili powder
1/4 tsp turmeric powder
1 tsp coriander powder
1 medium-sized tomato finely chopped
salt to taste
2 cups split pea lentils cooked until tender but making sure each grain still holds its shape
water as required
handful of fresh cilantro leaves finely chopped for garnish
squeeze of fresh lemon for garnish
Instructions
Heat oil in a large heavy bottomed pan and sauté cumin seeds, fennel seeds, ginger, garlic, green chillies and onions until lightly browned and fragrant.

Add in the spices, and fry for a few seconds.

Mix in the chopped tomatoes, season with salt, and cook for a few minutes to combine well.

Add in cooked lentils, and water depending on the consistency you like, and let it simmer covered on low heat for 5-6 minutes. This will allow all the flavours to blend in well.

Garnish with fresh cilantro leaves and a squeeze of fresh lemon juice, and serve warm.
This post was originally published in August 2014 and has been recently updated.
If you liked this Dal Fry recipe, I'm sure you will love my Tadka Dal and my Chana Dal Masala as well.
Tried this recipe? Leave a Comment and let me know, also Rate it by clicking the number of stars on the recipe card. Want to share your version with me? Tag me on Instagram @hookedonheat