The first time I had Hubby Dear over at my place for dinner, I hate to admit it, but he was one of those, "I'm in the neighbourhood and I think it'll be super fun if I drop by for some dinner cooked by you!". We had just started seeing each other a few months ago. He was in town on some work and thought that instead of meeting up somewhere, it would be great if I cooked him a meal. Now, mind you, this was a time where I didn't feel much at home in the kitchen. I was used to cooking, yes, but had never really cooked for anyone – other than my best friends back in college, and truth be told, I never really cared what they thought of it. But Hubby Dear, now this was BIG! This guy actually wanted me to cook for him, and that meant he had no idea what he was getting into.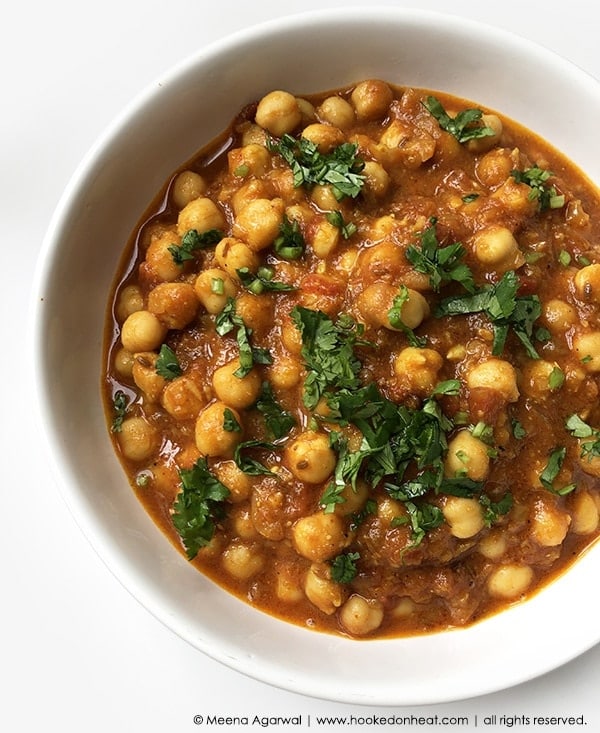 Not wanting to creep him out, I had no choice but to say yes, and curse myself later. There was no time to stop by the supermarket – whatever I was going to make had to come from what I already had in my tiny kitchen. Being a student, with almost empty pockets at the time, didn't allow me to have an overstocked pantry. All I found, that I actually thought I could use, was a can of chickpeas. Perfect! Canned chickpeas are one of the simplest and quickest ingredients to cook with, and seasoned with the perfect spice blend, they were undoubtedly delicious as well.
With limited time left before he rang the doorbell, I started to get to work. As I quickly chopped and stirred, slightly more calm and collected than I was a mere few minutes ago, I went into my spice rack to pick out my most trusted ally, the Chana Masala powder. And lo and behold, just like Murphy always said, I was out of it! Today, that would not be any cause for panic, but a few years ago when I had not yet experienced much of my culinary capabilities, I was in for a disaster. But he was on his way, and I no choice but to improvise.
Cut to 15 years later, he still requests Chana Masala for dinner every few weeks. So you could say that dinner didn't turn out too bad!
Chana Masala (Chickpea Curry)
Servings: 4
Ingredients
2 tbsp light cooking oil
1 cinnamon stick
1 whole black cardamom
1 tsp whole cumin seeds
1 tbsp finely chopped garlic
1 tbsp finely chopped ginger
1 medium onion finely chopped
1/2 tsp red chilli powder
1/2 tsp turmeric powder
1 tbsp coriander powder
1 tsp garam masala powder
1 tbsp tomato paste
salt, to taste
2 medium tomatoes finely chopped
1 can chickpeas rinsed and drained
a handful of fresh cilantro leaves roughly chopped
a squeeze of fresh lemon juice
Instructions
Heat oil in a deep pan and sauté cinnamon stick, whole black cardamom and cumin seeds till it starts to sizzle. Add in garlic, ginger and onions, and stir-fry for a few minutes till the
onions start to soften and lightly brown.

Stir in the spices, tomato paste and salt, and fry for a few seconds to mix well. Add in the tomatoes and cook for 3-4 minutes till the tomatoes soften and start to pulp.

Stir in the rinsed chickpeas with about half a cup of water and cook covered for 8-10 minutes.

Garnish with fresh cilantro leaves and a squeeze of lemon juice and serve warm.
If you like this recipe, then you will surely like my Rajma.
Tried this recipe? Leave a Comment and let me know, also Rate it by clicking the number of stars on the recipe card. Want to share your version with me? Tag me on Instagram @hookedonheat