A delicious party recipe we all love is the Spinach and Cheese Croissants that I've shared below. It's super easy and quick, and loved by kids and adults alike!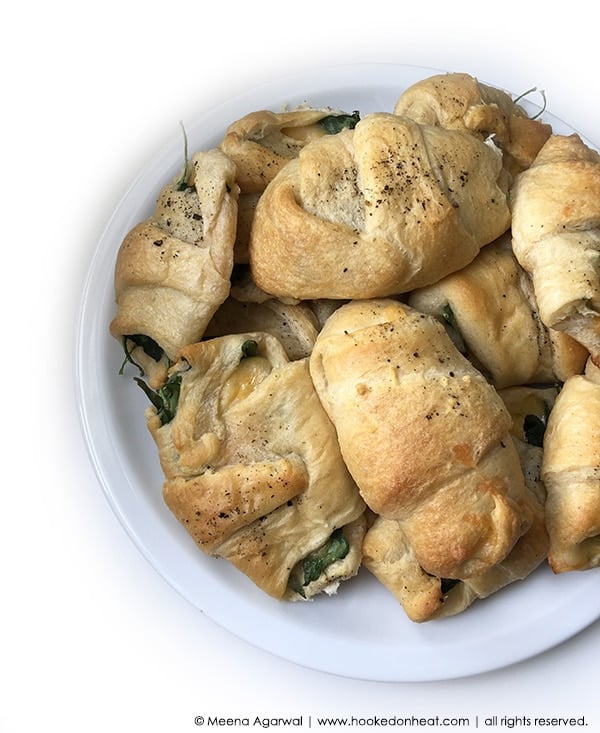 This recipe for Spinach & Cheese Croissants was sponsored by HelloFresh. All opinions, as always, are my own. I only write about and recommend products I use and love myself.
I've had a few readers ask me tips on how to throw a small scale New Year's Eve party with recipes that are still festive, yet simple, quick and not break the bank for a family with young kids – like this recipe for Spinach and Cheese Croissants that I've shared below. Although it may seem like an impossible task to take on, I promise you that with a few tips and tricks, you can definitely make it happen.
The Holiday season is fast approaching and most often than not, it's already here banging on my door before I can even bat an eyelid. Our Holiday season usually begins with the onset of Diwali and continues till the new year. This year, however, things are drastically different which also means that the way we celebrate is nothing like what many of us are used to.
Growing up, New Year's Eve was always a family affair. I don't remember ever going to a party or even my parents hosting one. It was always just us – in cozy pyjamas, music blaring on the radio waiting for the final countdown, and food galore! It was the ONE night of the year where we kids were allowed to have as much junk food as we wanted!
My Mom would make a variety of finger food – like these Spinach and Cheese Croissants, making sure there was something that each one of us loved, and my Dad would large bowls with popcorn and chips of every kind we requested. Looking back now, I can't help but smile at those happy memories. This year, we intend to do something similar.
Here are some of the few things you can do to make New Year's Eve special for your family:
Create a Make-Your-Own Pizza Bar!
This one is easy and especially fun if you have little kids! Set up a wide range of toppings in little bowls and plates on the counter or dining table, and have everyone create their own meal. I love to include a few ingredients that we don't normally use to have everyone experiment and try out something different. You can really get creative with this and the options are often endless. Here are a few ideas to help you get started:
Pizza Base: Have a few different options to choose from for the base like naans, pitas, English muffins and even slices of bread. If you want to go a step further, you can even make your own dough and give everyone a small portion to roll out into individual pizza sizes.
Sauces & Cheese: You can also have different kinds of sauces like marinara, pesto, alfredo, or even a Butter Chicken or Palak Paneer sauce for a fancy twist. For a special treat, add in a Chocolate or Strawberry sauce for kids to make a Dessert Pizza later. Likewise with the cheese – the more, the merrier!
Toppings: You could include the usual veggies/meat and something special like fried paneer chunks, grilled shrimp and lots of herbs. Try a mix of raw as well as sauteed/cooked options for your protein and veggies.
You can also use this idea to create a Taco or Sundae Bar.
Serve only Finger Foods!
This one has to be one of my favourite ways to celebrate. Nothing says party more than a huge platter of itty-bitty-sized treats! I have a huge list of delicious finger foods you can choose from here and will be posting many more in the weeks to come. Some of our family favourites include Samosas, Chicken Tikka Quesadillas, Chicken Kebabs, Fried Tofu with Peanut Sauce, Papri Chaat, Tandoori Chicken Pops and Vegan Shami Kebabs. Another recipe we absolutely love is the Spinach and Cheese Croissants that I've shared below. It's super easy and quick, and loved by kids and adults alike!
Cook a Restaurant-style at Home!
Dig out your best tablecloth and set your dining table with the fancy dinnerware that you save only for special occasions. Dress up to the nines, dim the overhead lights, light candles and sit down to a special meal with your loved ones. To make things easier, opt for a meal service like HelloFresh.
You pick the kind of meal you like and how many people you need to feed – and they ship you all the ingredients measured out with a detailed recipe. They have a wide range of popular recipes to choose from and meals to cater to pretty much anyone.
I'd love to hear any tips or plans you have to make this New Year's Eve special for you family. So please, do share!
Spinach & Cheese Croissants
Servings: 4
Ingredients
1 can pre-made crescent rolls
2 cups fresh baby spinach
1/2 cup shredded cheese
pepper to taste
Instructions
Preheat oven to 375 degrees. Separate the crescent triangles as directed in the package. For each triangle, gently roll out the dough to expand sightly in size, while keeping the same triangular shape.

Fill each triangle with a few spinach leaves (don't worry about adding too much, they will shrink a ton once cooked) and some cheese, and roll out the croissants as directed in the package – taking care to not let the filling spill out.

Sprinkle the tops of the croissants with fresh cracked black pepper and bake for 15-20 minutes till lightly browned and done.
If you enjoyed this recipe, then you will surely love my Paneer Croissants and Chicken Croissants recipe as well.
Tried this recipe? Leave a Comment and let me know, also Rate it by clicking the number of stars on the recipe card. Want to share your version with me? Tag me on Instagram @hookedonheat