One of the fastest and fulfilling meals my Mom would make for us as kids was this Quick and Easy Egg Fried Rice. It's simple, splendid and hard to resist!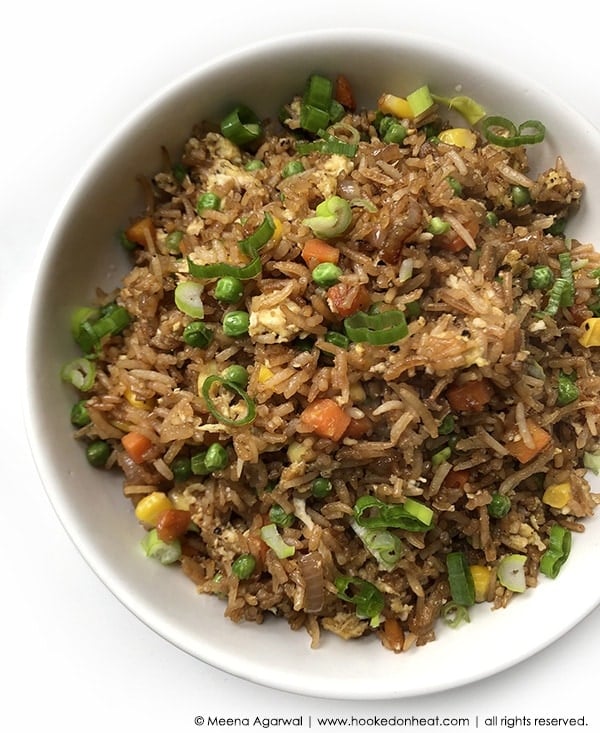 Ever since I moved away from home over twenty years ago, my Mom and I have had many a phone conversations around food. There would be times when the sole purpose of my call to her would be to find out the exact ingredients that go into one of my favourite dishes, like this Egg Fried Rice. Even though I've mastered my own style of cooking, I would still, to this day, pick my Mom's home-cooked meals over mine!
With the lockdown that's happening now, it's been a while since we've been over to my parents' home for a scrumptious weekend meal. As I planned my meals for this week, it suddenly occurred to me how much I miss eating with them.
That got me thinking and jotting down the "10 Things I Miss most about my Mom's Cooking". In no particular order, here they are:
Her nonchalant way of adding spices to flavour a dish – no measurements, just instinct that never goes wrong.
Her "Hurry Mom, I'm starving!!" specials – a few things into a pan and a couple of minutes later, lip-smacking goodness!
Shortcuts/Solutions – she always has a solution to troubleshoot any culinary disaster, even for custard that would not firm up after a whole day in the fridge! (made by yours truly, of course!)
Biryani – no doubt whatsoever, this is the BEST you can get and Little Dude swears it's the BEST compared to any that he's ever eaten!
Her baked goods – I've never been into baking but loved watching my Mom make her special cakes. And to top it off, she would always leave a little extra batter for me to lick afterwards.
Hot cures for cold days – my Mom has a knack of creating delicious soups out of anything available in her kitchen. No matter what she added, it would drive away all the sniffles.
Fish – I'd eat any kind of fish that my Mom makes, cooked any which way at all!
The way she effortlessly cooks for and entertains over 50 people with ease.
The crisp evening snacks I would devour over freshly made coffee.
Her spic and span and highly organized kitchen!
Now it's your turn – What do you miss most about your Mom's cooking?
After this lovely walk down memory lane, I'd like to leave you with a little something – my Quick & Easy Egg Fried Rice recipe. Enjoy!
Egg Fried Rice
Servings: 4
Ingredients
2 tbsp light cooking oil
2 eggs beaten
1 tbsp minced garlic
1 small onion finely chopped
1 cup finely chopped carrots
1 cup frozen peas thawed
1/2 cup frozen corn thawed
salt to taste
1/2 tsp white pepper powder
4 cups cooked plain rice
2 tbsp light soy sauce
finely chopped spring onion for garnish
Instructions
Heat a tiny bit of oil in a large non-stick pan, and scramble the eggs till cooked through. Set aside.

Heat the reamaining oil in the same pan and fry garlic and onions till lightly browned and fragrant.

Add in carrots, peas and corn, and stir-fry for 2-3 minutes. Season with salt and white pepper, and stir-fry for another minute or two.

Add in rice and scrambled eggs, and mix well. Splash soy sauce and stir-fry rice till everything is mixed well.

Garnish with spring onions and serve warm.
If you enjoyed this recipe, you will surely love my Shrimp Fried Rice, Basil Fried Rice and Chicken Fried Rice recipe as well.
Tried this recipe? Leave a Comment and let me know, also Rate it by clicking the number of stars on the recipe card. Want to share your version with me? Tag me on Instagram @hookedonheat