Dal Makhani is definitely one of my favourite recipes to entertain with – since it is easy enough to make in bulk and is always a crowd-pleaser. The thick, warm and creamy texture of this Instant Pot Dal Makhani is everything I crave for any time of the year, and if you can believe it, tastes even better the next day!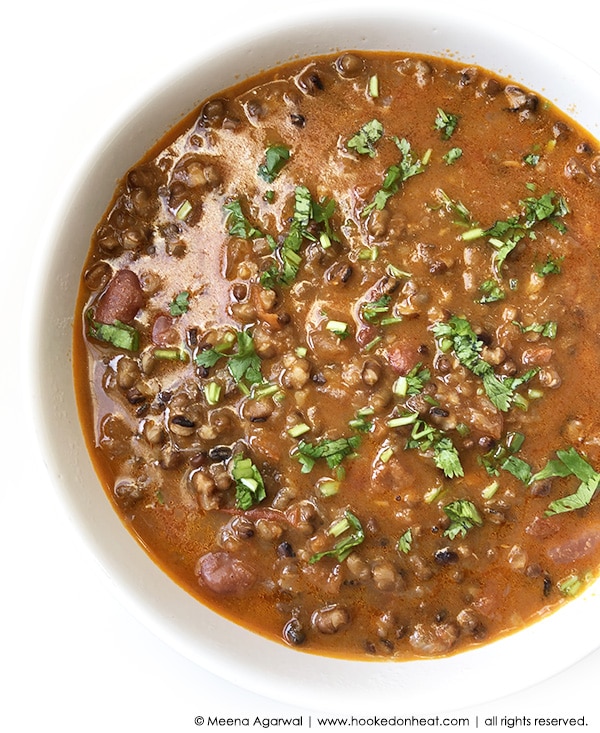 You know how there is always this ONE recipe that no matter how hard you try to replicate, you never seem to be able to hit it just right? Somehow, the taste of when you first devoured the dish still lingers on your palate, and even after a dozen of your experimented versions later, you still know that it's not quite as close to the original. I have one too many of those, but a particular Dal Makhani, from a little nondescript restaurant in Kuwait, certainly tops that list!
A few years ago, my Mom came to my rescue and recreated this recipe for Dal Makhani that duplicated the exact flavour I remembered from my childhood. Anyone who read that post and had eaten at the very same restaurant nodded in agreement that their Dal Makhani was definitely something out of this world! Any anyone who tried my recipe came back to tell me how much they loved it. Honestly, it is still one of my most popular recipes on the blog even today. The comments section alone shares a wealth of information!
As much as I love and use that recipe for Dal Makhani on a regular basis, I decided to try and adapt it to use with my Instant Pot. I gave up using my traditional pressure cookers a few years ago and replaced them with an Instant Pot of two different sizes. This Instant Pot Dal Makhani recipe works with any kind of electric pressure cooker and will give you amazing results each time.
Instant Pot Dal Makhani
Servings: 4
Ingredients
2 tbsp light cooking oil
1 medium-sized onion finely chopped
1 tbsp minced ginger
1 tbsp minced garlic
1 tbsp tomato paste
1/2 tsp red chilli powder
salt to taste
2 medium-sized tomatoes finely chopped
1 cup whole black lentils soaked overnight, drained and rinsed thoroughly
1/4 cup dried red kidney beans soaked overnight, drained and rinsed thoroughly
2 tbsp plain milk
water as needed
finely chopped fresh cilantro leaves for garnish
Instructions
Set the Instant Pot to saute mode, and add in the oil to heat. Saute onions, ginger and garlic till soft and lightly browned.

Add in tomato paste, chilli powder and salt, and fry for a few seconds to mix everything well.

Add in the chopped tomatoes and cook for a few minutes till the tomatoes soften and start to pulp.

Add in pre-soaked lentils and kidney beans, and about 2 cups of water to cover them. Put on the lid and set the Instant Pot to Manual Pressure mode, and make sure that the valve is in the sealing position. Set the pressure timer to 25 minutes and let it cook.

Once the timer goes off, let the pressure release naturally, then slowly stir in milk and let it come to a boil, adding in more water if necessary depending on the consistency you prefer. Garnish with fresh coriander leaves and serve warm.
Notes
I've used my 6 Quart Instant Pot Duo 7-in-1 for this recipe, but any kind of electric pressure cooker will work.
I also have a similar version of this recipe using a traditional pressure cooker here. 
A similar version of this recipe using a traditional pressure cooker can be found here.
If you enjoyed this recipe, you will surely like my Instant Pot Everyday Dal and Instant Pot Rajma recipe as well.
Tried this recipe? Leave a Comment and let me know, also Rate it by clicking the number of stars on the recipe card. Want to share your version with me? Tag me on Instagram @hookedonheat