I make this Baingan Bharta recipe regularly – not just to enjoy for ourselves but also when entertaining. This easy recipe of mine is always one of those dishes that rarely, if ever, has any leftover.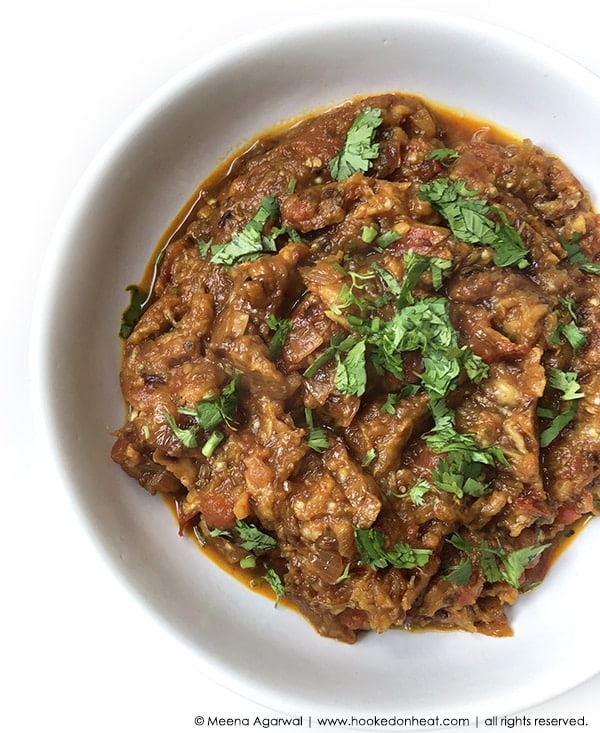 If I told you that I whip up amazingly gourmet meals at the drop of a hat for our dinners every day, then I'd have to be lying. Honestly, I'm always looking for recipes that quick and simple to prepare and will also be enjoyed by my family for dinner – just like this Baingan Bharta recipe. Except of course, when I have company coming! Now that's a whole different story altogether. Even then, I'm not spending all those hours on one single dish – but instead, I'm actually going nuts fussing over a minimum of five main courses. Yes, I get like that while entertaining. But the diligent licking of everyone's fingertips and perplexed weight-watching souls worrying over whether to go in for seconds (thirds, actually) more than makes up for all the effort.
When it comes to feeding family, I like to go easy on myself. It's not that I don't enjoy feeding my family with rich palate-pleasing favourites, but I'd rather spend my time with them enjoying simple, yet equally delightful food made in much less time. A recent email from one of my readers posed a question I have been subjected to many times. This compelled me to come out and talk about my regular at-home meals.
She writes,
All your recipes appear as if they leapt out of glossy magazines. While many of them are quite easy to follow, it's hard to imagine myself cooking lavish meals every night. Do you really cook all these wonderful looking food on a daily basis?
Well, dear reader, all I can say is yes. Well almost. You see, most of my recipes, no matter how fancy-sounding, are actually very simple and wholesome; and ones that I turn to on a weekly basis, like this Baingan Bharta recipe. While it may seem daunting to someone not so in tune with Indian cuisine, it's not at all that hard. Most dishes can be made in a matter of minutes, whereas those that seem to call for buckets full of spices, may just take a tad bit more time. But yes, sometimes even an adventurous cook like myself, wants to take a break and reach out for the nearest pack of instant noodles. And it's often in times like these that I faithfully turn to my repertoire of quick fixes. And these, I assure you dear reader, can be whipped up real quick. Literally in minutes!
This Baingan Bharta recipe is super simple to make and is a definite crowd-pleaser. You can easily serve it a lip-smacking dip with some crackers for game night. Or if you'd rather go traditional, then as a side in a proper Indian menu – it tastes great along with some Dal, Rotis and some cool Raita!
Baingan Bharta (Indian-style Roast Eggplant Dip)
Servings: 4
Ingredients
2 large eggplants
2 tbsp light cooking oil
1 tsp cumin seeds
1 tbsp finely chopped ginger
2 medium-sized onions finely chopped
1/2 tsp red chilli powder
1/4 tsp turmeric powder
2 medium-sized tomatoes finely chopped
salt to taste
1/4 tsp garam masala powder
finely chopped fresh cilantro for garnish
Instructions
Make tiny slits all over the eggplants and roast them in a 400 degree oven for 20-25 mins till the skin starts to char on all sides. Peel the eggplants, mash it to a pulp and set aside.

Heat oil in a large pan and add in cumin seeds. As soon as they begin to sizzle, add in chopped ginger and onions, and fry for 2-3 minutes on medium-high heat till onions start to soften and lightly brown.

Add in spices and chopped tomatoes, and fry for a few minutes till tomatoes start to pulp and give out oil along the sides. Season with salt, and mix in the mashed eggplant. Stir to mix well and cook covered on low heat for 3-4 minutes.

Sprinkle garam masala on top and garnish with fresh cilantro leaves. Serve hot with a side of rotis.
This post was originally published in February 2015 and has been recently updated.
If you enjoyed this recipe, then you will surely love my Baingan Masala and Aloo Baingan recipe as well.
Tried this recipe? Leave a Comment and let me know, also Rate it by clicking the number of stars on the recipe card. Want to share your version with me? Tag me on Instagram @hookedonheat