I woke up this morning and went straight into the kitchen to make myself some coffee and looked out the window. And what do I see? The perfect weather to dig into a bowl of Chicken Chili!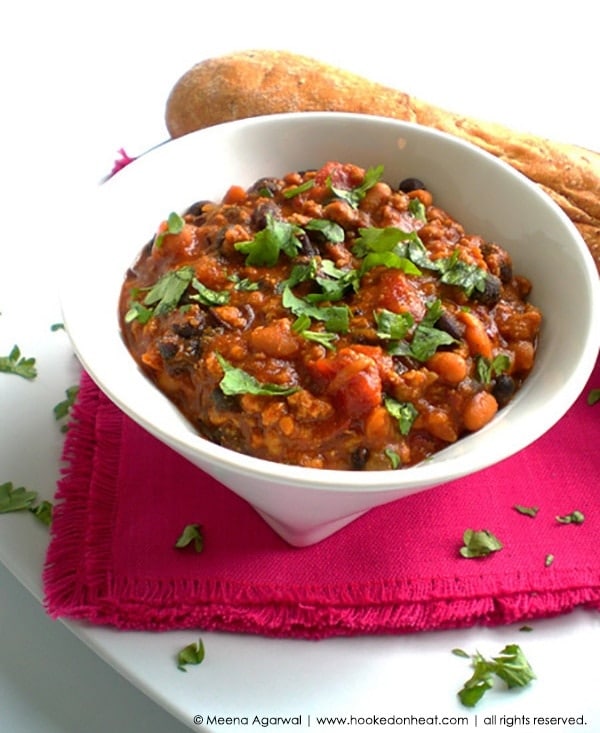 It's been chilly, wet and foggy the past couple of days, which makes me happy knowing that my favourite season has finally made it's way! Just looking at wet ground gave me a cosy feeling. I was so glad for being home and not having to drag myself through the chill to go someplace. It was a treat to look forward to spending the next hour or two enjoying my hot cuppa over the books and magazines I'd gathered a few weeks ago to aid me in my impending writing assignments.
There's something about Fall that just brings me to a good place. The lovely hues of orange and red in the trees, the crisp chill in the air, and especially the warmth from cranking up the stove and oven to begin a long period of rich comfort food. I always welcome the cooler weather by making an array of rich spicy curries, aromatic stews and tantalizing soups. Most of our dinners during these colder months are enjoyed on the warm comfy couch over our favourite movies, with the softness of a fleece blanket wrapped around us.
Of all things I enjoy cooking in the Fall, one of my most favourite meals would have to be a big bowl of Chili with freshly baked rustic Italian bread on the side. This Chicken Chili dish is such a hit in my home, that I almost always make a big batch and freeze it, to savour over the coming weeks. Like any rustic dish, it's very versatile to work with. When I want to give it more depth, I always opt to add in a cup or two of mixed beans and meatier vegetables like mushrooms.
Although this Chicken Chili with Black Beans may not be the traditional Chili recipe we Canadians are so used to, it definitely is worth trying! And for those with little time on their hands and a big craving for easy comfort foods, it's definitely a winner!
Chicken Chili with Black Beans
Ingredients
2 tbsp light cooking oil
1 medium onion finely chopped
1 jalapeno finely chopped
1 tbsp finely chopped garlic
1 lb lean ground chicken
salt to taste
1 tsp red chili powder
1 tbsp cumin powder
1/2 tsp dried oregano
1 can diced tomatoes
1 tbsp tomato paste
1 can baked beans in tomato sauce
1 can black beans rinsed and drained
water as needed
fresh coriander leaves chopped for garnish
Instructions
Heat oil in a deep pan and saute onions, jalapeno and garlic till onions become transparent and soft. Add in ground chicken, and fry till moisture dries up.

Season with salt, chili powder, cumin powder and oregano, and cook for another minute, stirring constantly. Add in the canned tomatoes and tomato paste, and cook for a few mmore inutes to combine well.

Add in both the canned beans and about a half cup of water, and let it simmer for 10-12 minutes on low heat.

Garnish with fresh coriander and serve warm with bread.
Tried this recipe? Leave a Comment and let me know, also Rate it by clicking the number of stars on the recipe card. Want to share your version with me? Tag me on Instagram @hookedonheat