A very happy new year to all my fabulous readers! Here's wishing that 2015 brings you and me tons of love, luck and joy – and some Chicken Fried Rice as well!!
So, it's January. A brand spanking new year. A wonderful new beginning. A chance to start fresh on a clean slate. 2014 was a great comeback year for me. I felt motivated after attending my first ever blogging conference the previous summer. Baby Dear was growing older, starting pre-school and that gave me the time to reconnect with my readers and dish out new recipes. 2015 promises to be better, brighter and much, much bigger for this blog of mine, so watch out for many fun, informative and interesting things coming up.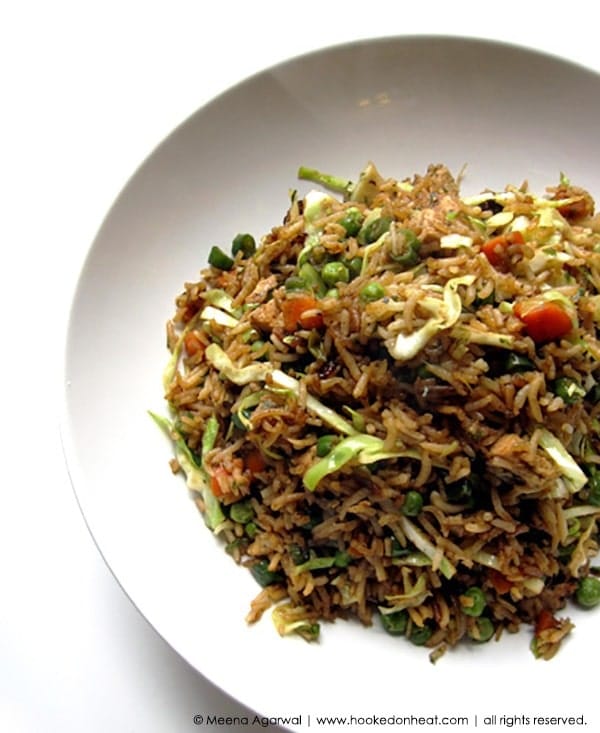 Looking back, it's hard to believe that I've been writing this blog and sharing my recipes with you all for the past 9 years. HoH will turn 10 (double digits… OMG!!!) in September of this year, and I promise you that this year will be THE best ever. So if you have any tips, suggestions, feedback or just want to say hello, please leave a comment and let's get the conversation started. I love to hear from you and am always looking for ways on how I can help anyone get into the kitchen and start cooking!
I thought I'd begin the new year with a very simple, versatile and absolutely tasty recipe that's perfect for a busy weeknight. Fried rice is something that I can make in my sleep with one hand tied behind my back. There are literally thousands of ways you can make fried rice and there's no end to the creativity you can add to this humble home cooking staple.
Today's recipe is a quick and simple Chicken Fried Rice that I like to make the day after I cook a Roast Chicken dinner. It's a wonderful way to use up the little bits of leftover chicken. If you don't have any leftover chicken, then feel free to use one that's store-bought or simple roast one chicken breast in the oven that's been lightly seasoned with some salt, pepper and garlic powder. If you're not a meat-eater, then, by all means, leave it out – the dish will still be finger-lickin' good!
Leftover rice, cold from the fridge works best. If you don't have any on hand, then make sure you cook the rice and let it cool completely. What you want to avoid is warm rice that will clump up in the pan and become a soggy mess. So give this a try and let me know how you liked it. Personally, I like to serve this with some green beans sautéed with some garlic and a bit of soy sauce.
CHICKEN FRIED RICE
Servings: 4
Ingredients
2 tbsp cooking oil
1 tbsp minced garlic
1 tsp minced ginger
1 small onion finely chopped
1/2 tsp white pepper
1/2 tsp red chilli powder
1 cup finely chopped carrots
2 cups shredded cabbage
2 cups shredded chicken
1 cup frozen peas thawed
salt to taste
4 cups cooked plain rice
2 tbsp light soy sauce
freshly cracked black pepper to taste
Instructions
Heat oil in a large non-stick pan and fry garlic, ginger and onions till lightly browned and fragrant. Add in white pepper and chilli powder, and fry for a few seconds.

Add in carrots and cabbage, and stir-fry for 2-3 minutes. Mix in chicken and peas, season with salt, and stir-fry for another minute or two.

Add in rice and mix well. Splash soy sauce and stir-fry rice till everything is mixed well.

Season with pepper and serve warm.
If you like this recipe, you will surely like my Basil Fried Rice.
Tried this recipe? Leave a Comment and let me know, also Rate it by clicking the number of stars on the recipe card. Want to share your version with me? Tag me on Instagram @hookedonheat