This Mee Goreng (Malay-style Noodles) recipe is a quick and simple version of the classic Mamak-style street food you'll find in almost every corner in Malaysia.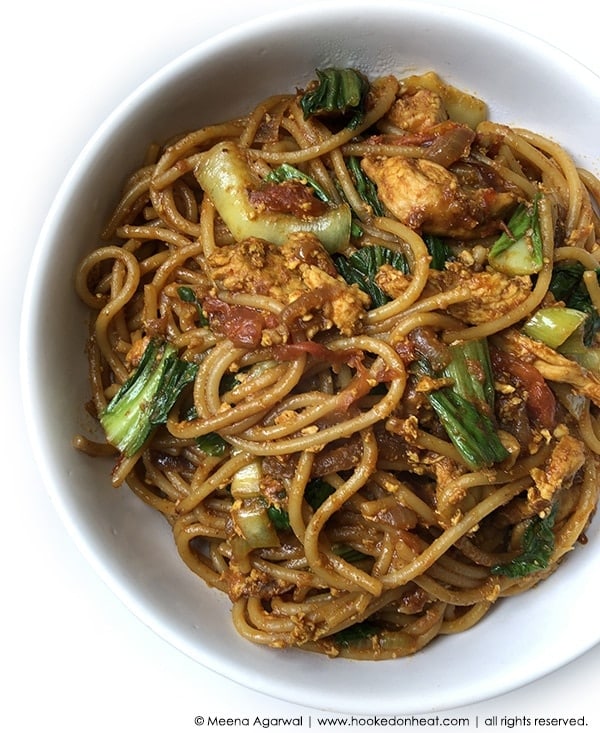 The year I turned 15, my Mom decided it was high time I learnt the basics of cooking. If nothing else, she figured I could at least make myself breakfast without having to yell for her when I'm hungry. Unlike the indulgent breakfasts of Mee Goreng Mamak, Nasi Lemak and Roti Cinai that we relish on our summer trips to Malaysia, she figured that teaching to get comfortable with the humble egg was a good starting point.
Once I mastered the classic rule to making the perfect hard-boiled egg – where the yolk is firm, yet still melts at the touch of your tongue, I gradually moved on to more complicated things, like making perfect plain boiled rice – not mushy, not hard, but just right. Since the last few years, I've played around with many of my Mom's classic Malaysian favourites, like this Mee Goreng recipe.
Every time I experimented with one of her classics, trying my best to add my own touch to it, I would keep a note of the alterations I made. The next time we spoke, I would tell her of my experiments, only to get more tips on what else could have been altered and in what way. I would then go back into my kitchen and play around some more until I had it perfect to my taste. It would taste nothing like hers, but it wouldn't be bad either. If I like it enough, I make it a part of my own collection – a stash of my tried and tested favourites that I always turn to when I want to please those I intend to feed.
Over the years, many of these recipes – like this Mamak-style Mee Goreng, have featured over and over again at my dinner parties. Some, for the same group of people who always request it when they come over. With time, I've shared many of these with close friends, who succeeded in bribing me enough to persuade me to part with my secrets. Likewise, they never fail to let me know when they try it out, and especially when they've experimented and made changes to it, only to come up with something better suited to their tastes.
As the recipes move around, being part of many alterations and tests, one thing always remains the same. It's the circle we share, a cult of kinds, membered by those who love nothing more than a plate of good food and won't stop till they get it. And so, the sisterhood grows.
Mee Goreng Mamak (Malay-style Fried Noodles)
Servings: 4
Ingredients
3 tbsp light cooking oil
2 tbsp crushed garlic
1 medium onion thinly sliced
1/2 tsp red chilli powder
1 tbsp coriander powder
1 tsp turmeric powder
2 tbsp tomato paste
salt to taste
2 medium tomatoes thinly sliced
1 large chicken breast cut into bite-sized pieces
250 gms extra-firm tofu cut into bite-sized pieces
2 eggs
300 gms yellow noodles (or spaghetti) cooked according to package instructions
2 tbsp light soya sauce
2 cups chopped bok choy
lime wedges for garnish
Instructions
Heat oil in a large non-stick wok or a wide pan. Add in garlic and onions, and fry for a couple of minutes till lightly browned and fragrant.

Stir in spices, tomato paste and salt, and fry for a few seconds to mix well before adding in tomatoes. Stir-fry till the tomatoes soften and begin to pulp, releasing oil along the sides.

Add in chicken and tofu and stir-fry for a few minutes till they start to get brown edges.

Push everything to one side of the pan, and crack in the eggs. Once the eggs start to cook slightly, scramble them and mix in with the sauce.

Add in the noodles, soya sauce and bok choy, and stir-fry for a few minutes till everything is mixed well and cooked through.

Sprinkle over with lime and serve warm.
If you like this Mamak-style Mee Goreng recipe, then you will surely enjoy my Curry Noodle Bowl and my Tofu Garlic Noodles.
You can find the web story to this Mee Goreng recipe here. To watch more of my other recipe web stories, click here.
Tried this recipe? Leave a Comment and let me know, also Rate it by clicking the number of stars on the recipe card. Want to share your version with me? Tag me on Instagram @hookedonheat