This recipe for my Spicy Fried Chicken is great when you're cooking for a crowd. It's very easy to bulk up and is great baked in the oven as well. So if you thought deliciously juicy and crispy Fried Chicken can only be devoured on special occasions, then think again. This recipe made either in the Air Fryer or Oven, is a perfect treat for any day that you're craving it.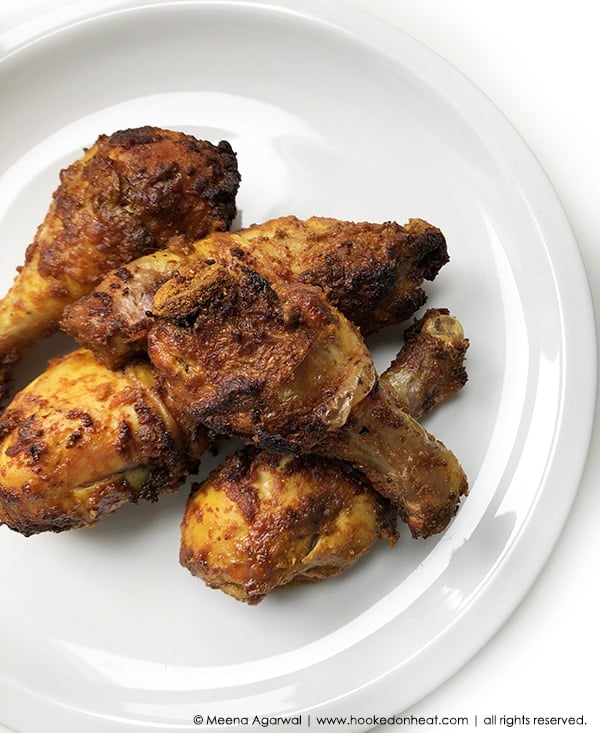 I still can't believe that summer's already here! The sun's shining, birds chirping, flowers blooming and the trees are all green again. And with it, comes joyful times – of enjoying an early dinner in the backyard, of late evening walks around the block, camping trips, biking through undiscovered trails and yes, of course, picnics with crispy Spicy Fried Chicken.
Picnics have always been a favourite summer thing for me. There's something about packing a comforting and fun lunch, a blanket and a good book, and heading out to a lovely park that brings a big smile on my face. We've always spent most of our summer idling away at a park with friends and family over good food and conversation. Opening up a basket of goodies for everyone to share brings about love and a feeling of togetherness. Except for the number of people hanging out together, I intend to make our summers this year no different.
When we were kids, there have been one too many occasions where Mom would pack some of her most delicious goodies – like crispy Fried Chicken and Samosas, and we were off to spend a nice warm day the beach. The time there would be spent frolicking around and playing silly games. But at the end of the day, everyone would agree that a large chunk of the time was always spent sitting around and enjoying the food.
This past weekend the three of us decided to take a short drive to a nearby National Park and make a day trip of it. We decided to pack a picnic basket to take along that would be filled with some tasty treats and a filling lunch as well. We spent a good couple of hours the previous night pondering on what would be on the menu. We didn't want to pack the regular sandwiches and salads – we were feeling slightly more adventurous. That's when I decided to make a big batch of my delicious Spicy Fried Chicken – just like we used to do when I was a kid, along with a refreshing Pasta Salad, these Spiced Potato Parcels and our favourite super-simple Banana Cake for dessert. And what do you know? It was perfect, just like what a Picnic should always be!
Since we had planned on leaving right after breakfast that morning, I wanted to avoid the hassle of deep-frying and decided to bring out the Air Fryer. Honestly, this machine has a permanent spot on my kitchen counter and I wouldn't have it any other way! I had marinated the chicken the night before and kept it in the fridge, so it was now ready to cook and crisp in the Air Fryer.
Spicy Fried Chicken (Air Fryer & Oven)
Servings: 4
Ingredients
12 chicken drumsticks skin on
2 tbsp light cooking oil
1 tbsp tomato paste
1/4 tsp turmeric powder
1/2 tsp red chilli powder
1 tsp cumin powder
1 tbsp coriander powder
1/2 tsp garam masala powder
2 tbsp fresh lemon juice
salt and pepper to taste
Instructions
Mix all the ingredients, except the chicken pieces, to make a smooth spice paste.

Rub the spice paste all over the chicken pieces to coat well. You can leave the chicken to marinate for a few hours or even overnight in the fridge to intensify the flavours.

For the Air Fryer: Bake the marinated chicken in an Air Fryer at 400 degrees for 15-20 minutes, turning them over once in between till chicken is completely cooked through.

For the Oven: Bake the marinated chicken in a 400 degree preheated oven for 25-30 minutes, turning them over once in between till chicken is completely cooked through.
If you enjoyed this recipe, then you will surely love my Air Fryer Samosas recipe as well.
Made this recipe? Rate it by clicking the number of stars on the recipe card. Want to share your version with me? Tag me on Instagram @hookedonheat