This Chicken Tikka Quesadilla recipe is one that I quite often fall back on. Quesadillas are the perfect vehicle when it comes to using up leftovers, and these Chicken Tikka Quesadillas are no different.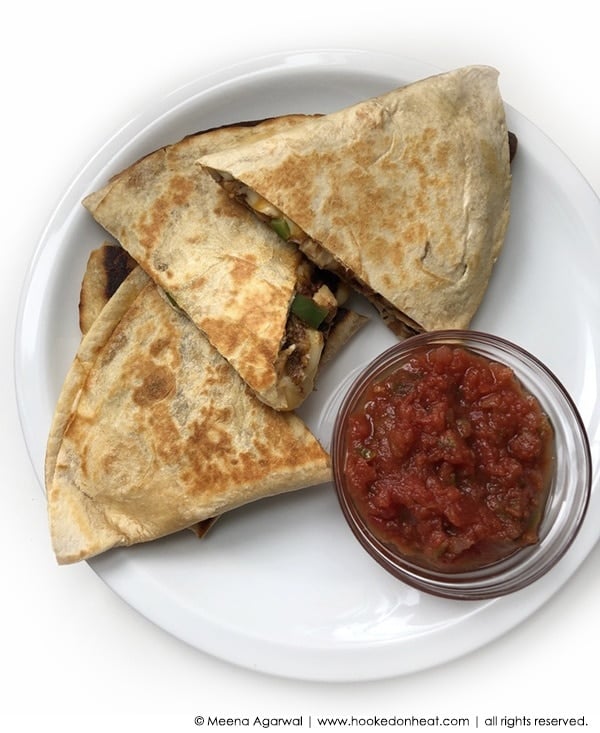 In a pinch, they work extremely well with spiced-up leftover chicken from the previous night. I like to make a bigger batch of the filling on the weekend and use it to make these Quesadillas throughout the week. You can change up the meat or add in more veggies – anything you like, but the idea remains the same.
When we first enrolled Little Dude at a play school, I was giddy with excitement over the opportunity to pack him a lunchbox every day. My head buzzed with a variety of healthy school lunch ideas of tiny portions of homemade gourmet meals, like this Chicken Tikka Quesadilla, all wrapped up and sent off with love. Alas, that was never to happen.
As luck would have it, Little Dude went to a play school that prided itself in serving healthy, well-balanced meals to every student on a daily basis. And I couldn't complain really since his lunches on most days were even better than what I was feeding myself at the time. Spinach Lasagna, anyone? Or maybe some Butter Chicken? How about Veggie Lo Mein with some Garlic Broccoli on the side?
Needless to say, the meals provided at his playschool were mom-approved, and he seemed to enjoy them as well. But I couldn't stop myself from imagining packing him a lunch every now and then, and I often challenged myself to come up with recipes that are quick and simple to whip up. Once it was time for him to start regular schooling, I felt well prepared and equipped with ideas that made his school lunches a lot more fun.
Even so, like all moms dads, who pack their kids' lunches on a daily basis, I do myself lost and confused a couple of mornings each week. Panning out what to send in a lunchbox can be a daunting task, and for that reason, I prefer always having a few shortcut options on hand.
Chicken Tikka Quesadillas
Servings: 4
Ingredients
1 large chicken breast chopped into small pieces
1/4 tsp red chilli powder
1 tsp coriander powder
1/2 tsp cumin powder
1/4 tsp garlic powder
salt to taste
1 tbsp lemon juice
1 tbsp light cooking oil
1/2 cup chopped green peppers
1/4 cup chopped fresh cilantro
4 medium-sized tortillas
1 cup shredded cheese I like to use a mix of cheddar and mozzarella
Instructions
Marinade the chicken with the spices, salt and lemon juice, and set aside for at least 10-15 minutes.

Heat oil n a non-stick pan and stir-fry the marinated chicken pieces till completely cooked through. Turn off the heat and mix in the chopped peppers and cilantro. Set aside.

To make the quesadillas, heat one tortilla in a large pan and spread a few tablespoons of the filling to one half of it. Sprinkle some shredded cheese on top of the filling and fold over the other half of the tortilla.

Gently press the tortilla and let it cook on one side till slightly crisp and brown, and the cheese starts to melt. Flip over on the other side and cook for another minute or two till it starts to crisp as well.

Cut into wedges and serve warm with some salsa on the side.
If you enjoyed this recipe, then you'll surely love my Chicken Stuffed Crescent Rolls, Paneer Croissants and Potato Masala Melts recipe as well.
Tried this recipe? Leave a Comment and let me know, also Rate it by clicking the number of stars on the recipe card. Want to share your version with me? Tag me on Instagram @hookedonheat