Palak Gosht is a light rustic lamb curry with spinach. This is a fairly easy and quick recipe to pull together as it uses the help of an Instant Pot or any electric pressure cooker. Try this for your next dinner party and I promise you, your guests will think you slaved for hours to cook just for them. I served it with some leftover rice that I jazzed up to make my lip-smacking Jeera Rice, and a huge bowl of chopped salad. It was just what we needed to warm our souls.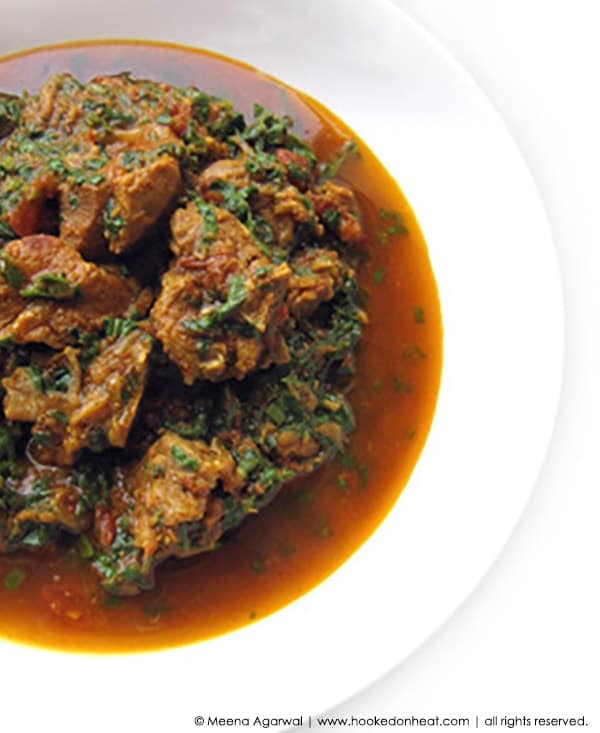 If there is one thing that conveniently finds it's way into my grocery cart every single week, then it has to be a family-sized bag of organic baby spinach. Funny as it may sound, this is one vegetable that is always welcomed at our dinner table – even more than carrots and cucumbers. Hubby Dear, Baby Dear and I, all love spinach so much that I manage to add it to almost everything I cook – and it is always happily gobbled, just like this Palak Gosht!
This past weekend the weather took an unexpected turn and went from dry, scorching hot to rainy and chilly, all in a matter of minutes! Needless to say, Baby Dear's soccer game got cancelled, a potluck picnic at the park got postponed and we found ourselves cuddled on the couch with a huge list of movies to pick from on Netflix. It was a nice change from the busy weekend routine we were used to and I wanted to make the most of it by whipping up a warm, comforting dinner for us.
I love the process of slow cooking on nights like these – there's no hurry to dish out the food, chopping and prepping the ingredients feels almost therapeutic, and then when everything is in the pan, you let it come to a slow simmer and take it's own sweet time while you sip on your drink of choice!
PALAK GOSHT (LAMB & SPINACH CURRY)
Servings: 4
Ingredients
2 tbsp light cooking oil
1 tsp cumin seeds
2 star anise
1 cinnamon stick
1 large onion finely chopped
1 tbsp finely chopped ginger
1 tbsp finely chopped garlic
1 tsp chilli powder
1 tbsp coriander powder
1 tsp cumin powder
1 tsp garam masala powder
salt to taste
2 tbsp tomato paste
2 medium tomatoes finely chopped
1 lb chopped lamb pieces bone-in
water as needed
3 cups finely chopped fresh spinach leaves
Instructions
Set the Instant-Pot to saute mode, and add in the oil to heat. Add in the cumin seeds, star anise and cinnamon stick, and let them start to sizzle.

Add in and saute the onions, ginger and garlic, stirring occasionally, till they begin to soften and turn slightly brown. Mix in the spices, salt and tomato paste, and fry for a minute or two to blend well.

Add in the tomatoes and cook for 3-4 minutes, stirring occasionally, till tomatoes soften and begin to pulp.

Slowly stir in the lamb pieces and add in enough water to cover the meat. Put on the lid and set the Instant-Pot to Manual Pressure mode, and make sure that the valve is in the sealing position. Set the pressure timer to 25 minutes and let it cook.

Once the timer goes off, let the pressure release naturally. Carefully remove the lid and stir in chopped spinach into the curry to mix well. You can add in a bit more water depending on the consistency of the curry you prefer. Close the lid and set the Instant-Pot to Manual Pressure mode for 2 minutes, making sure that the valve is in the sealing position.

Once the timer goes off, release the pressure manually, and carefully remove the lid. Give the curry a final stir serve hot.
If you enjoyed this recipe, you will certainly love my Instant Pot Lamb Curry with Potatoes and Spiced Lamb with Green Peppers as well.
Tried this recipe? Leave a Comment and let me know, also Rate it by clicking the number of stars on the recipe card. Want to share your version with me? Tag me on Instagram @hookedonheat